Business Shredding Services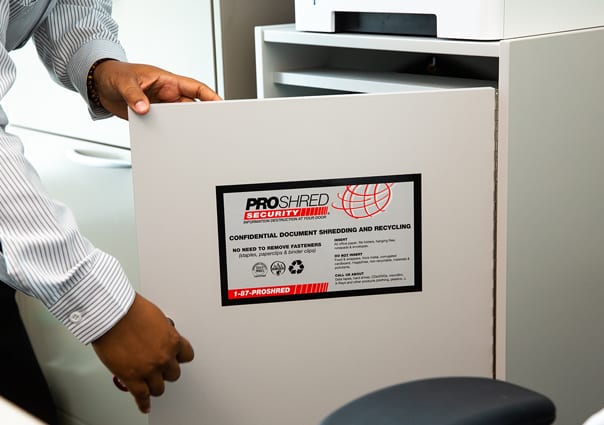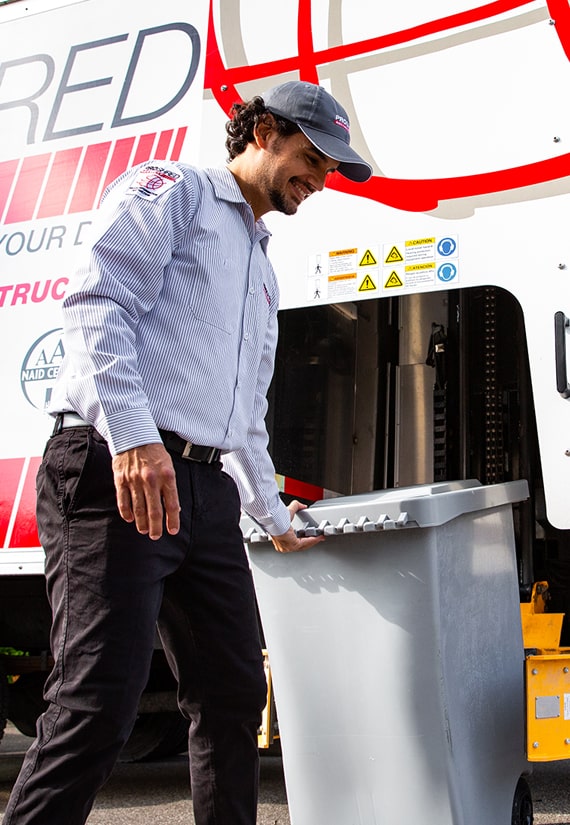 Achieving success in the business world is based on a careful assessment of risks versus rewards. In other words, risk management is an essential part of knowing how and where to invest your company's limited funds. In economies of scale like Chicago, one of the smartest investments is secure document disposal.
Chicago Business Shredding Service
While hiring a Chicago Business  shredding service may not be high on a business's list of priorities, the State of Illinois can impose fines of up to "$50,000 for each instance of improper disposal of materials containing personal information." It is important to note that these fines are handed out per violation, so even a single misstep (like throwing a folder of private information in the trash) can result in dozens of individual violations.
The Personal Information Protection Act is Illinois' most stringent regulation on how businesses must dispose of confidential information. In the city of Chicago, hundreds of organizations are choosing PROSHRED® to meet their document shredding needs.
A Cost-Effective Security Investment
In the paragraphs above, we mentioned the importance of careful risk management. Noting the enormous civil penalties that can result from improper document disposal, hiring a professional shredding company is a pragmatic way to reduce potential risks that your business faces. From customer receipts to billing statements and employee records, every company has paperwork that needs to be properly shredded.
With the PROSHRED® system, we provide the most cost-effective way to minimize confidentiality-related issues. Our "per container" policy is unique to the industry and we never charge hidden fees for transportation or recycling like many of our competitors.
Guaranteed Document Security and Destruction
When you choose PROSHRED® Chicago, we use a state-of-the-art process to ensure that your private information is never compromised. We start with our highly trained Customer Service Professionals (CSP's) who are thoroughly background checked, drug tested and picture identified for a smooth and dependable experience.
After you schedule on-site shredding, our team will drive directly to your address and perform the entire shredding process on the premises of your business at no added cost. Our industry-leading trucks are equipped with the most powerful shredders on the market, capable of destroying as much as 2 tons of paper per hour. Our hands-free process also maintains a strict "chain of custody." In other words, your documents will never be physically handled by a PROSHRED team member.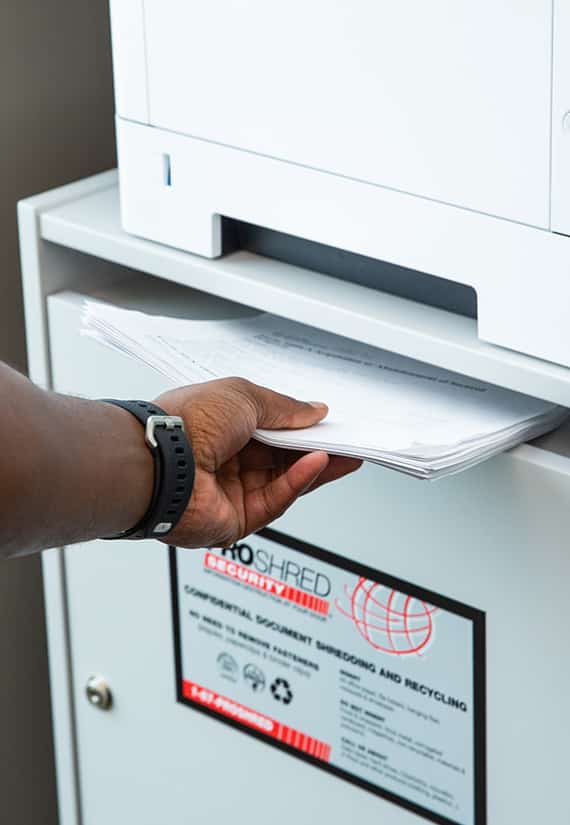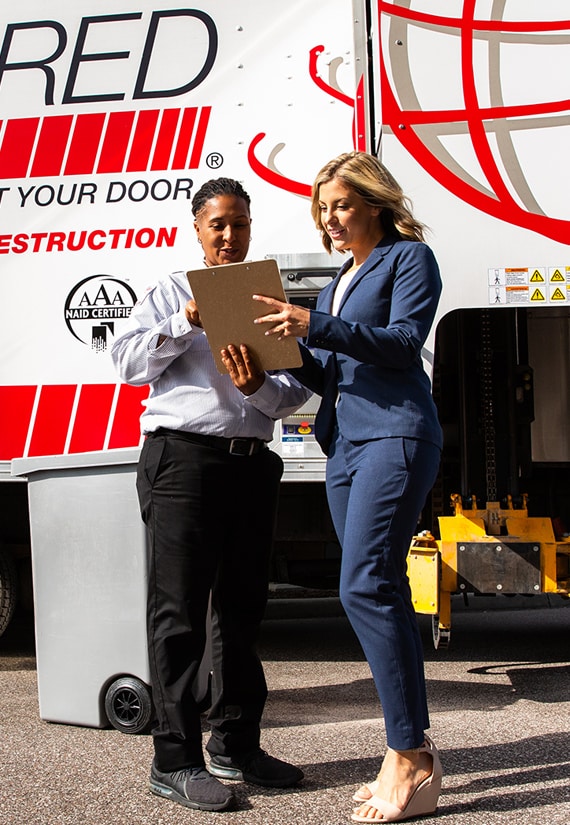 Ultimate Convenience
Our on-site destruction service means that you never have to leave the comfort of your property to witness the firsthand disposal of your old paperwork. We provide a wide range of  commerical shredding services for all of our Chicago area clients, as well. From drop-off service to hard drive destruction, we can take care our client's most difficult information destruction needs.
Why should you hire PROSHRED® instead of purchasing a home office shredder? The answer again lies in convenience. At-home shredding machines are prone to breakdowns, paper jams, and general malfunctions, forcing you to pick up the phone and call the manufacturer hoping your device is still within warranty. Or, think of all the time that you and employees waste in front of the shredder, removing staples and feeding hundreds of sheets into the machine at once.
After hiring a professional shredder, our clients have noted that they save hours' worth of valuable work time that was previously spent shredding old documents. With PROSHRED®, no longer will you have to deal with the headaches of a personal shredding machine and you can rely on the most trusted name in the industry.
Promoting Environmental Sustainability
At PROSHRED®, we are continuing to pave the way for environmental awareness in Chicagoland. Our company comes in contact with tons of recyclable waste every year – something very few companies can say. Therefore, our team has pledged to recycle 100% of shredded paper material at Chicago-area recycling centers. With partnerships at dozens of waste management facilities, our team has always aimed for a positive impact on the environment.
As one of our valued clients, we provide an environmental benchmark for the number of trees you saved after each and every service. PROSHRED® is America's partner in environmental sustainability and responsible document disposal.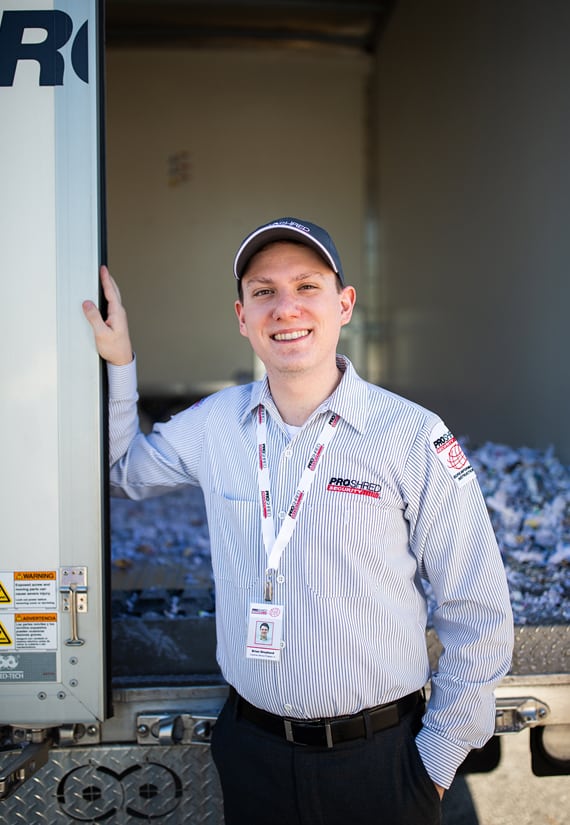 Frequently Asked Questions About Business Shredding Services
Small businesses should be aware of privacy laws and legislation that may require documents to be destroyed after a certain amount of time. These documents can include tax records, personal information about employees, bank statements, human resources records, and any other documents that contain sensitive information.
Your local PROSHRED® can stop by your location for on-site shredding services, so you don't have to leave your home or office! Schedule a mobile shredding service with PROSHRED® Chicago today: 1-708-263-4292.
PROSHRED® recycles 100% of the paper we shred. Once shredded, we take your documents to a partner recycling facility where it will be transformed into other paper products.