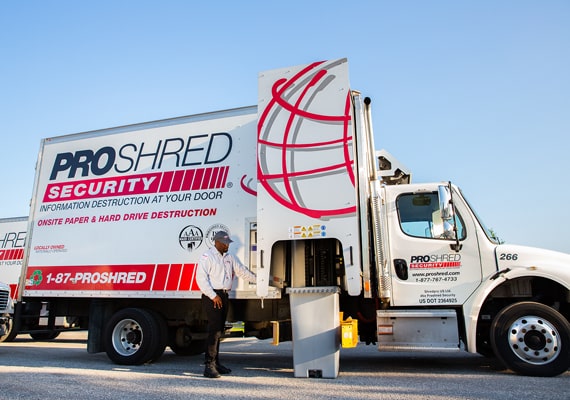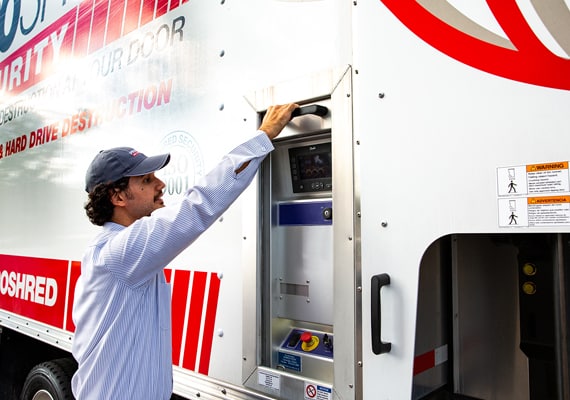 Mobile Shredding Trucks for On-Site Service
When it comes to protecting your Chicago business, your employees and your customers from identity theft and the misuse of information, there's no universal solution. Every business is unique and individual and it's absolutely essential that even old information be protected while document destruction takes place. That's why PROSHRED® Chicago is dedicated to providing specialized document destruction services tailored to our individual customers' needs using our mobile shredding trucks.
Our mobile shredding trucks take the headache out of information security and document destruction by bringing top-of-the-line and state-of-the-art technology right to your door to allow you to dispose of confidential documents right on site. Our methods are some of the most effective and secure available, and protecting your business is our only goal.
Advantages of Chicago Mobile Shredding Trucks
Mobile shredding trucks bring high technology and bulk capabilities right to your doorstep and allow you to watch every step of the operation as your sensitive information is destroyed right on-site. With laws and regulations about information disposal growing stricter all the time, mobile shredders are accessible, convenient and effective ways to protect your security.
Document destruction can be a hassle when you need to gather up rooms full of papers to transport to an off-site location. It also runs the risk of something getting lost and falling into unscrupulous hands. Small-scale, in-house shredding machines, on the other hand, may not be equipped to handle the kind of bulk shredding you need to do, nor can they ensure the security of your information when you dispose of the paper after it's shredded.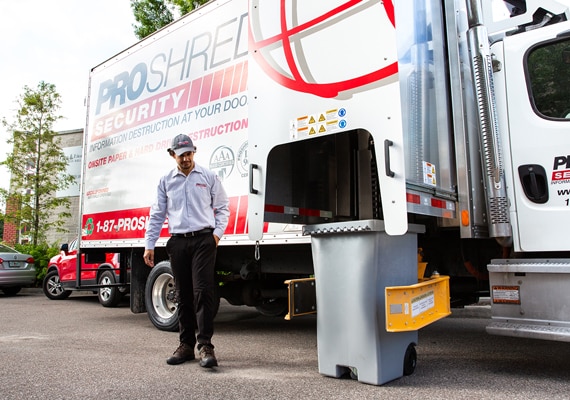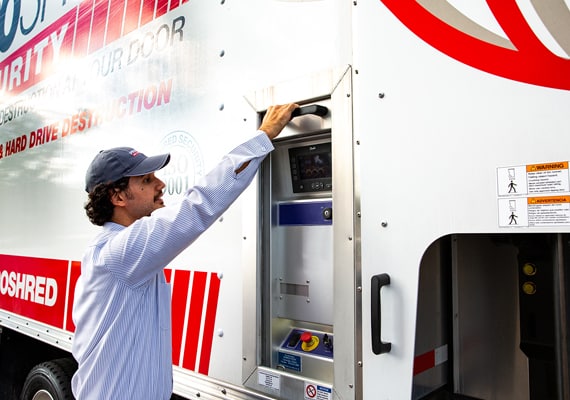 The Pierce-and-Tear Method
Small-scale office shredders slice paper into even strips, which is not an entirely secure method of document destruction. PROSHRED® Chicago trucks use a method known as the pierce-and-tear shredder. This punches holes in the shredded material while ripping it into tiny pieces at the fiber. Since the material is torn rather than cut, the shreds are random and highly secure. Such documents would be incredibly difficult to piece back together.
Any Job, Any Time
PROSHRED® Raleigh's mobile shredding trucks can handle jobs of any size at any time. Whether you just need a one-time cleanup  or ongoing regular scheduled services, we will be there. Whether it's just a single file cabinet or several rooms of outdated files of which you need to dispose, we can handle the job.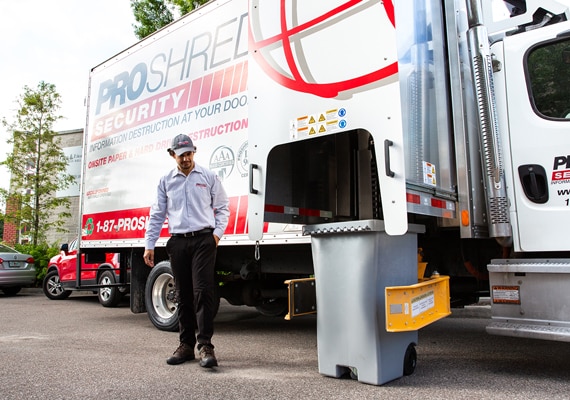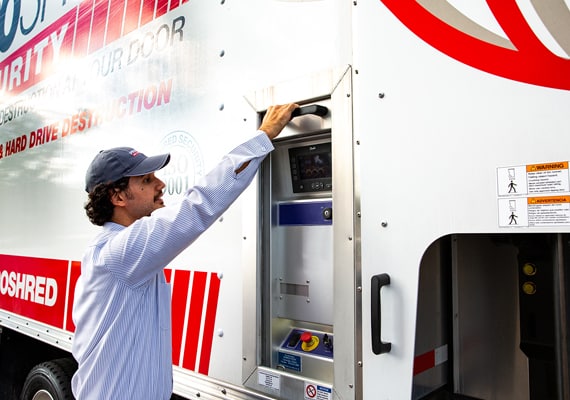 The Frontier of Document Destruction
PROSHRED®  Raleigh's mobile shredding trucks are at the forefront, the very frontier of professional and secure document destruction. Information security is our business, and there is nothing that we value more than defending your business, your staff and your clients from illegal or improper use of their confidential information. With our trucks at your door, you can feel secure that you are absolutely defended against identity theft, industrial espionage, or any other unscrupulous misuse of your sensitive files.
Through the use of closed-circuit camera systems, you can watch every step of the document destruction process and even receive a certificate of destruction for your records. Take heart and call the professionals in Chicago document destruction. Call a PROSHRED® customer service representative for more information today.