October 12, 2020
Keeping Confidential Information Secure With Remote Employees
The modern office is changing. As workplaces adopt remote work policies and work-from-home technology, more businesses are grappling with tough questions about information security. To keep both your employees and your confidential business information safe, your business must develop a comprehensive strategy to secure your private data. In this guide, our team of information security experts will share their analysis on how your business can stay protected in these changing times.
The Work-From-Home Economy
In the first quarter of 2020, a global public health emergency spurred rapid economic change, forcing businesses to rethink their on-site work policies. Within just a few months, more than 50% of all full-time employees were working remotely from home. To recap some important economic developments, surveys have shown that:
These workplace changes are reshaping the way we do business. More than ever before, companies are relying on technology to conduct videoconferences, instant messaging, and cloud computing. While these changes have led to more employee productivity in some cases, they have also led to new challenges in information security.
New Security Challenges
Chief information officers (CIOs), Chief Privacy Officers (CPOs), and Chief Compliance Officers (CCOs) understand that remote work and work-from-home policies carry an increased risk of data breaches. Every business should understand some of the important security statistics associated with remote work:
While the prevalence of remote work has skyrocketed in 2020, companies should understand the corresponding security threats. Every business should be rethinking its information security policy and investing greater resources in keeping confidential company data safe.
Physical Data Security for Remote Employees
The loss or improper disposal of physical documents and electronic devices can be a major source of data breaches. According to industry experts, more than 10% of all data breaches are caused by physical security lapses. Common sources of physical security mismanagement include the loss or improper disposal of (1) employee ID cards and lanyards, (2) physical copies of employment records, financial data, confidential communications, and trade secrets, and (3) old employee laptops, hard drives, and flash drives. The failure to properly secure and dispose of these physical instruments can lead to serious data breaches and financial repercussions.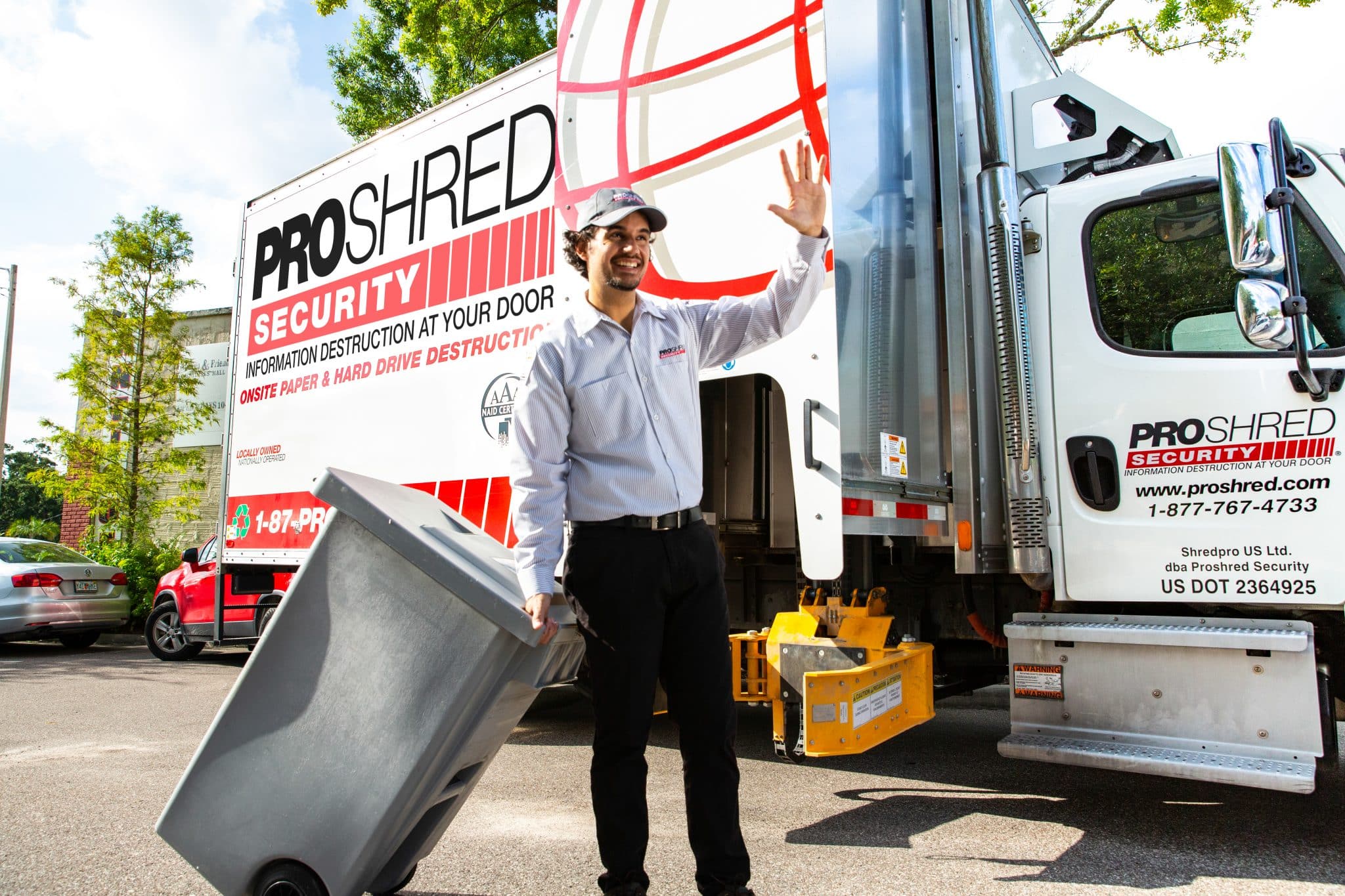 Secure data shredding is an essential part of any work-from-home security strategy. Our data security experts recommend the following three-step plan to address these new security challenges:
More than 40% of work-from-home employees have reported buying a new printer or scanner at home to accommodate their new work schedule. Perhaps more importantly, a majority of all remote employees regularly print business or company documents while working from home. The printing of private company information poses increased physical data security risks. To prevent the chances of a data breach, companies should invest in at-home physical document storage equipment. Secure lockboxes can protect physical data until it is properly disposed at a later date. This equipment includes personal desk-side containers (PDCs) and executive consoles that can securely store thousands of documents at once. 
As paperwork begins piling up, remote employees should never dump confidential company information in the trash. Unfortunately, most employees don't take this threat seriously enough, and millions of remote employees simply throw away their physical documents without taking proper security measures. Home office shredding is an essential part of any information security policy. Your company should ensure that remote employees can schedule residential shredding services any time they need thousands of documents destroyed at once. For the greatest levels of security, make sure that your shredding service has both ISO 9001:2008 and NAID AAA certifications.
How does your company handle outdated or outmoded technology? To prevent data breaches, your business should never allow electronic media to sit unattended. Instead, digital files should be backed up to the cloud, and then physical devices should be destroyed as quickly as possible. When your at-home employees replace their laptops, hard drives, cell phones, or other electronic storage devices, your company should immediately schedule a secure electronic destruction service. Electronic devices should never fall into the wrong hands, and secure destruction is the easiest way to prevent this security risk.
Contact Chicago's Top Shredding Service
PROSHRED® Chicago offers the greatest selection of secure document shredding and hard drive destruction services. Our team of information security experts has worked with hundreds of Chicago-area businesses to adapt their security program to the new work-from-home business landscape. Contact our team today at 708-263-4292 to learn more about our remote employee shredding services.