March 18, 2022
5 Reasons Why You Need a Mobile Shredding Service
If you have a business, you have documents containing data that need to be protected. When those papers start piling up, it can be difficult to decide exactly what the best method of disposal is. Should you simply throw them into the trash can, or should you shred them? If you have a considerable amount of paper, how can you shred it all efficiently? What if your sensitive documents are stored digitally on hard drives?
This is where PROSHRED® Kansas City can help! Continue reading below to learn more about why you need a mobile shredding service.
Mobile Shredding Services are Convenient
Traditional shredding methods require you to do all of the work yourself, either by purchasing a small office shredding machine and maintaining it, or traveling to an industrial shredding facility with your documents every time you need to dispose of them.
A mobile paper shredding service, on the other hand, comes to you. PROSHRED® allows you to shred your materials on site. At the end of each service, you're provided with a Certificate of Destruction as proof that your documents were securely destroyed.
How does this work? PROSHRED® sends out one of our mobile shredding trucks to your location, which are equipped with built-in industrial shredding machines. These trucks are driven by data security experts who have been background checked and trained to conduct secure, no-touch shredding services. When you choose PROSHRED® Kansas City, you will even be able to witness the entire destruction process from a screen mounted on the side of the truck. This way, your private data never has to leave your sight.
Mobile Shredding Provides Complete Data Security
No matter the industry, ensuring that your sensitive information is properly disposed of is of the utmost importance. Organizations that do not actively engage in secure document disposal put the confidential data of your company and your clients at risk of falling prey to security breaches or identity theft.
The easiest way to protect the crucial information in your care is to have the documents, whether they are paper files or stored on hard drives, professionally shredded once they reach the end of their lifespan. On-site destruction from PROSHRED® Kansas City provides an unbroken chain of custody for your items for complete protection against fraud and theft. Your outdated private data can be securely shredded into hundreds of particles, rendering them completely unreadable, before ever leaving your location.
Secure Mobile Services are Available for All Industries
Nearly all businesses are regulated by strict local, state, and federal guidelines designed to protect the confidentiality of both the business and the clients. For example, medical institutions must follow the guidelines set forth by the Health Insurance Portability and Accountability Act (HIPAA) and legal firms must adhere to the Fair and Accurate Credit Transaction Act (FACTA).
Both laws require institutions to properly destroy documents that contain protected health information or private information that is no longer being used before disposal. This can be a big undertaking for any size operation.
As a leader in document destruction, PROSHRED® Kansas City can help you remain compliant with all legislative requirements for your specific industry. Mobile shredding services are the most secure method of destruction.
Mobile Shredding Companies Provide Hard Drive Destruction
The amount of data, especially private data, stored on electronic devices is growing more and more every day. With all the benefits that digitally stored documents offer, there are also major security risks that come along with it. Inevitably, these devices will reach the end of their lifespan, and when they do, it is not safe to simply throw them into the trash. The properties of hard drives that make them so useful for viewing and working with documents also make them difficult to properly dispose of. Erasing the files from the device, or even formatting the device, still leaves retrievable data behind.
The only way to ensure that the files are truly gone is to employ a hard drive shredding service. Complete hard drive destruction provided by PROSHRED® Kansas City leaves you confident in the security of your data. A Certificate of Destruction for hard drives will also be provided after every service and will contain detailed information such as serial numbers and the date and time the destruction occurred.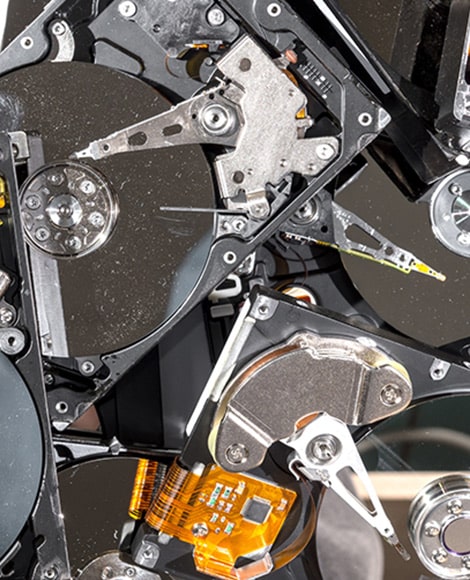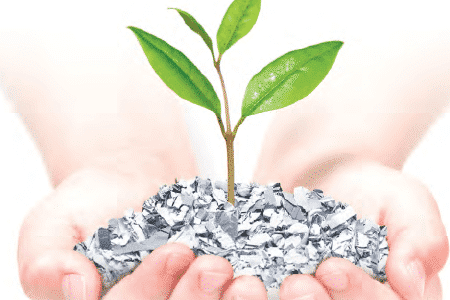 The Shredded Material is Recycled for You
One of the biggest problems organizations face when handling their own shredding is how to dispose of the leftover refuse once and for all. Likewise, those who employ a mobile shredding service often ask what happens to the shredded material once the shredding truck leaves their location. In most areas, shredded paper is not acceptable for curbside recycling programs. Similarly, hard drive fragments are not allowed at public recycling centers. Because of this, it can be difficult to decide what to do with the material, especially if you want to make the best choice for the environment.
The team at PROSHRED® Kansas City understands this dilemma. That is why we partner with local, trusted recycling facilities that will use the paper scraps to make new paper goods, or break down hard drives for precious metals and other materials so that they can be reused and recycled. With mobile shredding services from PROSHRED®, you never have to wonder about where your shredded paper or destroyed hard drives go following a service.
Get a Secure Shred with PROSHRED® Kansas City
Secure data shredding is easy with PROSHRED®. As an ISO 9001 and NAID AAA certified paper shredding company with 30 years of experience behind us, we know exactly what it takes to safeguard your data. Our set of strict, self-imposed standards exceed those set forth by governing bodies, and our uniformed drivers always arrive in our clearly labeled state-of-the-art shredding trucks.
Whether you require drop-off or mobile shredding, you can rely on PROSHRED® as your first choice for local paper shredding services. To get started give us a call at 913-203-1115 today! Our mobile shredding experts can help you determine the right plan for you and provide you with an affordable quote for your shredding needs.