Kansas City Business Shredding Services
Nowadays, nearly all businesses are required to take mandatory actions to keep confidential information safe and secure.
PROSHRED® Kansas City offers on-site document shredding to regulate the security of confidential documents that would appear harmful if in the wrong hands, as well as continuing to remain environmentally and economically sound. It is important to make sure that all confidential information remains under strict control, with routine procedures to guarantee proper handling. This ensures your business remains under proper positive publicity.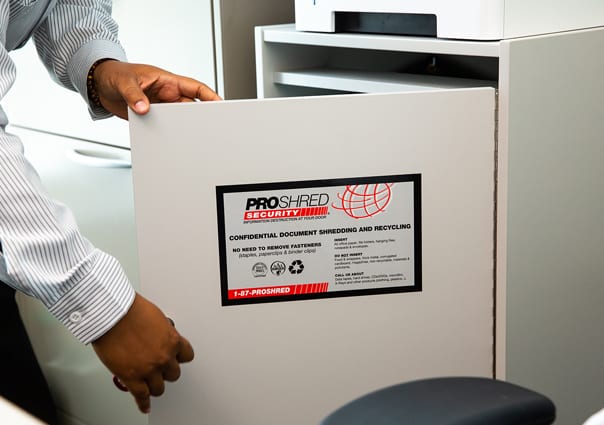 Secure Kansas City Paper Shredding
PROSHRED® Kansas City is a highly qualified security company that offers services to ensure safe and secure destruction of confidential documents, both with on-site and off-site destruction programs.
With over 20 years of experience, as well as an ISO certification to ensure the best quality of service to offer, PROSHRED® Kansas City delivers the most qualified document destruction service guaranteed.
With our mobile document shredding service, your confidential documents remain under strict supervision and never leave your location until 100% destroyed. This ensures your documents never leave your sight, and you can be confident that your information remains safe.
After all documents have been destroyed, you will be provided with a Certificate of Destruction, which confirms that all documents have been safely and securely shredded and discarded. Our team does not leave until all documents have undergone the complete paper shredding process, allowing you to return to your daily activities.
Our friendly staff are highly trained, bonded and uniformed, and carry picture identification. They are committed to providing you with the most secure and professional customer experience possible.
Convenient Paper Shredding Services
PROSHRED® security consoles are installed in your office for free to make file disposal quick, easy, and mess free. Simply drop the files into the console, and leave the rest to us.
PROSHRED® Kansas City comes to your location during a time that is best for you. Whether you request our services only once a month or once a week, your paper shredding schedule is based solely on what you need. We also offer various shredding sizes to accommodate the specific level of security your business needs.
If you have a need to shred files that you have accumulated in storage, PROSHRED®'s purge shredding business can be handled either in conjunction with regularly scheduled services, or during special one-time shreds.
We offer a variety of locking security containers and consoles to meet all your logistical requirements and make the system as easy to use as possible for staff. We also shred more than just paper, including proprietary products, electronic media and various other materials.
With state-of-the-art shredding trucks and highly-trained professional staff, we efficiently and conveniently shred all materials on-site, providing guaranteed security for all of our customers.
Affordable Document Destruction
By shredding all documents on-site, you save up to 25% on what would have been spent on in-house shredding systems. As well, by taking this off of your to do list, and letting PROSHRED® handle your paper shredding, you can focus your efforts elsewhere and help improve your business.
Our prices are simply based upon the regularity of our services, not on amount or weight, which means that you can prepare in advance and meet your budget goals.
With our security consoles installed at your facility and the destruction process performed on-site, PROSHRED® Kansas City guarantees total security of your confidential information. Compared to recycling and off-site or in-house shredding programs, PROSHRED®'s professional on-site shredding system for businesses provides both the best value and the most secure shredding service available in America.
In helping find and deliver the most secure shredding services for our clients we offer free consultative estimates and do not require our clients to sign contracts. We are happy to set up a contract with you to help meet legislative or corporate requirements, but we don't expect our customers to sign a contract. Our philosophy is that if we are not truly serving your needs, you don't deserve to be bound to us.
Environmentally Conscious
At PROSHRED®, we feel we all have a stake in preserving our environment. That is why 100% of our shredded paper is recycled. We not only take security seriously, but as your partner in corporate responsibility, together, we are making a positive difference in our nation's environment.
On each invoice you receive you see the cumulative tally of mature trees you have saved by using our service. And at the end of each year you are provided with a TreeSaver Environmental Certificate documenting the total amount of trees your organization saved during the year.
PROSHRED®'s business shredding service provides you with the most secure integrated shredding and recycling program in America.
Frequently Asked Questions About Business Shredding Services
Businesses should shred any confidential documents or materials that are no longer needed to be kept. Computer and printer hard drives and out of date or recalled defective products where liability is an issue should also be securely destroyed.
We can only speak for ourselves; but PROSHRED® recycles 100% of the paper that we shred.