Home Office Shredding
Whether your company utilizes work-from-home policies or you run a small local business from your home, it's important to properly dispose of your old sensitive documents. At PROSHRED® Norfolk, we offer home office shredding services that offer the security of professional shredding services from the comfort of your home.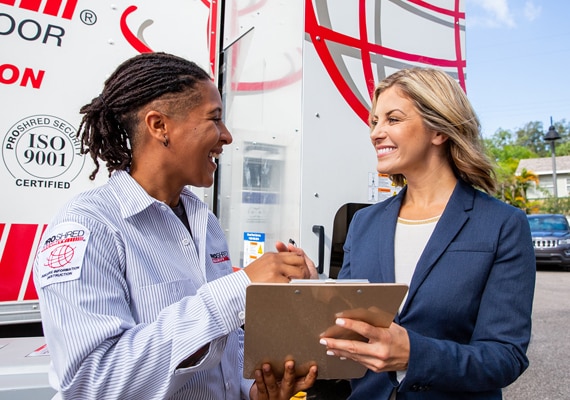 Why Do You Need Home Office Shredding?
When it comes to protecting your information, shredding is one of the most effective ways to prevent identity theft and fraud. Identity thieves can access your personal information in a number of ways, including through the trash. Shredding your documents helps to protect you by making it much more difficult for thieves to piece together your information. Home office shredding is especially important if you work from home or keep sensitive business documents at home. 
A professional shredding service can provide you with the peace of mind that your documents will be destroyed quickly and completely. In addition, a shredding service can help you to save time and energy by taking care of the shredding for you. Whether you need to shred a few documents or a large volume of paper, a professional shredding service can help you to keep your information safe. 
Develop a Shredding Program for Remote Employees
As more and more businesses move toward remote work, it's important to develop a shredding program that can accommodate employee needs. A shredding program helps to protect sensitive information and keep it out of the hands of would-be criminals. 
Professional Shredding Services vs Personal Shredding Machines
Home shredders can be a great way to destroy sensitive documents, but they have their limits. For one thing, most home shredders can only handle a few pages at a time, which can be time-consuming if you have a large volume of documents to destroy. In addition, home shredders typically produce fairly wide strips, which means that someone with enough time and patience could potentially put the pieces back together. 
Professional home shredding services offer a number of advantages over personal home shredders. First, they can handle much larger volumes of paper in a fraction of the time. Second, they use industrial-grade shredders that cut the paper into very small pieces, making it virtually impossible to reconstruct the document. Finally, most professional home shredding services offer secure pickups and destruction, so you can be sure that your documents are properly disposed of. 
Choose PROSHRED® Norfolk
At PROSHRED® Norfolk, our home shredding services offer the security of professional shredding with the convenience of mobile shredding. For more information or to receive a free quote, contact us today.