Residential Shredding Services
For residents of Milwaukee looking to securely destroy sensitive documents and materials, utilizing a professional residential shredding service is a great option. PROSHRED® Milwaukee provides secure document destruction, protecting your confidential information from identity thieves and others who might try to access your discarded private papers.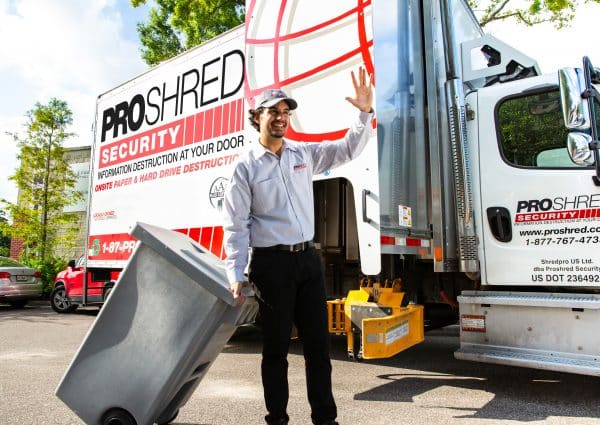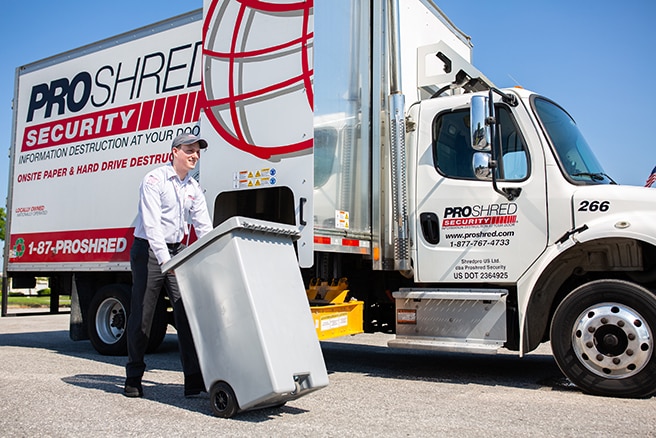 PROSHRED® Milwaukee is offering residential shredding services to provide a safe and secure way of disposing of your sensitive information. Our residential shredding services are the most reliable way to destroy your sensitive documents or information storage systems, such as disks, hard drives, microfiche, & X-rays. Our On-site shredding trucks are equipped with cameras that allow you to witness your paper items being destroyed. For electronic media destruction, we transport those items to our secure, video-monitored, warehouse for destruction. Ask our salesperson for further details on this NAID AAA /ISO 9001 Certified by NSF-ISR process.
Are you looking for a One-Time Clean-out?
Our state of the art shredding truck can come to you! A PROSHRED® certified shredding technician can come to your home for a one- time file clean out.
As our business ventures expand to our homes, along with the sensitive information related to running and maintaining your home, or home business, keeping confidential information safe is of top priority.
A List of items that should be shredded are:
Credit Card statements
Profit/Loss statements
Bank Account Statements
Voided Checks
Financial Statements
Pay stubs
Tax Records
Telephone numbers
Confidential letters
Electronic devices that may hold this information that is no longer in use
Bank Account Statements
Correspondence
Job Applications
Brokerage Reports
Legal Documents
Signatures
Cancelled Checks
Financial Reports
Medical Records
Social Security Numbers
Insurance Policies
Pay-stubs
Tax Records
Contracts
Invoices and Receipts
Photographs
PROSHRED® Milwaukee's Residential Information Security Containers (RISCs) are central to any personal or home-office shredding program. RISC boxes act as a convenient central repository labeled with useful information about shredding residential and home office materials. By having a single designated location to collect and keep confidential papers ready for disposal, individuals immediately start to maintain a system for ensuring their security. RISC boxes are available at our PROSHRED® Milwaukee office.
If you would like to set an appointment, call us at +1-262-369-0922 and set up your drop-off paper shredding appointment today with PROSHRED® Milwaukee!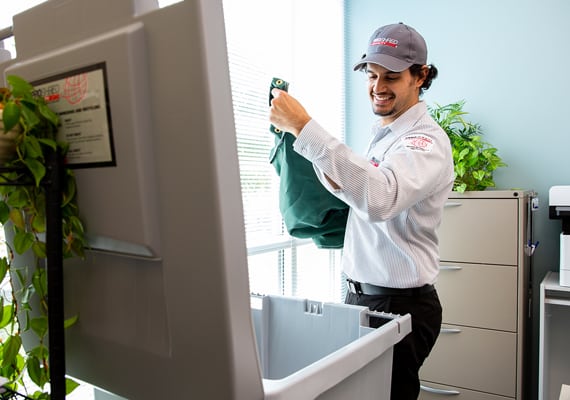 The most sustainable way to dispose of documents is to use a professional shredding service. Our residential shredding service partners with local recycling agencies to make sure all your paper re-enters the market and stays away from the landfill. Don't throw your shredded paper in the trash, contact PROSHRED® today.
Our residential shredding service is a convenient, cost-effective, and sustainable way to get rid of your sensitive documents. With our shredding services, you can be sure that your documents are destroyed completely in the most sustainable matter.