One-Time Document Shredding
PROSHRED® Milwaukee's one-time document shredding service is designed for businesses or residential customers who need to securely dispose of papers or other documents on a one-time basis. Whether you have a filing cabinet or a warehouse full of documents, our process is fast and straightforward. We send a mobile shredding truck to your location to pick up and shred your unwanted papers on-site. Then we transport them for recycling. One-time shredding is a convenient yet responsible way to destroy old documents and prevent sensitive information from falling into the wrong hands.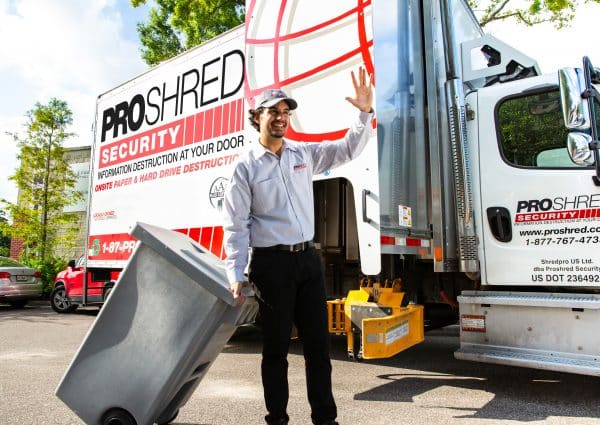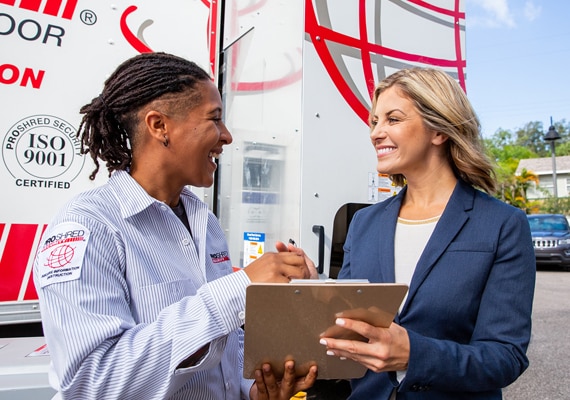 We Offer Affordable One-Time Shredding Services with No Hidden Fees
At PROSHRED® Milwaukee, we offer transparent pricing and easy scheduling for all residential and commercial one-time document destruction services. Unlike some shredding companies in Milwaukee, you'll never catch us upcharging you for travel or fuel fees or sneaking you into a contract for services you don't want. As with our corporate shredding services clients, we pride ourselves on giving our one-time shredding customers the highest level of customer service.
Mobile Shredding Trucks for On-Site One-Time Document Destruction
How do we make our one-time shredding services as efficient as possible? We use mobile shredding trucks and complete the job at your location. By offering on-site one-time shredding, we ensure your sensitive documents never have to leave your sight from the time they're picked up, until they're shredded and ready for transport to a recycling center. Our mobile shredders are nimble enough to fit into residential driveways, yet can destroy up to two tons of paper per hour—no one-time cleanout is too big or small.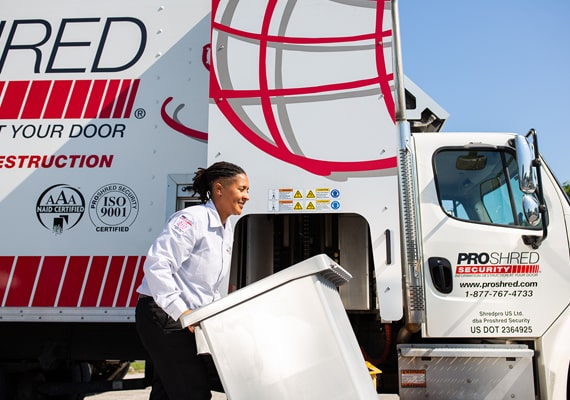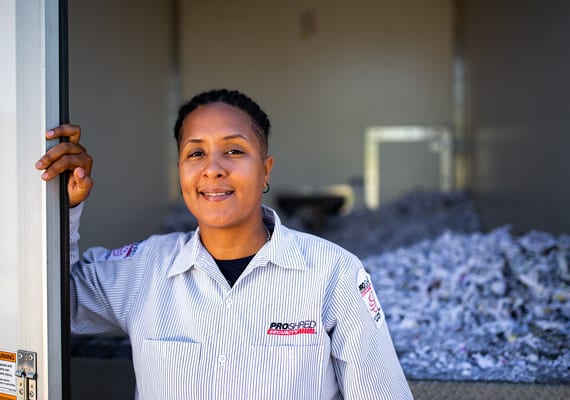 We Recycle All Materials from One-Time Shredding Appointments
There's no need to compromise between securely shredding your papers or recycling them. We do both! After we pick up and destroy your documents, the shredded materials are securely transported to a recycling facility in the Milwaukee area where they're processed for re-use. Our shredding and recycling processes are an environmentally safe yet secure way to eliminate your backlog of documents on a one-time basis.
A one-time document shredding service, as opposed to scheduled shredding, varies in cost depending on the size of the job. Once we know what your inventory looks like, we can give a more accurate quote.
A professional shredding service is a more secure and efficient way of getting rid of old documents and hard drives. The professionals at Proshred undergo rigorous training in order to provide you with industry-leading service.