PROSHRED® Northern Virginia Coverage Area
PROSHRED® Northern Virginia offers a coverage area to the city of Northern Virginia and shredding services near by. Our mobile shredding trucks will bring shredding services to the Northern Virginia areas highlighted on the map and all locations in the list below. We service the coverage areas on a daily basis and guarantee timely, secure service to all of our clients.
Don't hesitate to contact us to book an on-going service, or one-time purge in order to rid yourself of confidential documents and hard drives safely and securely with PROSHRED® Northern Virginia.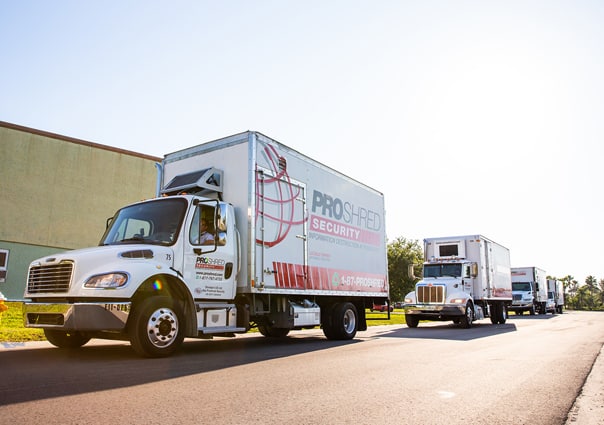 What People Are Saying About PROSHRED®
I have been bringing my old files to Proshred for shredding for years. The people at Proshred are polite, helpful, and efficient and the... read moreI have been bringing my old files to Proshred for shredding for years. The people at Proshred are polite, helpful, and efficient and the prices are reasonable. read less

Michael McVicker

I am the General Manager at a Choice Hotel and started using ProShred not too long ago. Their customer service has been great and... read moreI am the General Manager at a Choice Hotel and started using ProShred not too long ago. Their customer service has been great and any time I have needed something they have responded very quickly. read less

David Strole

I am the General Manager at a Choice Hotel and started using ProShred not too long ago. Their customer service has been great and... read moreI am the General Manager at a Choice Hotel and started using ProShred not too long ago. Their customer service has been great and any time I have needed something they have responded very quickly. read less

David Strole

Proshred is a Lifesaver!

We were clearing out a house we'd been in for decades, complete with far too much paperwork with far too much sensitive... read moreProshred is a Lifesaver!

We were clearing out a house we'd been in for decades, complete with far too much paperwork with far too much sensitive information. Proshred was terrific! Phone service - they gave me pricing - very reasonable when you consider the hassle of 20 boxes of material to shred, gave me all the info I needed to know. They called the day before with their time window, just like they said they would, and they arrived right on time. The gentleman who did the shredding was very efficient and we were done all 20 boxes in less than 20 minutes! Polite, Prompt, Efficient, Cost-effective. Worth it! read less

Martha Jones

Proshred is a Lifesaver!We were clearing out a house we'd been in for decades, complete with far too much paperwork with far too much sensitive... read moreProshred is a Lifesaver!We were clearing out a house we'd been in for decades, complete with far too much paperwork with far too much sensitive information. Proshred was terrific! Phone service - they gave me pricing - very reasonable when you consider the hassle of 20 boxes of material to shred, gave me all the info I needed to know. They called the day before with their time window, just like they said they would, and they arrived right on time. The gentleman who did the shredding was very efficient and we were done all 20 boxes in less than 20 minutes! Polite, Prompt, Efficient, Cost-effective. Worth it! read less

Martha Jones

Steve and his crews are conscientious people committed to doing the best for their clients. They have the capitalization to have the right equipment and... read moreSteve and his crews are conscientious people committed to doing the best for their clients. They have the capitalization to have the right equipment and the right manning to get job done. I have no hesitation to tell you to give Steve and the people at ProShred a try. read less

Bryan Biddle

The driver was extremely professional. He pulled right up to my home, put the mail in a big basket and shredded it while I watched.... read moreThe driver was extremely professional. He pulled right up to my home, put the mail in a big basket and shredded it while I watched. It get's no better than that. read less

3alarm247