No Contact Drop-off Shredding
We understand that sometimes it's just easier to stop by a PROSHRED® store. In order to accommodate our customers while maintaining the recommended health and safety procedures, we are implementing a No Contact Drop-off Service which allows you to still access our services without contact. Simply bring your confidential documents, hard drives, and any other media to our Sterling, Virginia location and we'll lock them in a secure box until they are shredded the next business day. We promise the same great results and the same low prices.
We charge the same per-container rate for all drop-off shredding jobs. Each banker/copy  sized box costs only $25 for the first, and $5 for each subsequent, for complete document destruction (larger boxes will be charged extra based on the size). There is a maximum daily limit of 10 boxes per client.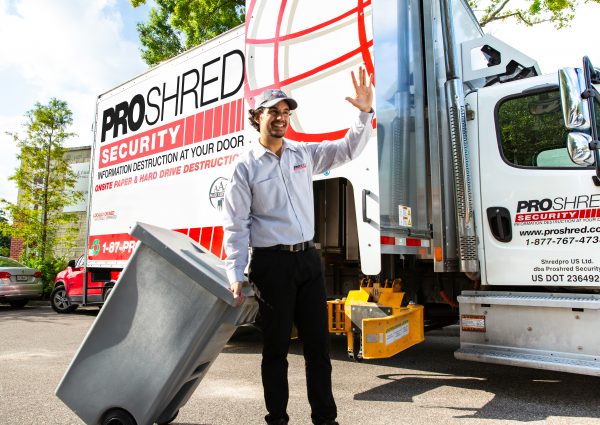 No Contact Drop-off Shredding: Monday – Thursday 9:00 AM – 4:30 PM
Please call 571-262-7625 x1642 ahead of time to ensure we're available to assist you!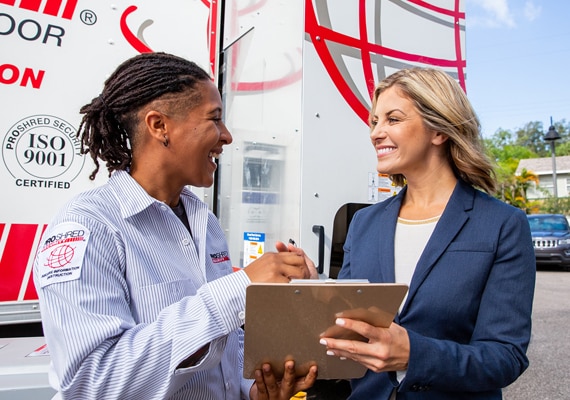 The Same Certified Destruction Process
PROSHRED® is part of a select group of companies that has received a prestigious AAA certification from the National Association for Information Destruction (NAID). We guarantee this same great paper shredding process to all of our clients, even for drop-off shredding. We do require a minimum order for on-site shredding, so it is often more convenient and cost-effective to stop by a PROSHRED® Northern Virginia location during drop-off hours.
What Types Of Documents Should You Shred?
From financial records to medical information, there are thousands of documents that should be seen by you and only you. When this paperwork is old or expired, it is always best to dispose of it immediately. Some of this information might include:
| | | | |
| --- | --- | --- | --- |
| Bank Account Statements | Correspondence | Job Applications | Profit/Loss Statements |
| Brokerage Reports | Credit Card Statements | Legal Documents | Signatures |
| Cancelled Checks | Financial Reports | Medical Records | Social Security Numbers |
| Confidential Letters | Insurance Policies | Pay-stubs | Tax Records |
| Contracts | Invoices and Receipts | Photographs | Telephone Numbers |
We charge $25 for the first box and $5 for each subsequent banker/copy-sized box, for complete document destruction. We can take larger boxes as well, but these will be charged extra, based on the size.
No, you should take the time to have them shredded. Bills have personal information on them that, in the hands of the wrong people, could put you at risk of identity theft.