Bloomington Shredding Service
Known to its settlers as the "haven of blooms," Bloomington, Indiana is a beautiful town nestled in the rolling hills of southern Indiana. Bloomington is a tight-knit community where everybody knows your name. However, there is a rich, diversity in its culture because of the international appeal of Indiana University's Bloomington Campus.
Home of the number one Farmer's Market in the state, Bloomington, is a city of urban appeal rooted in the rich cultural traditions of the hills of southern Indiana. Visiting Bloomington can be a treat while living there can be a dream. There is so much to see and do from its giant food festivals to the over 200 miles of biking and trails and all points in between.
The City of Bloomington is a community with forward thinking leaders who promote both environmental and financial sustainability. There are useful tools available to the thriving business community through both private and public sectors. At PROSHRED® Indianapolis, we are confident that one of the most important tools for a thriving business is a reliable document shredding service. Offering peace of mind to business owners that important and private documents such as business receipts and medical records will be destroyed is PROSHRED®'s primary purpose.
Why PROSHRED®?
For decades, PROSHRED® has been serving the people in the metro-Indianapolis area. The service we provide is cost-efficient and convenient, with our state of the art mobile shredding trucks coming right to your door. As one of Indiana's oldest shredding services, we have a reputation for being professional and reliable. Through the convenience of our mobile shredding trucks, we are able to shred important documents right at your place of business while you watch. There's no second-guessing or worrying about whether the confidential items were handled correctly.
Additionally, in keeping with Bloomington's efforts to maintain a healthy environment in which to live, PROSHRED®, is committed to recycle 100% of all shredded paper materials. Our team has a contract with a local paper recycling center and our trucks make several trips each week to have all shredded material fully recycled. PROSHRED® believes our company has a unique responsibility to uphold the beauty of the state of Indiana and the city of Bloomington.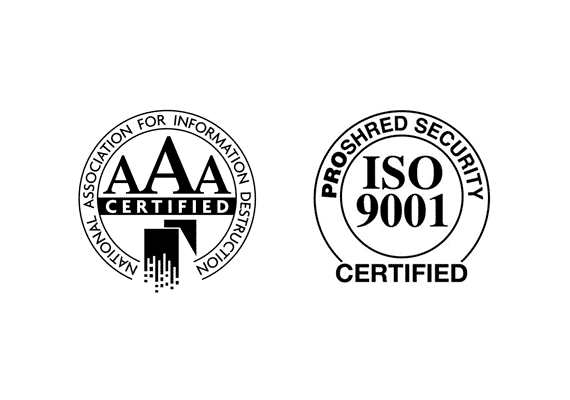 A Certified Shredding Company
PROSHRED® offers Bloomington shredding services and is committed to helping you comply with state and federal legislation regarding document security such as HIPAA, FACTA, and FCRA. At PROSHRED®, we have achieved the ISO 9001:2008 certification and AAA rating from the National Association for Information Destruction (NAID), affirming our commitment to you, our customer. We consistently strive for perfection within the document security and certified shredding industry. Our success is based solely on your ability to trust us and our ability to serve you. We appreciate your business and hope to continue to serve the people of Bloomington for a long time to come.
Bloomington, IN Shredding Services
On-Site Shredding Service
Scheduled Shredding Service
One-Time Shredding Service
Legislative Compliance
HIPAA Compliant
HITECH Compliant
GLBA Compliant
FACTA Compliant