Secure Medical Records Shredding for Healthcare Professionals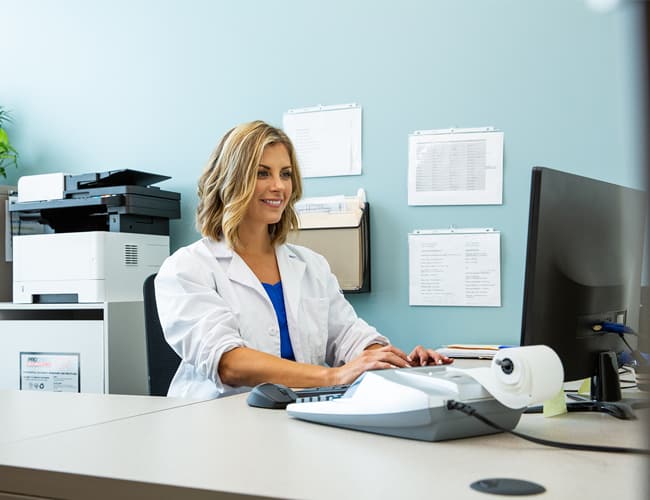 MedPro Disposal
MedPro Disposal is the alternative, low-cost medical waste disposal solution that is now available through PROSHRED® Indianapolis! Together MedPro Disposal and PROSHRED® Indianapolis aim to provide our customers with a low-cost alternative for medical and pharmaceutical waste disposal, information and data destruction, and compliance training solutions with best in class clients service! MedPro Disposal provides a multitude of services to fit your practice's needs including medical waste disposal, pharmaceutical disposal, compliance training, and other waste streams.
Here are 4 reasons why you should choose MedPro Disposal.
Transparency
Clear, simple, and predictable invoices that you can understand
Protection
Industry leading insurance and liability protection for your practice
Accommodating
Service and flexibility tailored to your practice's needs
Trust
Over 20,000 customers have made the switch to MedPro
Protect Privacy
Medical professionals understand the importance of patient confidentiality and privacy. At the same time, these documents contain highly sensitive and valuable information that is widely sought after by nefarious characters. Wherever these private documents might end up, it is important that every piece of medical information is completely destroyed before being thrown away or recycled.
Unfortunately, there are a massive number of HIPAA violations each and every year, leaving patient data at risk and healthcare providers responsible for civil penalties and legal fees. In Indianapolis alone, the frequency of HIPAA violations has nearly doubled since 2002. It is important that your medical office not only complies with these regulations, but upholds its reputation as a totally secure and confidential Covered Entity.
From dentists to nursing homes, Indiana professionals are choosing PROSHRED® as their professional shredding partner. Our dedicated document destruction is the most advanced in the industry and our on-site trucks deliver the ultimate standard in client convenience and affordability.
Medical Record Destruction Services
If you are an employee or physician in any of the following offices, then our comprehensive medical shredding service is perfect for you:
Doctors
Surgery Centers
Hospitals
Outpatient Clinics
Chiropractors
Dentists
Nursing Homes
Pharmacies
Of course, there are dozens of other healthcare offices that also need to comply with HIPAA and FACTA regulations. If you have any questions, call our PROSHRED® Indianapolis location for answers from our document security professionals.
As a locally owned company, our team has operated in Indianapolis with decades of combined experience. We are familiar with the unique circumstances and challenges of healthcare offices around the city, so we always create a custom security plan that is specifically catered to your practice. As an alternative to regular trash cans, we even provide secure disposal bins for your office at no additional cost.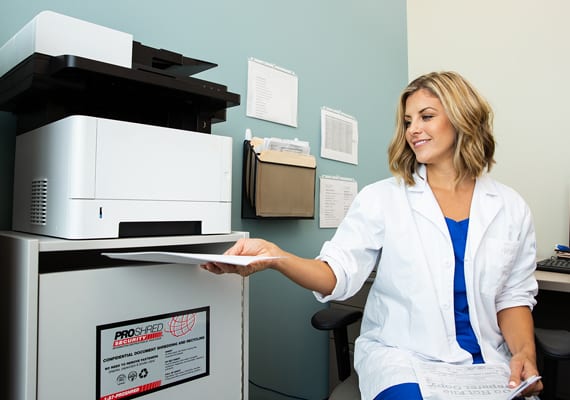 Contact PROSHRED® Indianapolis for your medical record shredding needs.
Enjoy peace of mind because your sensitive records will be 100% unrecoverable.