Drop-Off Shredding at our Convenient Indianapolis Location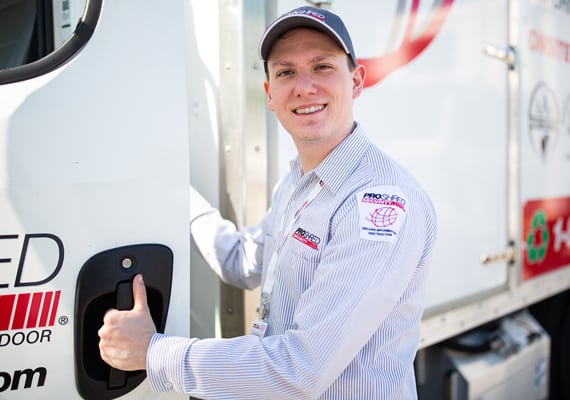 We offer two convenient shredding options:
Depending on volume, we can send a truck to your location.
Drop off your documents at our location.
We provide a Drive Thru Service the first Friday of each month. Customers can schedule a time to bring their confidential documents to our facility. A shred truck will be set up in the parking lot behind our building. We will have PROSHRED® Indianapolis team members ready to assist you. With our Drive Thru service, you can watch your shredding being done right in front of you.
If you are not able to wait until the first Friday of the month, you can schedule a time during the week to bring us your documents. **Please note: With this option you will NOT see the shredding being completed. All of your documents will be locked up in our secure warehouse and shred when our trucks return in the evening.
Would you prefer we send a truck to your location? Learn more about this service.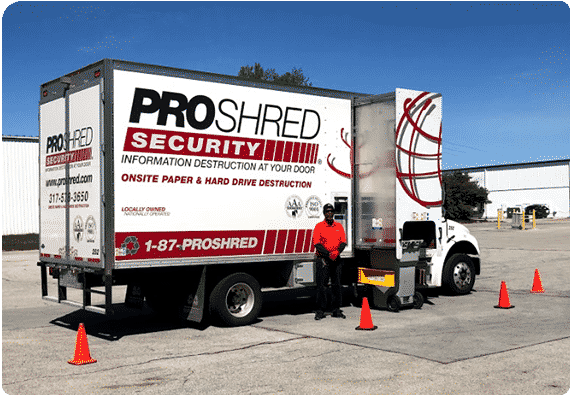 Drive Thru Shredding Guidelines:
Bring your documents in boxes or bags, and have them in the trunk, back seat or pickup bed for us to unload.
When you arrive at our facility, please follow the signs and heed instructions.
When you arrive - STAY IN YOUR VEHICLE
Payments may be made by charge card or cash.
Your confidential documents will be shred right there.
Pricing:
White kitchen garbage bags (13 gallon) or similar- $5
Standard size banker boxes (15.50" L x 12" D x 10" H) or similar - $10
Legal size banker boxes (23.25" L x 15" D x 10" H) or similar - $15
After the contents of your bags and/or boxes are emptied by the PROSHRED® Indianapolis team member, he will place the empty container back in your vehicle.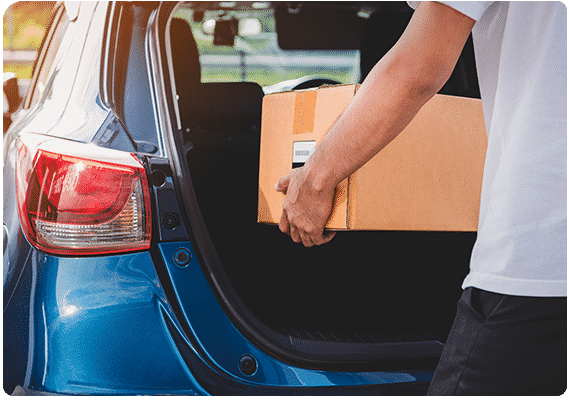 What Type of Documents Should you Shred?
There are endless types of documents and important papers that should never be thrown in the trash. For any Indianapolis resident, we always recommend calling us or appropriate authorities if you unsure about whether a document should be shredded. Some examples of paperwork that must be shredded include:
Bank Account Statements
Correspondence
Job Applications
Profit/Loss Statements
Brokerage Reports
Credit Card Statements
Legal Documents
Signatures
Cancelled Checks
Financial Reports
Medical Records
Social Security Numbers
Confidential Letters
Insurance Policies
Pay-stubs
Tax Records
Contracts
Invoices and Receipts
Photographs
Telephone Numbers
We Offer a Wide Variety of Services
Secure document shredding is an important habit that all businesses and residents need to have. At PROSHRED® Indianapolis, we believe there is no better time to start than today!  That is why PROSHRED® Indianapolis offers a wide variety of shredding services, from large corporate accounts, to single residential box shredding.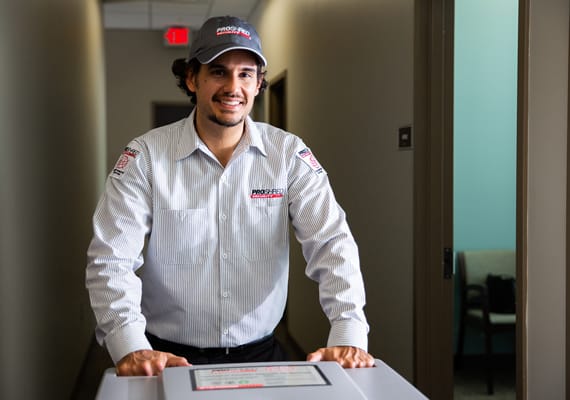 PROSHRED® Indianapolis Offers Convenient Drop-Off Shredding Service
PROSHRED® Indianapolis has the extensive experience and professionalism needed to provide industry leading service to our customers. Allow our team to work with you in customizing an on-going shredding program for your needs.