Indianapolis' Most Highly Rated Document Shredding Company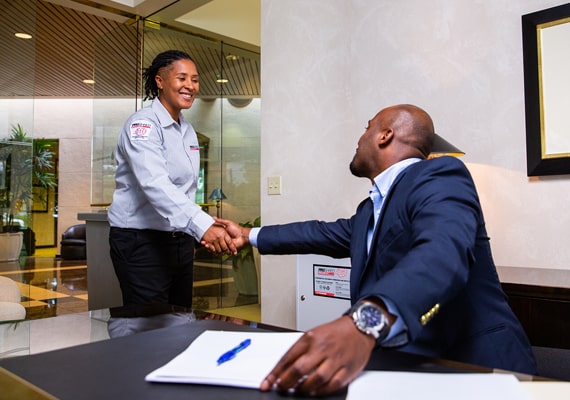 Trust is the foundation of business-client relations.
Your business is uniquely trusted with the private information of customers, employees, and partner companies. Whether this data is displayed electronically or in print, it is your legal and business obligation to ensure this information never falls into the wrong hands.
Like many states, Indiana has expanded on federal privacy laws like HIPAA, FACTA, and FCRA by enacting its own state legislation. From credit card transactions to customer data, a breach in privacy is a nightmare scenario for young businesses.
When it comes to safeguarding your confidential business documents, you need a company that has the experience and expertise to ensure your information is never compromised.
More Indianapolis businesses trust PROSHRED than any other professional shredding company. Our dedicated, proven system is backed by an ISO 9001:2008 certification and an exceptional AAA rating from the National Association for Information Destruction (NAID).
How the PROSHRED® System Works
For all of our business clients in our Indianapolis service area, we offer on-site shredding service at no additional cost. That means that our team will drive directly to your business on a scheduled service date to perform the entire destruction operation before your eyes, without ever having to leave the comfort of your office. We collect the paper material from your office in our secure PROSHRED® containers via a completely hands-free process.
Each of our Customer Service Professionals (CSP's) is bonded, picture identified, and thoroughly background checked to ensure the ultimate standard in security and reliability. After transporting your documents to our shredding truck, the entire process is completely automated – the truck will lift the container and dump its contents into onboard industrial-grade shredders. From start to finish, a shredding appointment might only take a few minutes to complete.
Cost-Effective Document Shredding
Pricing is simple with PROSHRED®. Our company never adds hidden fees for transportation or management like many of our competitors. The straightforward pricing guarantee is calculated "per container." We never charge by the hour or by the pound, so you can expect consistent and fair billing at the end of a shredding appointment.
Our internal studies have found that PROSHRED® could save you up to 25% when compared to traditional in office shredding. These costly machines are prone to all kinds of warranty issues and mechanical breakdowns, leaving you wondering why you even bought the machine in the first place. Years' worth of documents can be shredded with our high-tech trucks at a fraction of the price of a brand new personal shredder. Join the hundreds of Indianapolis businesses that are saving money with PROSHRED®.
100% Recycling Pledge
Our business model wouldn't be complete without mentioning our commitment to environmental sustainability. Everyday, our trucks shred thousands of pounds of recyclable materials, so we have a unique responsibility to turn this waste into a positive. We deliver 100% of all shredded products to a local Indianapolis recycling center where this paper is processed into other post-consumer products.
As your partner in environmental awareness, we even provide exciting ways to keep track of your ecological impact like the TreeSaver Environmental Certificate, which shows how many trees your business helped save over the previous calendar year. PROSHRED® is Indianapolis' partner for a brighter future.