Franklin Shredding Service
Franklin, Indiana is known for its community involvement and annual festivals that attract people from all around. Franklin hosts weekly Farmer's Market that maintains the vibrancy of the community at its core. Capitalizing on what their natural environment offers, Franklin has enhanced Blue Heron Park and Wetland, with 55 acres of natural landscape, miles of walking trails and an abundance of wildflowers to further compliment the surroundings and the enjoyment of locals and visitors alike who visit.
Franklin is currently home to several international companies, such as Toyota, NSK, KYB, Mitsubishi, and possibly a little lesser known Ritters Frozen Custard, which became an international brand.
This dynamic environment is a perfect fit for PROSHRED® Indianapolis. We are your premier document shredding company specializing in document security for business and residents. Our Franklin document shredding services are recognized for our commitment to the secure destruction of your personal and company information. Personal identity theft is rampant in today's world and PROSHRED® has developed a strict business model to securely and effectively dispose of your sensitive documents.
Why PROSHRED®?
PROSHRED® Indianapolis has hand-picked specialized employees to specifically master certain trades necessary to create a corporate culture, or 'team' approach, and the educational training does not stop when they are hired. Being a national company affords PROSHRED®Indianapolis the advantage of diversity and the experiences of a vast array of problems/solutions that a smaller, local certified shredding company could possibly gain. PROSHRED® Indianapolis recognizes that our customers need a dependable shredding company with procedures in place to protect your sensitive information. PROSHRED® is proud to serve both companies and individuals alike by offering on-site shredding and drop-off shredding and by servicing around the Franklin community.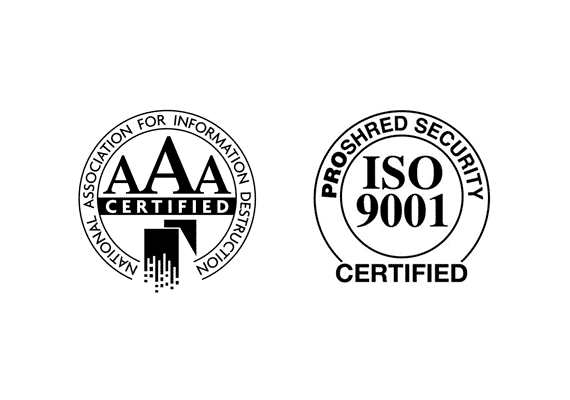 Franklin Certified Shredding Company
The ISO 9001:2008 certification and AAA rating from the National Association for Information Destruction (NAID), is further confirmation of the professional status earned and PROSHRED®Indianapolis does not take these achievements lightly. We consistently strive for perfection within the document security and certified shredding industry. Our success can be attributed to several factors, but you, our customer, are paramount to the trust we have gained and the confidence that keeps you coming back. I think you will agree that there is little, more sacred in the business world than document security. We thank you for your continued confidence, and trust that we shall maintain the same unbending standards that have earned us your business, and we shall enjoy continued growth together for both now and in the future.
Franklin, IN Shredding Services
On-Site Shredding Service
Scheduled Shredding Service
One-Time Shredding Service
Legislative Compliance
HIPAA Compliant
HITECH Compliant
GLBA Compliant
FACTA Compliant