December 22, 2016
A Certificate of Destruction: What it Means
Is your organization thinking about outsourcing its document destruction needs? Obtaining a Certificate of Destruction following the completion of the process is an excellent step towards ensuring full compliance. While document shredding in-house is more desirable than tossing information into the trash, it simply lacks the level of security and reliability that's received with a professional shredding provider.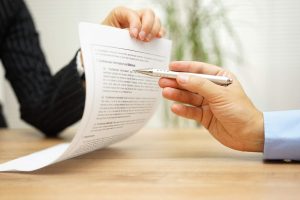 If you've spent some time online searching about professional document shredding, you have likely come across the term COD or Certificate of Destruction; are you aware, however, of its significance in the document destruction industry, and how it pertains to your security?
Identity theft cases continue to occur across the United States, meaning that it's more vital than ever to have an ongoing, document shredding program in place. In doing so, you're taking proactive measures in securing any data related to your employees, customers, and business.
Perhaps the idea of handing private documents off to a business is a concern on its own; after all, how can you be sure that the shredding company is adequately trained and skilled to industry standards? What if records are misplaced throughout the process? Not to worry; we completely understand any hesitations you might have, and these are valid questions you should be asking yourself when hiring a document destruction company
An experienced and trustworthy shredding provider like PROSHRED® Northern Virginia will continuously supply you with documented proof that states your records have been shred securely and in compliance, with state privacy laws. This Certificate of Destruction (COD) provides you with additional reassurance in knowing that we have implemented all the necessary precautions during the entire paper shredding process to protect your organization. Unfortunately, some shredding providers will claim that their services are in fact secure, but in reality, if they are unable to supply physical proof that verifies this, they may lack these important qualifications. We highly recommend going elsewhere for your shredding needs if this is the case.
A Certificate of Destruction Provides:
Written confirmation that your documents have been professionally shredded with a complete audit trail
Clear, precise statement outlining governing terms and conditions
Distinct serial number
Date and location of the destruction process
The individual witness of the shredding process (whether it is a representative of the shredding provider or an employee of yours)
Remember that regardless of who you hire for your document destruction needs, you should ensure that the team you choose is qualified, and will willingly supply you with a Certificate of Destruction. This document should be securely stored away as a reference point should you be audited, or are in question of your internal document security.
At PROSHRED® Northern Virginia, protecting your security is our biggest concern and we follow strict procedures to ensure your safety throughout all points of the process. Get in touch with our professionals for additional information about our secure document shredding services, or for further details surrounding our Certificate of Destruction.
Call 1-571-262-7620