Conshohocken Paper Shredding
Top-Rated Conshohocken Document Destruction
To all Conshohocken businesses looking for a premier paper shredding service, secure document destruction, and compliance solutions, the team at PROSHRED® Philadelphia is here for you. As a locally owned and operated company with national service capability, we understand our customers better than any nationally-run paper shredding service. We work closely with businesses both large and small, and develop custom shred plans that meet your needs and budget—when, where, and how you need it.
From your initial call to PROSHRED® Philadelphia, our team will discuss your business's current processes and help assess your needs. We will develop unique shredding programs based on the data we find, and will consult with you on the best steps to take to ensure your business is compliant with state and federal legislation. We will also work with you to help you stay organized and on the right track toward growing your business. We specialize in customized, flexible programs, streamlined pricing, and convenient service options. For top-rated Conshohocken document destruction, choose PROSHRED® Philadelphia!
Conshohocken Scheduled Shredding
Many Conshohocken business owners feel burdened by the daily amount of paperwork they have to keep track of. While it's often unavoidable, even in our increasingly digital age, to print important documents for business meetings and daily tasks, many of these documents become irrelevant after a few days, or even immediately. Paper can pile up quickly, and it can be tempting to just throw everything away, despite the risks. However, the results can be devastating, and put your company and employees at risk of identity theft or data breach.
If you are looking for an easy and affordable solution to this problem, PROSHRED® Philadelphia offers Conshohocken scheduled shredding for businesses both large and small. With this service, our team will visit your location on a routine basis and shred all of your accumulated materials via our state-of-the-art mobile shred trucks. You can watch your documents be destroyed from right outside your door, or witness the shredding on a CCTV screen right on the truck itself. The process takes mere minutes, so this added security can easily fit into an already busy workday.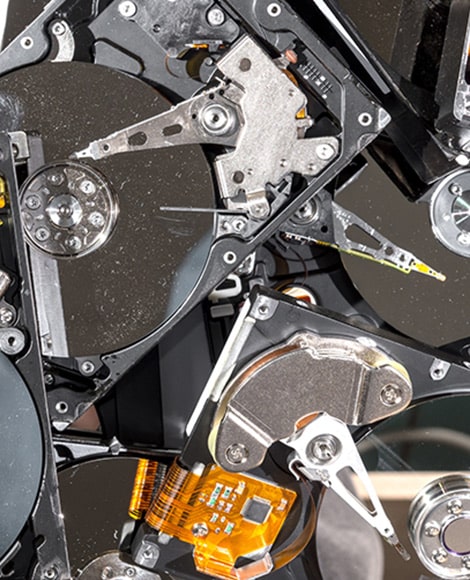 Hard Drive Destruction for Conshohocken Businesses
When it's time to upgrade your electronics, what are you doing with old computers? Do you throw them away, or put them in storage under the worry of protecting your sensitive information? While it's a good thing to stay vigilant over what is stored on your computer, keeping old electronics can take up unnecessary space in the office and potentially put old data at risk, as will disposing of the electronics improperly. So what can you do to clear out space while also protecting your data?
With PROSHRED® Philadelphia's hard drive destruction for Conshohocken businesses, you can solve two problems at once. Our team will effectively destroy hard drives at your business, or at our facility and can recycle old computers, monitors, laptops, and more. Your hard drive destruction is highly monitored throughout the shredding process, and is handled by certified technicians who care about the security of your data, in compliance with NAID AAA requirements. The shredded hard drive remains are sent to a secure electronic recycling facility, where they are safely processed. PROSHRED® Philadelphia cares about our community, which is why we take extra steps to recycle whatever shredded materials we can. Remember to do your part in protecting the environment, too, when you dispose of your empty computer.
Your Local Solution for Conshohocken Paper Shredding
The team at PROSHRED® Philadelphia is here for all of your Conshohocken paper shredding needs. We have a fleet of mobile shred trucks that can handle any shred job, no matter the size. Our shredding technicians are very friendly, and are happy to assist you any way they can. Trust PROSHRED® Philadelphia to set up a custom shred program that will keep your business on track and compliant with state and federal legislations.