Philadelphia Document Scanning Service
Your security is always our top priority at PROSCAN® Philadelphia. Our employees are carefully selected and trained to provide the highest level of protection possible, throughout the entire scanning process. We are the reliable and trusted Philadelphia scanning service!
PROSCAN®'S Document Scanning Process
The first step of the document management process with PROSCAN® in Philadelphia is ensuring secure transportation for your documents to and from our two facilities. Our state-of-the-art trucks come equipped with alarms, cameras, and CCTV for your safety. In addition to physical security guards, we also encrypt various aspects of our network and continuously monitor network activity.
Once the scanning job has been completed, we ensure your confidential documents and information are properly destroyed. We are also able to securely destroy your original paper copies. At PROSCAN® Philadelphia, we understand how important the security of your information is to you. That's why we have a shredding process that guarantees the chain of custody will never be broken and your information will always stay safe! In addition, all of our employees undergo a pre-employment background screening and drug test as well as compliance training on how to handle confidential information properly. Give us a call today to learn more about what we can do for you!
What are document management solutions?
Our advanced scanning and document management services assist in the organization of your company's operations regarding retrieval, sharing, and security. By using our scanning services, your business will be able to reduce costs associated with document storage and retrieval while also becoming more productive and efficient. We know that you need solutions that are flexible and scalable for document management and at PROSCAN® Solutions, we'll work with you to improve your organization's efficiency and growth.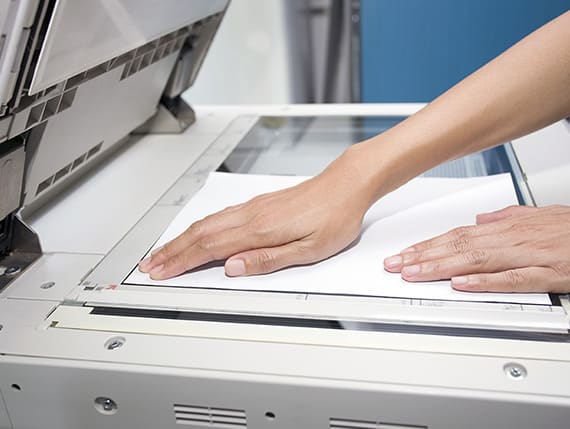 Benefits of Document Management Solutions
With our document scanning and management solution, you can easily scan and store all of your documents. This service can help save valuable office space while also decluttering your work area. You'll be able to access files from any desktop, tablet, or smartphone for ultimate convenience.
Easy Search and Find Feature
With our document management system, you won't have to waste your time searching for paper documents ever again. Not only will you be able to find the information you need in a few seconds, but our indexing and OCR scanning also allows users to search for specific terms within files by their file names.
Sharing of Documents
With our document management system, you'll never overpay for communication infrastructure again. Furthermore, it's easier than ever to manage documents– both efficiency and reliability have increased significantly. With this digital exchange project, files can be now transferred in a matter of minutes not only between employees at various locations but also with all your clients and vendors.
Compliance Solution
One of the main benefits of electronic document management is that it allows you to store papers safely while still complying with state and federal regulations. Paper records are far more susceptible to theft, loss, and deterioration than electronic ones– so making the switch can save you a lot of headaches down the line.
Industries We Serve
Financial
Digital customer files are readily available and easily accessible, allowing more time to be spent during consultations. Moreover, time-consuming and costly paper processes are replaced by streamlined, efficient, and compliant digital workflows.
Healthcare
Clear up office and examination room space by going digital with patient files–accessible from anywhere, anytime. Automated workflows for things like insurance claims, pre-authorizations, and referrals free up your staff's time so they can focus on providing care.
Legal
By sharing documents among employees, you are saving time that could've been used for billable hours. With automated workflows for client intake, discovery, and case management, your company will run more smoothly and be in compliance.
Why Choose PROSHRED® Philadelphia for Scanning
PROSCAN® Solutions can help you with any document scanning and imaging project, big or small. In addition to our core scanning services, through our parent company PROSHRED®, we also offer Services including secure document destruction, copy and print services, and database creation.
The goal of PROSCAN® Solutions of Philadelphia is to help companies cut down on expensive storage and retrieval costs, as well as improve office productivity and efficiency. We understand that each company has different needs. That's why we offer:
A knowledgeable team
Free, no-obligation consultations
Quick, professional, and secure solutions
Competitive pricing based on your needs
What You Will Get:
Advanced Technology
At PROSCAN® Solutions, we not only care about your privacy but also delivering quality results. Our team is always up-to-date with the latest technology so you can receive the best possible document scanning and management solutions.
Customized Document Management Solutions
We take many things into account when we modify our document management system to fit your company's individual needs. Whether it is scanning and processing documents or retrieving them from archives, everything can be done through our easy-to-use system. High-speed and high-tech methods allow us to quickly gather data from any paper source.
Quality Control
PROSCAN® Solutions is the only document management firm that scans your material on-site, ensuring accuracy and information security. We submit your files to our quality control procedures to guarantee they are of the highest possible quality when finished.
Advanced Software
As part of your tailored document management system, we offer optical character recognition (OCR) scanning, Smart Search software, and enterprise resource planning (ERP) integration. We also make sure that all of our technology and software are secure to safeguard your information and guarantee its confidentiality.