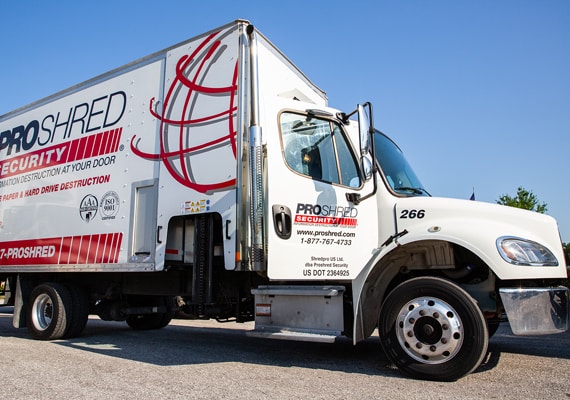 National Coverage We serve as single point of contact for firms with locations throughout the United States. Large and small companies rely on us to handle requirements that arise in various parts of the US. We quickly arrange for secure, certified shredding and recycling, as well as other document management services with our Proshred Partners. We ensure the process is seamless for our customers, providing a single point of contact, and chain of custody. We're simply a phone call or email away!
NA
Real Estate Implemented a secure destruction & recycling program for this large Real Estate & Title firm, streamlining its costs and ensuring compliance for both corporate locations and Realtor offices throughout the tri-state (PA-NJ-DE).
NA
Large University • We saved this University hundreds of Mailroom Management hours each year by handling all University departmental communication and billing with respect to secure information destruction. With checks and balances in place, the process is seamless to them, while eliminating huge headaches for their personnel, significantly enhancing their productivity & reducing costs!
NA
UNIVERSITY Hi Ginny, thank you so much for sending 2 reps with 2 trucks today. They were both very efficient, helpful, patient, very friendly and they moved quickly. They even waited for a professor to come with a last minute shredding that wasn't requested in the first place. We had another great experience with ProShred and just wanted to say thank you.
Joanne
Residence My husband was home when your service tech arrived for the shredding and he said he was courteous, efficient and commented on his notable customer service skills. He and I both agreed that there should be more company's like yours.

Your diligence in creating a superior company is apparent in the quality of staff working for you. In my estimation with this track record Pro Sheds success will continue to flourish.

Thank you!
M. Bonner
Small Business I want to thank you and Proshred for providing prompt and excellent service to me at 245 Main Street, Emmaus, PA. I received great telephone service and great on-site service from your Service Professional.
I only called you early this week, and was a day late in confirming my need for your services, giving you essentially only one day's notice of my needs. Your office staff was very accommodating on the phone, giving me piece of mind in knowing that the services would be concluded before my Friday deadline. I really appreciated their patience and flexibility in scheduling my job.
The Service Professional called to give me a half-hour heads up about his arrival, and called me to confirm the directions to the collection location. He was great on the telephone—courteous, clear, and professional.
When he arrived, he negotiated his truck through my tricky parking lot with ease. He was more than pleasant, with an easy going, affable disposition. He kept in contact with me about his progress so that I could tend to other business while he worked. He was friendly at all times, but did not let his congeniality interfere with his efficiency, remaining attentive and on task at all times.
In addition to your staff's exemplary service, I found the price very reasonable. To have conveniently disposed of what I perceived as a large amount of material for under $300 was a bargain.
Thanks again!
C. Neely