Product Destruction
You work hard to keep your business and client information secure by shredding your company's paper documents and securely disposing of digital information. That protection should extend to other items as well, which is why product destruction is so important.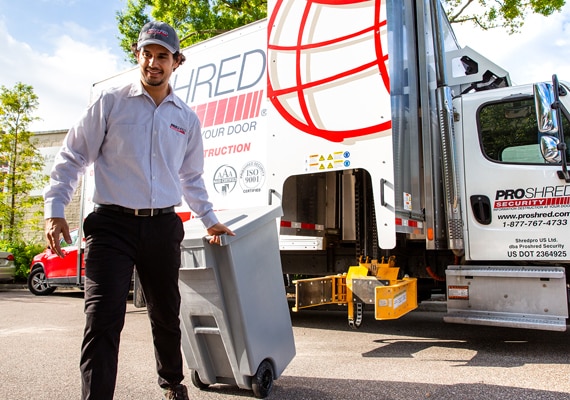 Safely Dispose of Sensitive Items
Safe disposal of products ensures that old, broken or unused items are not re-sold or misused by others. The PROSHRED® product destruction process is transparent for customers and data is kept secure from beginning to end. Our employees are qualified ISO 9001 Certified by NSF-ISR and NAID AAA Certified professionals and will see your items are completely destroyed during the product destruction process.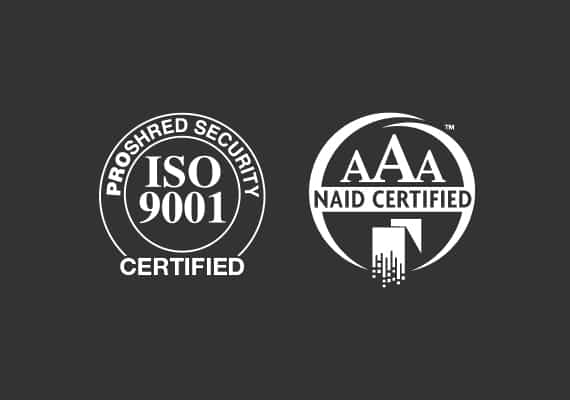 Where can I shred security badges?
If a building is only accessible with security badges or employees carry personnel badges for identification, you understand the need to protect information in the workplace. To protect a business from identity theft, data breaches and to keep information from being otherwise compromised, it's important to shred items such as security badges. 
PROSHRED® Philadelphia can shred these items and more to help protect sensitive information and keep employees and clients safe. 
Philadelphia Product Destruction
PROSHRED® Philadelphia understands that most companies have confidential data, particularly in the form of HR documents and uniforms. Just as they invest in paper shredding, businesses that use badges for entry, issue uniforms or require employees to wear branded apparel should invest in product destruction services.
We provide product destruction services for the following items:
Old uniforms

Used security badges

Apparel

Footwear

Items with outdated logos

Defective material

Trading cards and playing cards

Sporting goods

Gaming chips

Recalled products
Choose PROSHRED for Your Company Shredding Services
The safety of your client and employee information is dependent on secure destruction of documents and products. Our Philadelphia product destruction services are an easy, safe way to securely dispose of your unwanted items and maintain your peace of mind. We provide high quality shredding services to customers both commercial and residential. Call us today for a free estimate or for more details on why product destruction is easier than ever with PROSHRED® Philadelphia.
Because Product Destruction can include a variety of item types, the destruction and disposal process and time can vary based on your product. Contact Proshred today for a customized quote!
Products such as textiles, logo'd items, ID tags, or gaming supplies can all be shred just as effectively as paper or electronics. Proshred's powerful shredders can destroy so much more than just paper.
A business's proprietary information extends beyond documents! Any items including a company's logo or branding, names and photos, or posing monetary trade-in value for a company (coupons, vouchers, or gaming chips) should be destroyed in a secure manner. These items can be sold for a profit, or used for criminal purposes if in the wrong hands.