Malvern Paper Shredding Services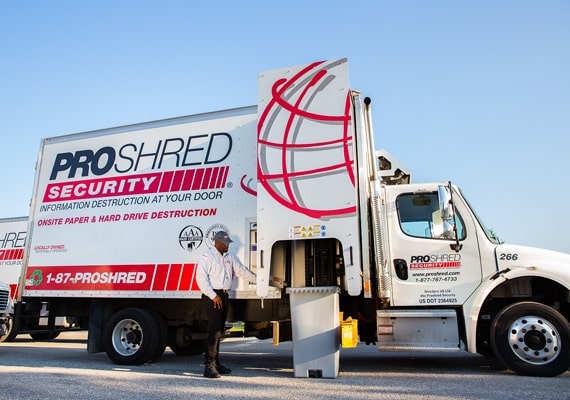 PROSHRED® Philadelphia is a team of shredding experts who understand that paper shredding and hard drive destruction are crucial for the overall security of your business. Our Malvern paper shredding services are secure and destroy confidential information while reducing identity theft.
In a growing business environment, companies must ensure confidential data is professionally discarded. Every industry has data protection laws that require businesses to partner with a professional shredding company, and while paper shredding is critical for businesses, hard drive shredding is just as important.
Malvern Paper Shredding
In order to keep data secure, businesses should implement a paper shredding strategy into their company's procedures. PROSHRED® Philadelphia offers three main shredding services to meet the unique needs of your business.
On-going Shredding – Includes secured containers at no additional charge, which are serviced directly at your location on a recurring basis.
One-time Shredding – Ensures that you are provided with on-site services to shred your archived files, no matter the volume of paper you need destroyed.
Drop-off Shredding – Lets you bring smaller volumes of paper to our office for paper shredding at an affordable price.
Malvern Hard Drive Shredding
Hard drive destruction is critical for businesses because files stored on computers or other electronic devices are not actually eliminated until the hard drive is destroyed. The most effective way to protect information stored electronically is to partner with a Malvern shredding company. This is the only way to ensure data on your computer is properly removed and inaccessible.
Malvern Shredding Companies
When you are searching for a hard drive or paper shredding company, you want one you can trust. Businesses across the town of Malvern are choosing PROSHRED® Philadelphia for many reasons. In addition to being certified by both ISO 9001 Certified by NSF-ISR and NAID AAA, our company is also dedicated to the sustainability of your business.
After your documents and materials are professionally destroyed, they are taken to a local recycling center. You will be provided with a Certificate of Destruction after each service that you can keep for your records. You will also be notified each year with how many trees you have saved using our shredding and recycling services.
PROSHRED® Philadelphia understands the importance of shredding for businesses and residents as confidentiality breaches are on the rise. Our business is ISO 9001 Certified by NSF-ISR and NAID AAA certified and offers other Malvern shredding services, such as product shredding and electronics and media destruction. Keep your business secure and organized year round. Schedule a service today!
Malvern, PA Shredding Services
On-Site Shredding in Malvern, PA
Scheduled Shredding Service in Malvern, PA
One-Time Shredding in Malvern, PA
Drop-Off Shredding Location in Paoli, PA
Legislative Compliance
HIPAA Compliant
HITECH Compliant
GLBA Compliant
FACTA Compliant