November 30, 2021
5 Ways Mobile Shredding Services Benefit Businesses
Every day, businesses handle thousands of documents, many of which include sensitive information. These documents range from employee records to proprietary information such as drawings or documents detailing company processes.
When sensitive documents make their way into the wrong hands, competitors can gain an unfair advantage or customer financial data can become exposed, resulting in major legal liabilities for the company.
To comply with legal requirements such as FACTA and HIPAA, and to protect client, employee, and company information, it is wise to consider hiring a secure mobile shredding service.
As providers of certified information destruction in Philadelphia, PROSHRED® understands the need for secure, compliant, and fully-documented shredding services that are not only cost-effective, but also convenient. Read on to learn more about the benefits of mobile shredding services for businesses and institutions that are in charge of sensitive data.
Mobile Shredding Services are Convenient for Businesses
One of the most common reasons our customers decide to use a mobile shredding service is the convenience. Businesses that opt for this service do not have to rely on employees to remember to shred documents, or have employees waste valuable working hours trying to feed hundreds of paper files into a small office shredding machine. Instead, their employees just need to remember to dispose of important documents in special containers provided by the mobile shredding service.
In addition to benefiting employees, a mobile shredding service wastes less time and resources. With mobile shredding, employees will not have to spend a lot of time training to understand how to keep files secure: instead, employees just simply drop the documents in a secure shredding bin or console and PROSHRED® will pick up the container on a set schedule for on-site shredding.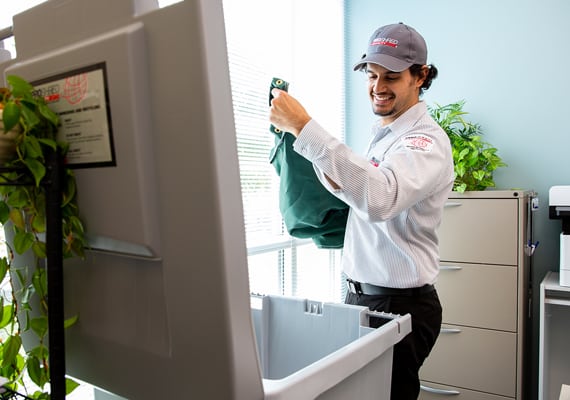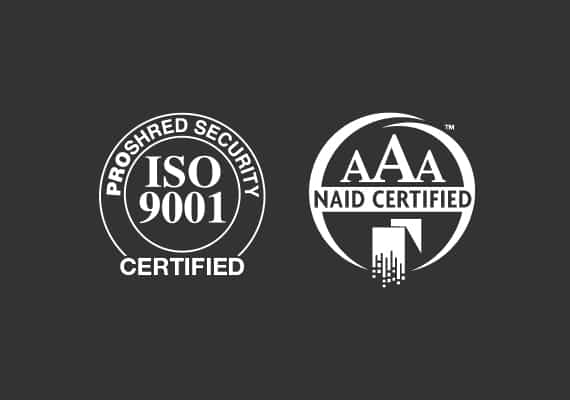 Mobile Shredding Services Help Businesses Reduce Liabilities
Another reason companies should opt for mobile shredding services is to reduce legal liabilities. Some laws such as FACTA and HIPAA have severe penalties for non-compliance. The fines could be thousands of dollars, which can really hurt small businesses.
Using a mobile business shredding service ensures that documents are destroyed according to standards like ISO-9001. Certified shredding companies like PROSHRED® also have special designations like ISO-9001 and NAID AAA certifications. Plus, many services that engage in proper document destruction provide a Certificate of Destruction upon completion of a shredding job, which the company can use to prove that they have satisfied their obligations to destroy sensitive information and reduce liabilities.
Mobile Shredding Services are Cost Effective
By outsourcing document destruction to mobile shredding services, businesses can save a great deal of money and time. With a mobile shredding service, companies won't have to waste resources training employees with respect to document destruction, and won't have to keep up with a noisy, messy office shredding machine. Moreover, using mobile shredding services helps to ensure legal compliance, resulting in less legal costs and more savings.
For a few cents per pound, shredding companies will properly dispose of sensitive documents, making the service even more worthwhile. At PROSHRED®, we offer customers transparent pricing and tack on no fuel surcharges or hidden fees, making the service even more affordable.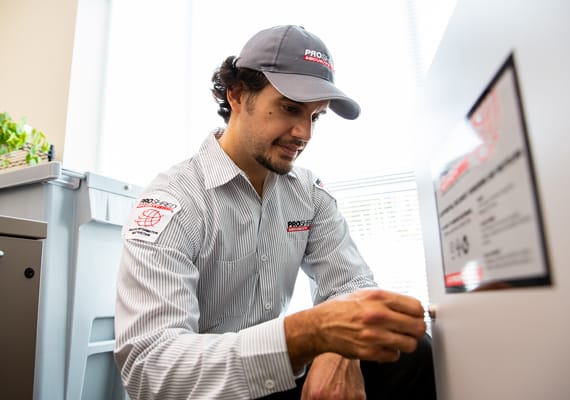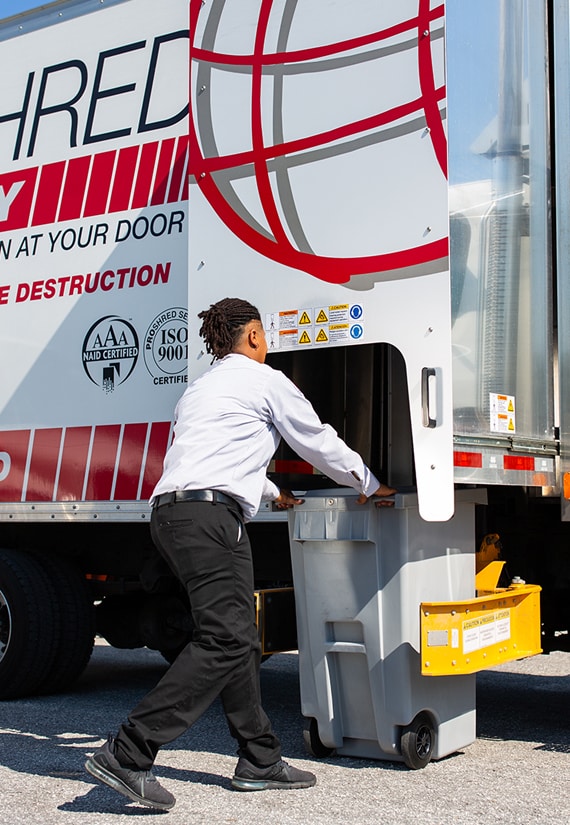 Mobile Shredding Services are Secure
In addition to cost savings, an onsite shredding service can also benefit businesses by providing peace of mind. When a company hires PROSHRED® Philadelphia to perform mobile shredding services, we send one of our mobile shredding trucks to the business location. There, one of our Customer Service Professionals will pick up the secure shredding bins and take the documents outside, where a mechanical arm will dump the papers into an industrial shredding machine located inside the truck. This hands-free approach is an essential part of PROSHRED®'s mission to provide the most secure shredding process possible.
With onsite shredding, business owners and managers can watch the entire process take place, so there is no doubt about the security of their sensitive information. This process also ensures that no information leaves a business's premises intact, reducing the chances of data breach significantly.
Mobile Shredding Services Include Digital Media
Businesses today are often storing many of their documents on digital media, such as USB sticks, hard drives, and CDs. Many mobile shredding services not only take care of service sensitive paper documents, they can also help remove sensitive information from and properly destroy digital media. PROSHRED® mobile shredding trucks can also take care of hard drive shredding and shredding of other types of electronic media, and can perform this service onsite just like with our paper shredding services.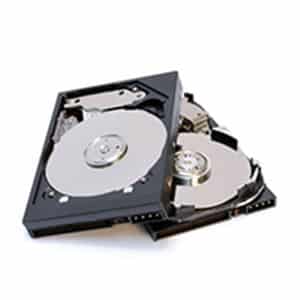 Get Secure Mobile Shredding from PROSHRED® Philadelphia
Hackers are stealing personal information or leaking secrets to competitors often, therefore it is now more important than ever for businesses to safeguard sensitive information. Instead of relying on employees to properly dispose of sensitive data, companies should employ a mobile shredding service to save both time and money, and most importantly stay as secure and compliant as possible. For secure mobile shredding services you can depend on, contact PROSHRED® today!