September 13, 2022
5 Reasons Why You Should Shred Old Paper Before Returning to the Office
If your business is like most, you probably have a lot of paperwork lying around your workplace that needs to be shredded. These files may even be documents that were left behind when your office began working remotely. It's crucial that you take the proper steps to dispose of these papers before returning to an in-person workplace, but do you know why?
The data security experts at PROSHRED® Philadelphia have put together the top five reasons why you should take the time to shred your old paperwork before bringing your staff back to the office.
Protect Your Corporate Data from Theft
The vast majority of individuals know the importance of protecting their data from theft. However, when returning to the office after a prolonged absence from the space, many employees simply throw away paper documents that were left behind. Often this is not due to negligence, but instead the fact that they have likely forgotten what is in the documents and the belief that if it hasn't been needed during that time, it must not contain anything of importance.
But if your garbage is not properly secured, there is a risk that thieves will rummage through it looking for sensitive information. Shredding all of your paper documents is the best way to protect your data from theft. By eliminating the decision-making of "to shred or not to shred", you remove the risk that sensitive information falls into the wrong hands.
Prevent Employee and Consumer Identity Theft
A data breach involving private information belonging to individuals (whether they work for you or simply use your goods or services) can lead to hefty fines and potential lawsuits, particularly if identity theft occurs. Because of this, all papers containing personal data should be shredded to ensure privacy. This includes documents that feature names, addresses, social security numbers, and dates of birth.
By shredding personal information, you can rest assured that it will not be used to steal the identity of your company's employees or clients. This will ensure that you and your company are not subject to litigation resulting from not adhering to state and federal regulations.
Reduce Human Error
When you rely on individuals to shred paper, there is always the possibility of mistakes being made. According to recent surveys, more than 52% of C-suites say that employee negligence and accidental loss are the root cause of nearly all of their security breaches. Businesses of all sizes can greatly reduce this risk by performing a one-time purge shredding event to clear the workplace of excess and unnecessary materials.
By removing the chance for employees to simply toss out unneeded papers that are in the way and causing distractions, you can completely eliminate the fundamental cause of the majority of leaked data.
Securely Manage Your Documents
Any business dealing with sensitive customer information needs to have a plan for securely managing and disposing of documents. This is important as it helps your business comply with data privacy laws and regulations across the country. Depending on your industry, you may be legally required to protect sensitive private information from unauthorized access.
When you take the time to shred your documents before bringing employees back into the office, you have the opportunity to implement more security measures for both digital and physical files. This could include completing a document digitization campaign, installing additional security for on-site and virtual document hubs, and even researching and hiring a regularly scheduled mobile paper shredding service for continued safety and security throughout the year.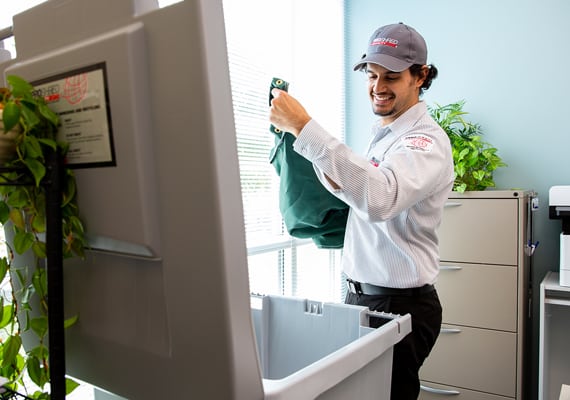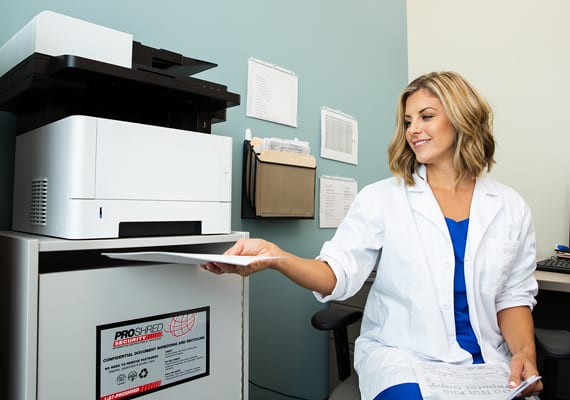 Improve Employee Efficiency
As mentioned previously, paper files cluttering a workspace can be overwhelming and distracting for employees. By properly disposing of these files through a purge shredding service, you can welcome your employees back to a clean and stress-free workplace. Additionally, this will save you the time and effort of having your employees shred all of the documents themselves.
To top it off, studies have shown that decluttering a space can help workers do their jobs more effectively and produce fewer mistakes. As you are no doubt aware, higher productivity and fewer mistakes result in increased profits and corporate growth, creating a win-win situation for everyone involved.
Safeguard Your Company's Private Information With PROSHRED®
Taking the necessary precautions to protect your company's private information is essential. One way to do this is by securely shredding sensitive documents before having employees return to the office. PROSHRED® Philadelphia provides secure document destruction services, as well as hard drive and production services, that can help you safeguard your confidential data. For more information about our shredding services, please visit our website or give us a call today!