West Chester Paper Shredding
PROSHRED® Philadelphia is the go-to source for secure business document shredding and disposal needs in West Chester, Pennsylvania. A leading provider of West Chester business shredding services, PROSHRED® Philadelphia can help keep your business compliant with state and federal privacy laws as well as protect confidential information from being accessed by unauthorized persons. Read on to learn more about PROSHRED® shredding services to help protect your business.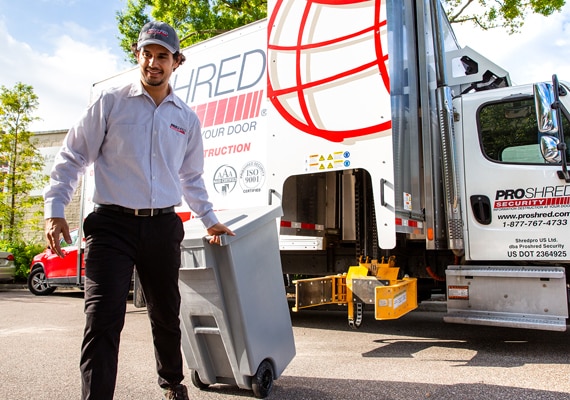 Professional Paper Shredding for Businesses
With over 20 years of experience, our company knows the importance of professional paper shredding and have designed our business processes around keeping sensitive information secure while it is being destroyed. Because we have perfected the shredding process, we are able to provide a service that makes your documents 100% unrenderable, which means they cannot be put back together. That keeps your business' confidential employee, financial and other information out of the hands of identity thieves and others who could do your business harm.
Our professional staff are committed to providing customers with a great experience, start to finish, which is why we're a top-rated Philadelphia shredding company. We recommend businesses both large and small destroy certain types of items so as not to put the company at risk. As always, industry standards vary and businesses should check to see how long records must be retained before scheduling a shredding service. Medical offices, government offices and law firms all have certain procedures to follow.
But for the most part, documents businesses should shred include credit and bank account statements, tax returns, employee pay stubs, strategic business plans, and other papers that include personal information like addresses.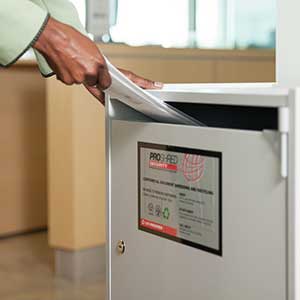 Document Destruction and Disposal in West Chester, Pennsylvania
Convenience is one of the tenets of our business practices at PROSHRED® Philadelphia. On-going shredding services, which can be scheduled weekly, bi-weekly and monthly, come with a security console, which can be placed inside your business to allow employees to safely discard items to be shredded. On your scheduled date, our professionals will come to pick up the discarded documents and shred them on-site with one of our mobile shredding trucks. You can even watch the process as it happens!
On-going Shredding vs. One-Time Purge Shredding
At PROSHRED® Philadelphia, we try to offer as many options as possible for West Chester business shredding services. That's why we offer both on-going services as well as one-time purge shredding.
With on-going shredding services, businesses can regularly schedule document pickup, allowing us to serve you when, where and how you need us. When businesses schedule an on-going service, we'll work with you to develop a plan that meets your needs. Our timeliness and consistency is second to none, and with on-going shredding services, you never have to worry about obsolete documents piling up again.
One-time purge shredding is also an option for many businesses that have had to downsize or have recently gone through a huge cleanup effort. Mobile shred trucks can also be utilized for this service, so you don't have to worry about hauling large amounts of paper to one of our shredding facilities. After your items are shredded, PROSHRED® Philadelphia sends your shredded paper to a recycling facility for further processing.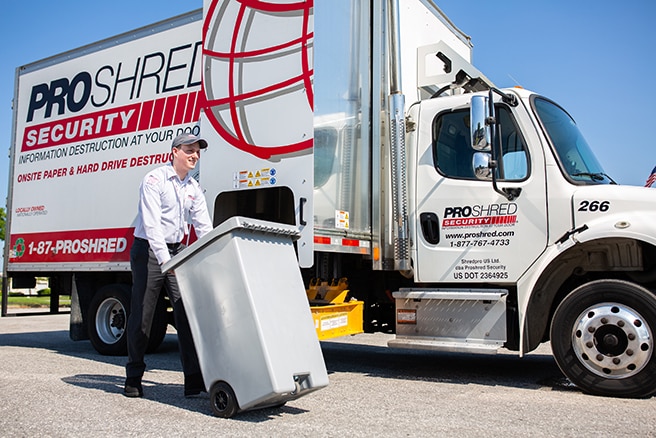 Schedule Shredding in West Chester, Philadelphia
Business shredding laws can be complex, but having documents securely destroyed doesn't have to be a hassle. With our professional shredding services, we utilize state of the art equipment to securely shred documents on the go with our mobile shred trucks. Whether you are interested in on-going services or just a one-time deal, our experts near West Chester are ready to serve you. Call today to learn more about our business shredding services: 1-484-202-3541