May 5, 2019
3 Tips to Organize Your Files
Employers or employees can encounter a number of identity or data theft emergencies that have potential long-term business safety implications if they are not handled by an on-site professional hard-drive destruction and shredding company. One of the most common reasons that businesses bring their used hard drives for PROSHRED®'s professional shredding is because they forgot to do a one time purge of all extra personal data that has now endangered their business or employees. There are some simple tips that businesses can follow in order to get ahead before putting their businesses or employees at risk by following these three steps towards organizing confidential files today.
Step 1: Store All of Your Data in a Single Location
Optimize space by keeping your documents organized in a single appointed file location on your computer database. Consider organizing the remainder of your data on a secure drive connected to your company email, such as Google Drive or User's Files on Windows HP. By grouping similar documents together you will be able to locate your files quickly, while also making the files easily transferable to other users. Employing this file management tool will help you store a multitude of documents into a single file location that is a fast acting and easily accessible approach when new year taxes roll around.
Step 2: Use Descriptive Folders to Identify New Files
Categorizing files by date and category is the key to separating new relevant data from the old disposable files. Set a limit suitable for each new year and properly dispose of all documents that have already been stated on tax forms with an on-site hard-drive destruction and shredding company. Create sub-folders to organize each series of documents into a single categorized unit. For example, if you are organizing a series of books by the same author you could type The_Lord_of_the_Rings_by_Tolkien.epub or you could create an all encompassing file titled Tolkien to organize all of the author's work including critical essays and reviews of his published pieces.
Step 3: One Time Purge of Files & Documents
PROSHRED® is proud to serve the community of Southern New Jersey by assisting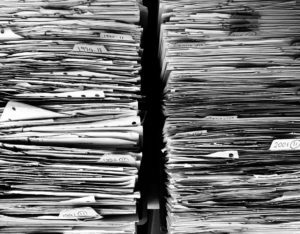 with proper hard drive destruction and document shredding. Using an ongoing scheduled shredding service, backed up by a yearly one time purge of any excess files with PROSHRED®,  you can gain a team dedicated to helping you organize your files.
The key to dealing with any kind of confidential data emergency, including employee information theft, is to have a plan in advance so that you can prevent all types of identity theft and can know what to do if and when the situation arises. Call to consult with our professional shredders if you should ever have an emergency with your files.
PROSHRED® Southern New Jersey is the #1 choice for professional hard drive destruction and shredding services. You can trust the team at PROSHRED® Southern New Jersey to handle your sensitive paperwork with the highest degree of security and professionalism. Call us today at 1-856-336-2820 to learn more about our mobile paper shredding nationwide services.