Financial Record Shredding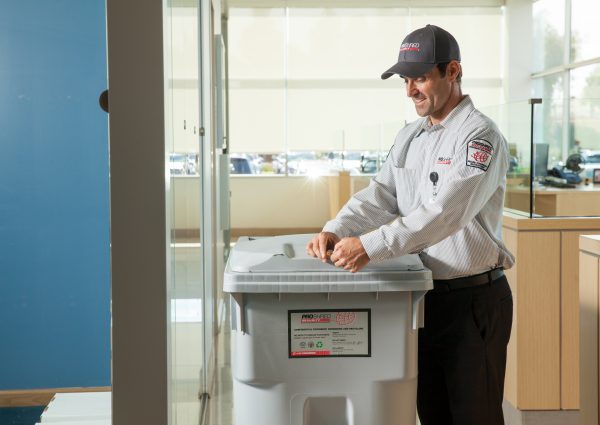 Southern New Jersey companies in the financial services industry are trusted with the confidential information of hundreds of clients. While a great deal of this information is now stored electronically, dozens (if not hundreds) of sheets of paper are printed everyday. In the wrong hands, you and your clients could find yourselves in the midst of a lawsuit or the victim of bank fraud.
If a client's information is stolen or lost due to a business's lack of safekeeping, there are a host of federal regulations that are being violated. In addition, the State of New Jersey has a variety of stringent protocols to protect a client's financial information. As a bank, financial institution or any business that handles financial records, it is of utmost importance that your business meets these security thresholds to uphold a strong reputation of monetary security among its clients and to ensure compliance. Business or organizations that deals with financial records must train their entire staff on secured document destruction. This is required by federal and state laws. Failures to comply with these standards may result in hefty mandatory fines from the state of New Jersey.
PROSHRED® has emerged as Southern New Jersey's go-to resource for safe and comprehensive financial records destruction. Our state-of-the-art on-site security process guarantees that any and all documents do not fall into the hands of unauthorized persons. The entire PROSHRED® Southern New Jersey staff is thoroughly scrutinized with intensive background checks and rigorous procedural safeguards. For example, documents are never touched by human hands before shredding – they are transported only in secure, locked containers and immediately shredded on your premises.
We strive to be the ultimate standard of convenience in managing your financial records security and destruction. Your business can schedule routine appointments so that confidential information doesn't pile up over time and our team will come to you – there's no reason to leave the comfort of your own office.
Nearly every business can benefit from document shredding, but financial record destruction is especially important for businesses such as:
Banks
Insurance Companies
Financial Advisors
Stock Brokers
Financial record destruction is an essential for any business!
Businesses should always exercise extreme caution when disposing of financial records. For ultimate peace of mind, leave this job to the security experts at PROSHRED®. Call our Southern NJ office today to find out how you too can start safely shredding financial records.