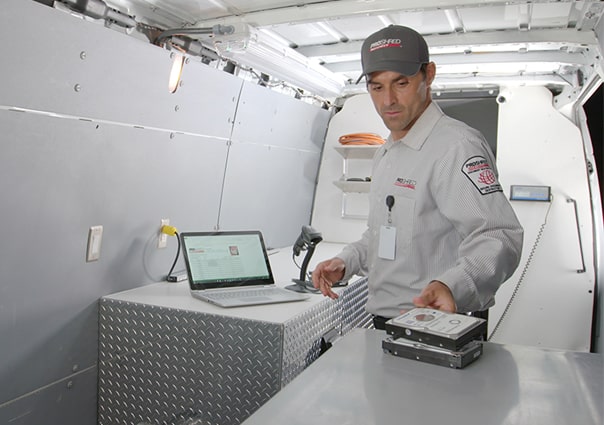 PROSHRED® Southern New Jersey Hard Drive Shredding
When you need to dispose of sensitive information, you need the absolute best in security and safety. We live in an era of industrial espionage, computer hacking, electronic information breaches and identity theft.
Hundreds of thousands of people fall victim to these crimes every year, and small businesses can't afford to take that kind of hit to their reputation or their liability. That's why when businesses in our state need the best in Southern New Jersey hard drive destruction, they turn to the information security experts at PROSHRED®.
We live in an increasingly paperless world, and many of our most sensitive documents and information are kept electronically. When you need to dispose of old computer systems, you should never simply throw them away, and even wiping hard drives clean does not fully protect your information.
Modern hackers can dig into erased hard drives and recover files containing sensitive information like social security numbers, tax records, emails, invoices, financial data and other confidential business information that you don't need in the wind. That's why professional Southern New Jersey hard drive destruction services offered through PROSHRED® are vital for you business.
On-Site Data Destruction
PROSHRED® Southern New Jersey will ensure that sensitive information on your old hard drives is completely destroyed before being safely discarded in an environmentally-friendly way. Our state-of-the-art shredding trucks will come right to your site, pick up the hard drives to be destroyed, and allow you to watch the entire process of destruction from start to finish via closed-circuit cameras.
We use the absolute highest, most advanced technology available to ensure that your hard drives are utterly destroyed with no chance whatsoever of information recovery. When the process is done, we will give you a certificate of destruction for your records which shows the exact date and time the shredding was done.
Protecting Our Clients
At PROSHRED®, protecting our Southern New Jersey clients is our first and only priority. Your security and the safety of your information, your business, your employees and your clients is our only concern. We are dedicated to the complete and safe destruction of electronic information in compliance with all federal legislation and protects the environment, through the use of local electronic waste recycling partners. Our information destruction professionals have decades of combined experience, and we take great pride in the protection we provide to our community. We are also dedicated to giving back, which is why you'll see our trucks around town at various sporting events, office parks and schools.
PROSHRED® is a locally owned and operated business that serves the entire Southern New Jersey region. We are respected and known for our discretion and confidentiality, as well as the thorough destruction of all documents we take in. If you need professional Southern New Jersey hard drive destruction services, call a customer service representative for more information today.