Southern New Jersey Electronics Recycling
Don't trust your e-waste disposal to just anybody. PROSHRED® Southern New Jersey is the area's leader in e-waste recycling and hard drive destruction. We provide a safe, secure solution for disposing of your old electronic gadgets, including computers, laptops, tablets, phones, and more. We understand the importance of keeping your personal information safe and sound. That's why we use state-of-the-art shredding technology to destroy your data beyond recovery. Plus, we recycle your e-waste in an eco-friendly manner. So, you can feel good about doing your part to help the environment. Call us today to learn more about our e-waste recycling service.
Safely Dispose of Old Electronics
The last decade has seen a shift in electronics, with more data-sensitive components being included. Laser printers, telecom systems, routers, and physical servers can now keep sensitive information that may be quickly accessed by unauthorized persons if left unsecured. Why would you throw away a computer that might have sensitive information? It makes no sense to do so with a device that can also store this valuable data. You'll need the help of a reputable electronic waste recycling firm to properly dispose of electronics that contain classified data.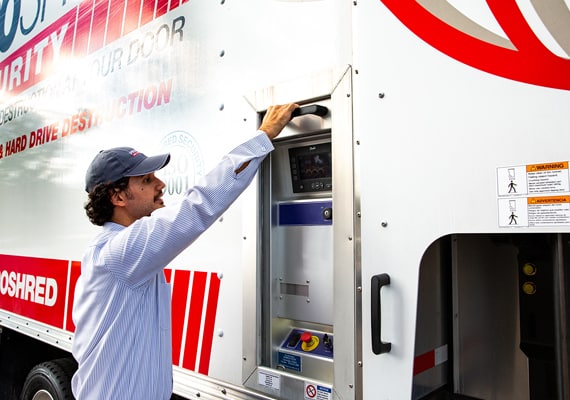 R2 Certified Recycling Partners
At PROSHRED®, we will send a paper shredding truck to your location to securely shred hard drives and other electronic devices. Our mobile shredding trucks are outfitted with industrial shredding equipment that can break down your stuff into tiny pieces, ensuring that your data is irretrievable. After your items have been destroyed, we securely transport the refuse to our R2-certified e-waste recycling partners. This certification ensures that not only are your items being disposed of in an environmentally conscious way, but that your confidential information is destroyed too.
E-Waste Recycling That Is Environmentally Conscious
PROSHRED® Southern New Jersey proudly serves all of the e-waste recycling needs of our customers, and we guarantee that everything is done in a way that is both safe and environmentally responsible. We recycle your electronics to help protect the environment by keeping harmful elements like lead and mercury out of the soil and water. There are several benefits, including lowering carbon emissions and conserving natural resources. Recycling and reusing old electronic gadgets keep them out of landfills and gives them a second life, which substantially reduces your carbon footprint.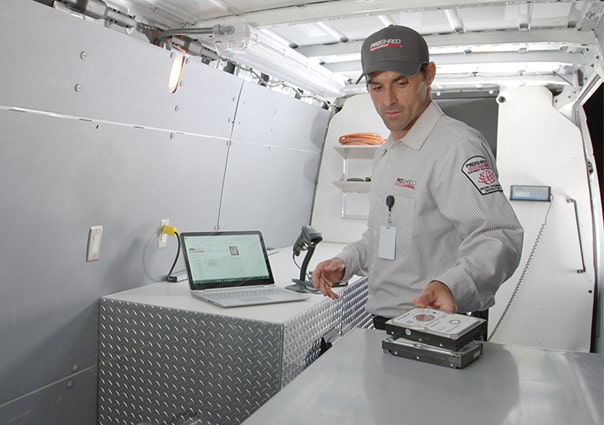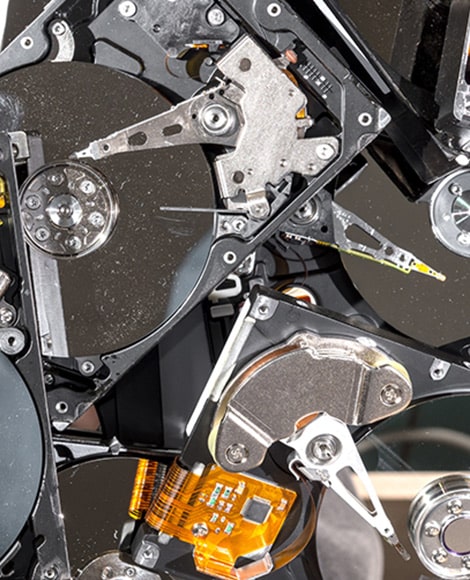 What Can Be Recycled
Though our team specializes in the shredding and recycling of computer hard drives, we can also recycle a number of other electronic devices.
Items that we recycle most frequently include:
Desktops
Laptops
Monitors
Routers
Servers
Medical equipment
Firewalls
External hard drives
Telecom systems
USB drives
Get Secure, Safe Electronics Recycling
Items like computers, servers, and USB drives that are thrown away can still contain sensitive information long after they have been erased. Data thieves may exploit this opportunity by stealing data and committing fraud or identity theft. The security of our client's data is our top priority at PROSHRED®. That's why, before we shred your items in front of you so that you can be certain the chain of custody for your e-waste is intact. We only utilize recycling partners that are certified and follow all federal and state e-waste laws. For all of your electronic recycling needs, as well as an ongoing shredding service, call PROSHRED® Southern New Jersey today.