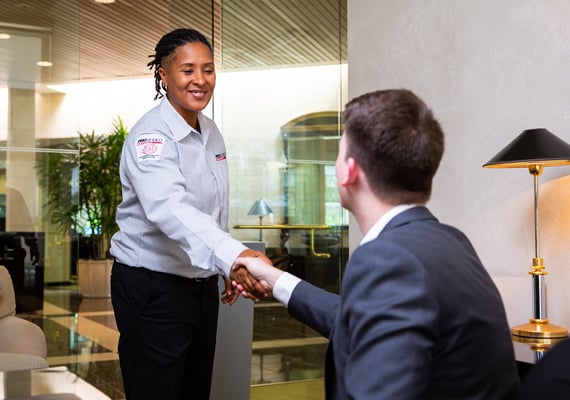 Today's Southern New Jersey business environment is replete with dozens of regulations about customer privacy. Especially in light of enormous security breaches that have occurred in the past year, it is more important than ever to safeguard sensitive documentation.
From financial information to personal records, your business must comply with national and state legislation to avoid negative publicity and costly settlements. Throughout Southern New Jersey, PROSHRED® has emerged as the leading service for secure document disposal, with a state-of-the-art shredding service that is convenient, affordable, and environmentally-friendly.
Total Document Security
There are hundreds of document shredding companies across the country, but few guarantee the level of document security that PROSHRED® does.
For more than 20 years, PROSHRED® has branded itself as a security company – one that protects the vital information that is printed on thousands of sheets of paper every day. If not properly disposed of, these documents can fall into the wrong hands, wreaking total havoc on businesses and residents alike.
Our unique shredding service never breaks the "chain of custody." In other words, paperwork is always destroyed directly on-site without ever touching a set of human hands. Documents are moved only in secure, locked boxes and placed immediately into shredders without ever leaving the premises of your business. We even provide a Certificate of Destruction to confirm the total and complete disposal of your documents. Every member of our staff undergoes strict background testing, carries photo identification, and is thoroughly trained in document security to guarantee a friendly and reliable experience.
Ultimate Convenience
With our state-of-the-art shredding trucks, PROSHRED® comes to you. Our company will place locked disposal containers around your office, free of charge, so that employees can easily throw away important documents without standing in front of the shredder or removing pesky staples and paperclips.
The Southern NJ PROSHRED® team will work with your business to develop a custom shredding plan. For once-weekly, monthly, or even daily shredding jobs, our team can schedule routine appointments for all-around document security. If your business needs change, so will we – we never lock any of our clients into rigid contracts.
Best of all, you never have to leave the comfort of your office. Our shredding process occurs totally on-site and we don't leave until every document is shredded.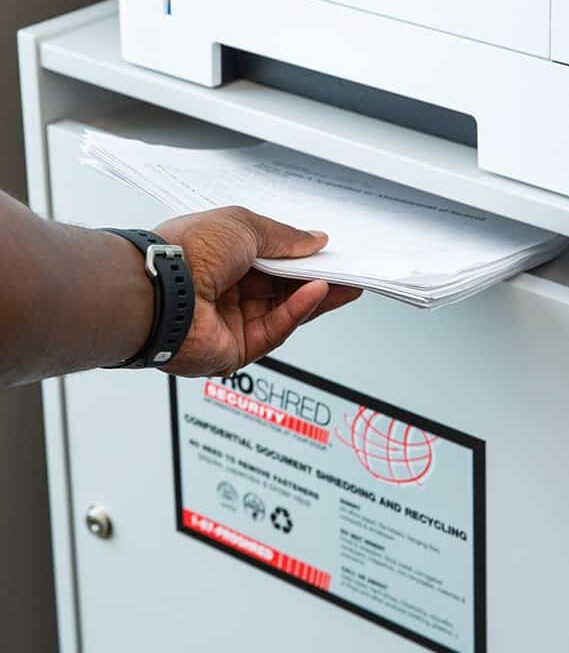 Cost-effective Shredding
Based on years of research, our team has found that professional shredding services can save you as much as 25% when compared to traditional in-office shredders. Save money by eliminating the need for a shredding machine and costly associated repairs. Equally importantly FREE up your employees time to work on more productive projects. Start benefiting today by switching to PROSHRED®.
For our Southern NJ clients, pricing is always easy. We never add hidden fees like fuel costs or management charges (as do many of our competitors). Our pricing isn't based on total weight or time spent at your location, but on the number of security containers that you fill up. Your business can appropriately budget for regular shredding appointments with consistent and low-cost plans. If you consider the financial damage that could arise from leaked documents, then professional shredding is not only an economical choice, but an insurance policy for the future of your business.
The PROSHRED® team of Southern NJ also offers free consultative services. Our team can survey your office's shredding needs to develop a custom plan for your business that assesses how many security containers are needed and the frequency of shredding appointments.
Environmentally Conscious
The PROSHRED® Southern NJ team recognizes that our company has a unique responsibility in protecting the environment. Very few companies come in contact with the amount of recyclable material that we do; therefore, our company has always pledged to recycle 100% of shredded paper. We not only take security seriously, but we want to be your company's partner in making a positive impact on our environment.
On each invoice, we include a detailed analysis of the number of mature trees that you saved by using our service. And at the end of each calendar year, we even provide a TreeSaver Environmental Certificate that documents the cumulative number of trees that your organization helped protect.
PROSHRED® Southern NJ provides each and every client with the most secure shredding and recycling program in America.