Woodbury Shredding Services
The city of Woodbury is one of the oldest remaining small cities in the entire United States. It was first established by Henry Wood, a settler from Bury in England, in 1683. By 1715 it had become a hub of Quaker culture and religion in the New World, and served a vital role in the Revolutionary War that established our nation. It has been the county seat and central business district of Gloucester for over 200 years. With its rich history and broad range of local amenities, fine eating, historical sites, parks and waterways and recreational activities, Woodbury is an amazing place to call home.
PROSHRED® is proud to provide the local businesses of Woodbury with excellent mobile paper shredding services for the entire Gloucester metropolitan area. We take pride in the services we offer and take seriously our solemn duty to defend the security and privacy of our customers every step of the way.
There are businesses of every shape and stripe in the Woodbury area, and many have already chosen PROSHRED® to handle the destruction of their sensitive documents. As you grow and manage your small- to medium-sized business, you need to make sure that you take all the right steps, and the use of professional document shredding services are one of the most important moves you can make.
Choosing PROSHRED®
PROSHRED® has a long history and legacy of providing top-notch document shredding and destruction services. We use only the most current, high technology equipment and industry standard methods to ensure that your sensitive documents are completely destroyed and your clients' privacy protected every step of the way.
Not only do we guarantee our services, we allow you to watch the process every step of the way as we come to your site with our specialized shredding trucks, and set up a closed-circuit monitoring system.
You show us what documents you want destroyed, we collect them, move them into our truck, and methodically shred them as you observe via monitors. We are ISO 9001:2008 and NAID AAA certified in document shredding, and are a leader in the business.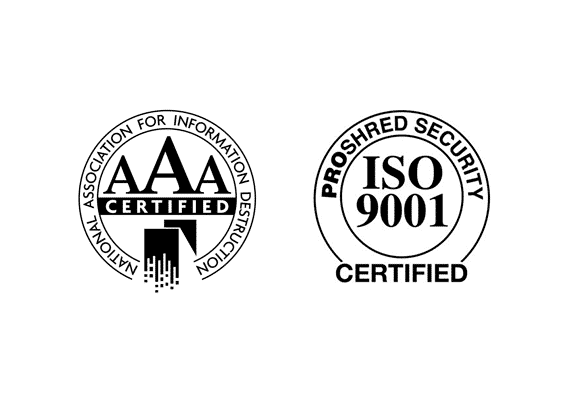 Local and National Experience
We are owned locally, but have national business operations, and have the experience, training and knowledge to provide completely secure destruction of your documents, whether it's paper or electronic. Regardless of whether you need a one-time appointment or a regular on-going scheduled destruction service, PROSHRED® is here to help. If you would like further information, a free estimate, or to schedule your appointment, give us a call at 1-856-336-2820 today.
Woodbury, NJ Shredding Services
On-Site Shredding in Woodbury, NJ
Scheduled Shredding Service in Woodbury, NJ
One-Time Shredding in Woodbury, NJ
Hard Drive Shredding in Woodbury, NJ
Legislative Compliance
HIPAA Compliant
HITECH Compliant
GLBA Compliant
FACTA Compliant