October 25, 2019
How You Should Organize Your Business' Waste
In any business, it's important to stay organized. And sometimes, that means you have to go beyond file folders and wall calendars. Organizing your waste, as odd as it may sound, is an often overlooked opportunity to improve sustainability, streamline operations, and reduce costs. It can also keep you from running afoul of local and federal privacy laws. We have some tips to keep things tidy, so keep reading!
Get a waste management system in place
One of the best things you can do for your business is set up a clearly defined waste management system for everyone to follow. If you're recycling (and you should definitely be recycling), set up individual waste bins for paper, plastic, and non-recyclable waste. Workstations and printers should have designated secure document containers, to make it easy for proprietary or sensitive documents to be properly disposed of. If you deal with a lot of confidential documents, like those that contain client or patient information, or if your business prints a lot of financial or medical documents, consider installing a locked shredding bin to ensure your files remain private.
Properly dispose of old documents with a paper shredding service
You don't want old business documents ending up in the wrong hands. Whether it's your business information or your clients' information, the last thing you need is a data breach. The best way to ensure your papers remain secure is with a certified document destruction service. With secure paper shredding service scheduled daily, weekly, or monthly, a mobile shred truck from PROSHRED® Southern New Jersey makes it fast and convenient to properly dispose of confidential files.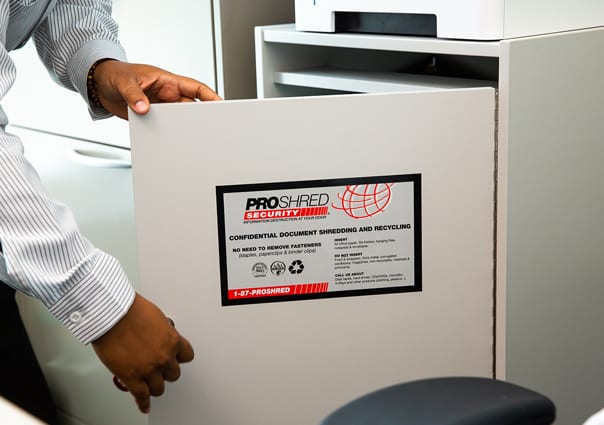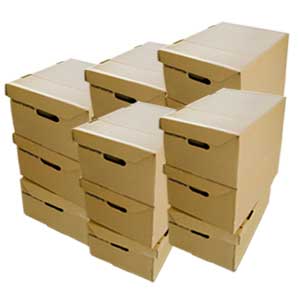 Purge old files and papers that are taking up space
It's easier to stay organized when there's less to organize! If you have multiple rooms in your office space that are overwhelmed with stacks upon stacks of old files that you no longer need, consider using a one-time cleanout service from  PROSHRED® Southern New Jersey.  This cost-saving solution is perfect for businesses that have been putting off annual cleanouts and can be done without disrupting your busy schedule. Our shred trucks can quickly and efficiently shred your old files. Your office space will be free of unneeded documents and you can start fresh with a new organization plan. And remember, when it's time to upgrade or dispose of old computers, your business can securely shred old hard drives to keep any digital files confidential.
By properly organizing your business' waste you can reduce costs, minimize your risk, and benefit the environment. If you have questions or want to learn more about how mobile paper shredding can benefit your company, call today! 1-856-336-2820
Frequently Asked Questions about PROSHRED® Paper Shredding Services
Depending on the size of your business and the nature of your industry, you may require daily, weekly or monthly service. Call today to speak with our expert staff and we'll help determine the best waste management plan for your company! 1-856-336-2820
Yes! Our mobile shred trucks are equipped to handle hard drive destruction! We even recycle the remains to keep them out of local landfills.