December 17, 2021
Here's What You Should, and Shouldn't, Put in a PROSHRED® Shredding Bin
Providing secure shredding bins to our customers who sign up for regularly scheduled shredding services is one of the benefits of working with us, as well as one of the best ways to ensure the safety of your confidential information. We encourage our customers to place these bins throughout the office where employees can readily access them, and use the bins to store their documents in between pickups.
We want you to be able to forget about these items as soon as they are dropped in the shredding bin. Our secure, touch-free mobile shredding services allow you to do just that, so the only thing you need to worry about is making sure that the right materials are being put in your shredding bins.
To help you know what items can or can't go in a shredding bin, we have compiled a few simple guidelines.
What can go in PROSHRED® shredding bins?
You engage a professional paper shredding service because you have papers that you need to dispose of. Any printed documents that contain sensitive data are recommended to be placed in a shredding bin until they can be destroyed.
These documents can include:
Confidential papers
Outdated printed records and forms
Manila and colored filing folders (no army green folders)
Notebooks
Checks, receipts, and payment logs
Memos, envelopes, and letters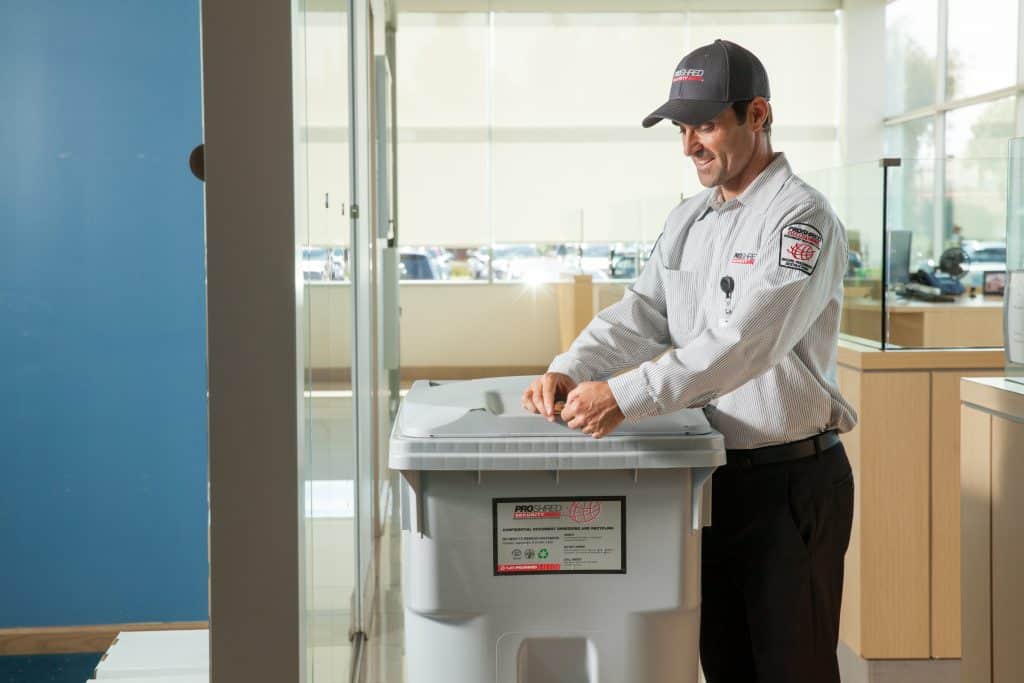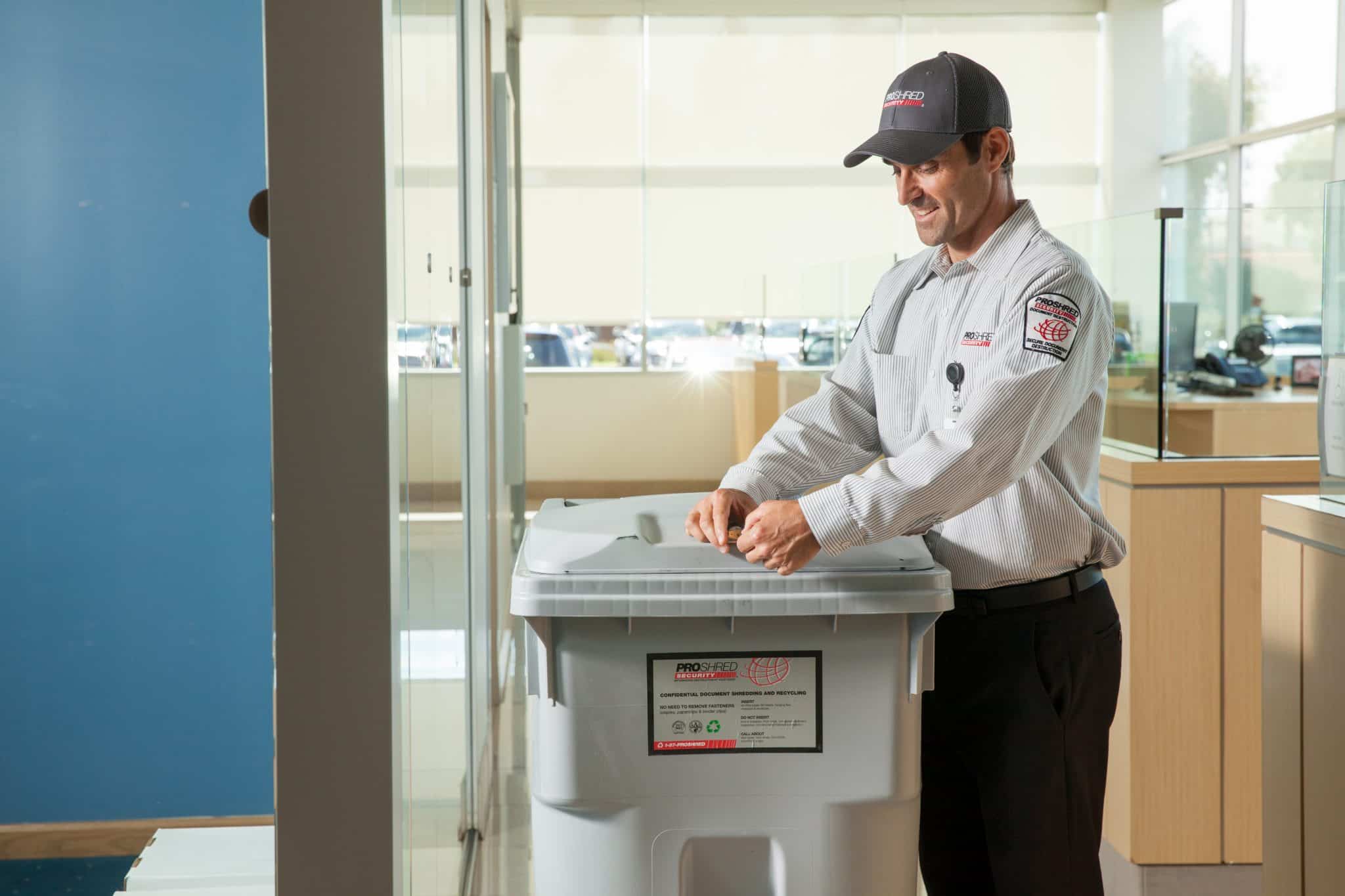 Do I need to remove staples?
Shredding rules may vary between different professional shredding companies, but at PROSHRED® Southern New Jersey, you do not need to remove any paper fasteners, whether they are staples or paper clips, from documents before placing them in a shred bin. That's because our shredding machines are not only capable of processing those items, but because we take 100% of our shredded materials to a paper recycling facility, where the metal will be removed in the process of making new paper products. However, there are certain organizational items that we don't accept, such as three-ring binders. Check with your PROSHRED® representative before placing any items in your bin that could potentially harm our shredding machines.
What can't go in PROSHRED® shredding bins?
The list of what you can't put in a shredding bin is much more specific. First and foremost, items that are not paper documents should not be placed in the shredding bins. While it may seem obvious, it never hurts to be well-informed about what should and shouldn't be placed in your PROSHRED® shredding bins.
Items that should not go in a shredding bin include:
Batteries
Electronic media or electronic waste
Trash
Plastic
Other recyclables
Cardboard
Newspaper and magazines
Wet, burnt, or otherwise contaminated paper
What To Do With Items That Can't Go in Shredding Bins
PROSHRED® offers alternative services for items that can't be put in a shredding bin. For plastic and other recyclable materials, such as cardboard, newspaper, and magazines, we recommend working with a recycling company to place bins in your office specifically for that use. For items like electronic waste, X-rays, old uniforms, security badges, credit cards, prescription bottles, and other items not easily recycled, we offer product destruction and hard drive destruction services.
Why Keep Papers Secure in Shredding Bins
Most companies that use ongoing shredding services from PROSHRED® do so because they are concerned about information security. Companies have a legal and moral obligation to protect their customers, employees, and partners by disposing of their confidential information in a responsible manner. By using the shred bins provided by PROSHRED® Southern New Jersey to keep your documents safe between pickups, you are safeguarding not only your sensitive company data but also the information you collect from those you interact with. For more information about regularly scheduled shredding services or to get a free quote, contact us today.