June 28, 2016
Document Shredding Tips For Carrollton, TX Businesses
Almost every business has at least one in-office shredder, but is it being used as often as it should be? Documents that might seem inconsequential like junk mail and solicitations could reveal a great deal about your business' finances or clients. Every scrap of paper in your office is a valuable piece of your organization's future, while in the wrong hands, could spill trade secrets or lead to a data breach.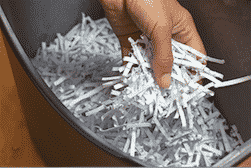 Every day, hundreds of companies indiscriminately toss confidential paperwork in the trashcan, exposing private financial and personal data to anyone determined enough to find it. It is imperative that all businesses understand the risks associated with improper document disposal and take every precaution to reduce information breaches.
Texas Regulations
In the State of Texas, legislatures have passed dozens of rules regarding the destruction and disposal of client information. These laws vary drastically from one industry to another, meaning that patient data in the medical field is treated differently than student information at a local college. Depending on your industry and business practices, different regulations will determine how you should handle confidential documents and to what degree you are responsible if that data is compromised.
Hiring a local paper shredder is one of the best ways to understand how state-specific laws might affect your business. Your partner should be able to confidently answer the following questions:
Do I need to retain a physical copy of this document or will an electronic file suffice?
How long must this document be stored before it can be legally destroyed?
After files are shredded, does there need to be proof of their disposal (i.e. certificate of destruction)?
The Right Equipment
A cheap personal office shredder is better than not having one, but there are huge variations in performance. Most personal shredders rely on long, vertical shredding patterns that leave the possibility of piecing a document back together. On the other hand, a licensed professional shredder uses industrial-grade equipment that cross-cuts each document, slicing it into unrecognizable squares of paper bits.
Go Paperless
A trend among many modern businesses today is an office free of paperwork. All documents are stored electronically to facilitate efficiency, while only essential hard copies are kept on file. Paperless companies boast better environmental records, lower overhead costs, and greater oversight. Inevitably though, papers are sometimes necessary, in which case, a professional shredder is the cheapest and most effective way to dispose of and recycle these materials.
Increase Efficiency
If you currently spend valuable employee time in front of the shredder, you could boost your office's performance by scheduling an on-site service appointment. Companies like PROSHRED® Dallas-Ft. Worth can arrive directly at your business and take care of the entire job in a matter of minutes, saving hours of shredding time each week.