August 26, 2021
Mobile Hard Drive Shredding: What You Need to Know
Proper data destruction is necessary for any business that stores private and personal information on its computer systems. Due to a rise in data theft via digital means, it's important to make sure your company is prepared to fight off hackers and thieves, and simply deleting files from a computer or erasing them from a hard drive is unfortunately not enough to keep that information safe.
Hard drive shredding services were created because physical destruction is the only way to truly ensure that the data stored on these devices is completely destroyed and unable to be accessed. Hard drive shredding has become an increasingly popular way to safely get rid of old company data that has been stored away for a long time, or that needs to be destroyed to make room for technology and hardware updates. In the modern day, it's also helpful for businesses that are transitioning to storing data on cloud-based applications rather than traditional hard drives.
However, many large businesses have busy schedules, and plentiful data to dispose of. That's why PROSHRED® Dallas Fort Worth is offering an upgraded form of this method called mobile hard drive shredding. Once you learn more about this exceptional service, you may never go back to old hard drive destruction methods again!
What is mobile hard drive shredding?
Traditional hard drive shredding involves hard drives being dropped off at a shredding plant. Someone must take the hard drives to the facility themselves, where they will later be destroyed inside the facility. With PROSHRED® Dallas Fort Worth, there is no leaving the office, because the shredding service will come straight to your building and complete the service entirely on-site. Our state-of-the-art mobile shredding trucks carry all of the equipment necessary to securely shred hard drives. Because this service can be done right in front of you, it's the most secure method of hard drive destruction available.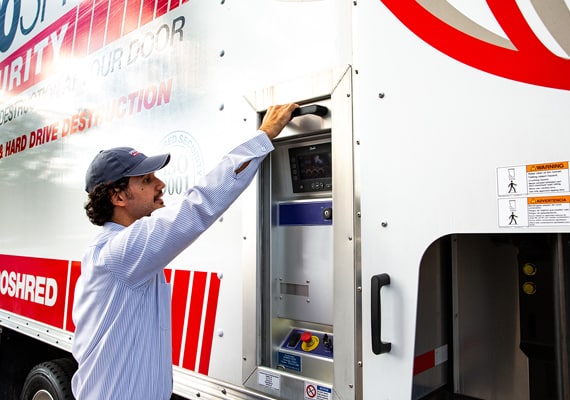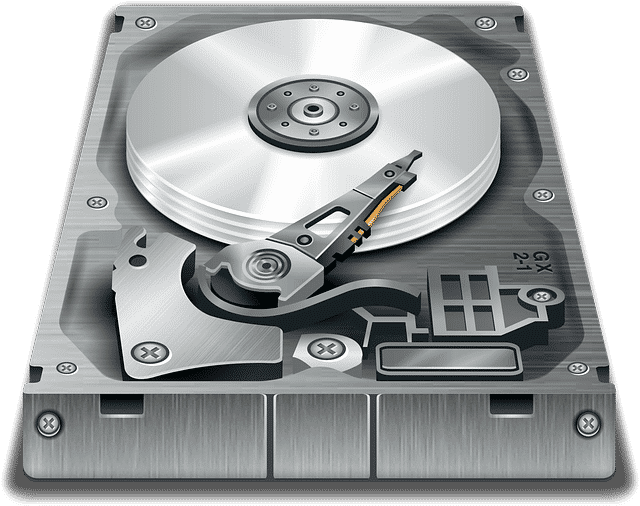 How does mobile hard drive shredding work?
For a mobile hard drive shredding session, simply schedule a service and one of our customer service professionals will come to your location. Anything that is needed for the shredding process can be done on-site with the specially-equipped truck. Hard drive shredding uses an industrial shredding machine that is capable of breaking down metal and plastic.
Before hard drives are shredded, a shredding technician will scan all barcodes and record all serial numbers. This process allows both our company and our client to keep track of what has and hasn't been shred.
The hard drives are broken up into fragments by the shredding machine, making their contents completely unreadable. Our trained professionals make sure the procedure is done correctly. After the job, you will be given a Certificate of Destruction containing the details of your shredding service.
What are the benefits of mobile hard drive destruction?
Mobile hard drive shredding is known as being the most secure method of destruction because it's done right in front of you, but also can be much more convenient overall. Unlike trying to break down hard drives on your own, there is no risk to your safety around the sharp, leftover pieces, and no chance that your data won't be fully destroyed. Trained shredders can ensure that the job is done properly and securely while they do the work for you. Afterwards, you won't have to deal with the discarded drive pieces. With PROSHRED® Dallas Fort Worth hard drive destruction, a mobile truck will take the remains away to be properly disposed of.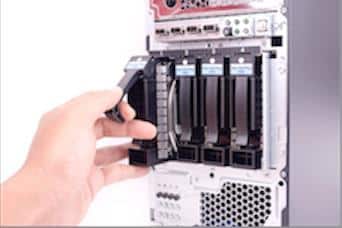 What happens to shredded hard drives?
The leftover pieces of destroyed hard drives will be taken away by the truck. At PROSHRED®, hard drive fragments are always dropped off at a local and trusted recycling facility, which follows all state and federal regulations in regards to electronic waste. There, they will sort through the scraps for precious materials that can be reused and responsibly dispose of parts that cannot be reclaimed or recycled. There's no need to worry about information theft at this point, because the drive's contents will be inaccessible after shredding.
Get Secure Mobile Hard Drive Shredding with PROSHRED® DFW
There's no need to resort to drop-off shredding any longer. Mobile hard drive destruction is an effective method that brings shredding services straight to the client, where highly trained shredders do all the shredding on-site. It's the most secure method of data destruction, performed by the experts at PROSHRED®. For shredding services you can trust, call PROSHRED® Dallas Fort Worth to schedule a service: 469-930-6044