Dallas Mobile Shredding Trucks
A single shredding service isn't fitting for every business, and it doesn't protect the security and confidentiality of sensitive information. At PROSHRED®, our paper shredding services include state-of-the-art mobile shredding trucks in Dallas for document destruction. By using our trucks, we can come directly to your place of business and provide on-site services to keep your workday hassle-free. We use the most secure and thorough shredders in our trucks to keep your sensitive documents and information protected and confidential.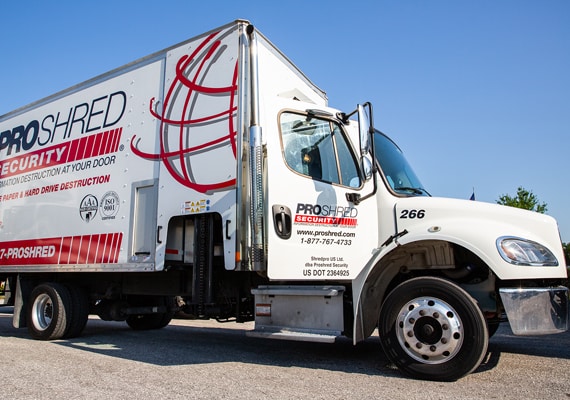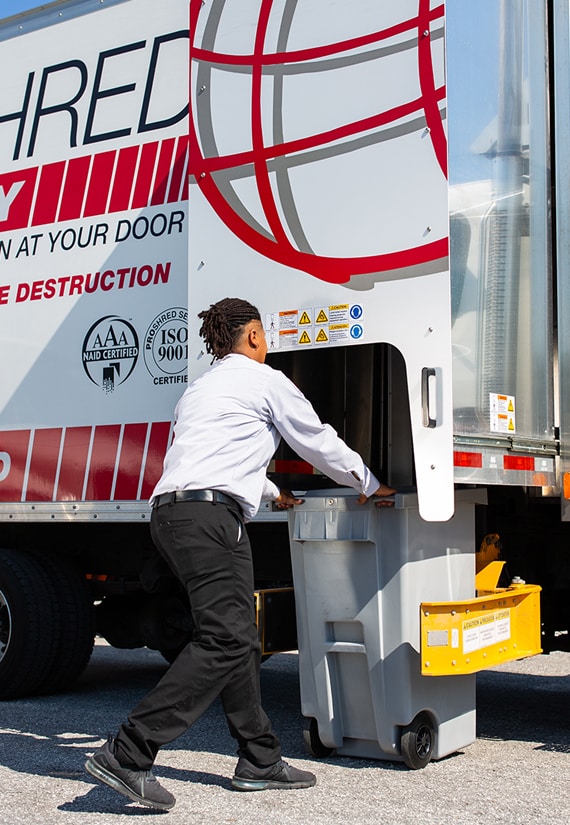 Convenient Solution to Paper Shredding
Not every business has the time for traveling to off-site shredding locations, and small businesses don't always have the means to assure the level of security needed for a large disposal job. The use of trucks for mobile shredding helps provide a secure, flexible solution for these businesses, and it's an advanced example of modern document disposal.
Paper shredding trucks are equipped with industrial-sized shredders inside, and they come straight to your business or a specific location for efficient and convenient services. Your documents are destroyed on-site, and you can watch the entire process as it happens. Afterwards, you'll receive a Certificate of Destruction for the disposal, so you can rest assured that your confidential information is in safe hands.
Secure and Compliant Mobile Shredding
Laws and regulations, both state and federal, have more recently set firm guidelines in regard to security and the destruction of confidential information and documents. Mobile shredding trucks in Dallas offer convenient options that are highly accessible for businesses with busy schedules that are unavailable to do drop-off shredding. It's an easy and effective service that keeps your business secure and in line with legal requirements.
Whether you need a one-time purge, or an on-going shredding service to keep your business in order, PROSHRED® DFW paper shredding trucks bring professionalism and secure document disposal straight to your doorstep, without any hassle or hidden costs.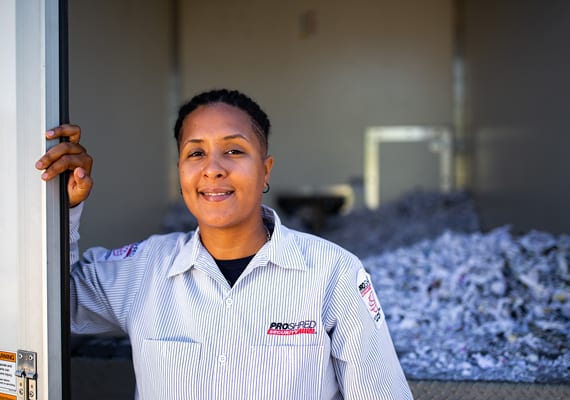 Pierce-and-Tear Shredding Trucks
These shredders use multiple rotating blades to punch holes into the materials that are being shredded, and then rip them into small-scale pieces. Instead of cutting the paper, the system tears it at the fiber, making the results random and a much more secure size than standard strip-cut shredders.
Safety strobe lights on a Premium Aerodynamic body
Shreds 2,000 lbs/hr to 9,000 lbs/hr with a 5,000lbs to 10,000 lbs payload
Single-Shaft Rotary Grinders
In order to thoroughly shred your documents and materials, our paper shredding trucks have single-shaft rotary grinders (SSRG), which are made up of an amp-controlled hydraulic ram. This ram pushes the plastic against a single cutter shaft at a rate of 100 to 125 rpm. The shaft's low speed and high torque are precise, with four-point cutters set into it to shear the material against a counter-knife. Afterwards, the granules are fed through a screen fit for the size needed.
Shreds up to 30,000 lb/hr, depending on the grinder's size
Payload compartment is 16'L, 1,200 cu. Ft (8,000-10,000 lbs)
To schedule a shredding service where one of our mobile shredding trucks comes to your location, at your convenience, call PROSHRED® today!