April 30, 2021
Employees Working Remotely? Get Home Office Paper Shredding
While workplaces have been slowly making the shift toward remote work for several years, recent global events mean more people are working from home than ever, and experts predict the trend could continue. For employees outside of the traditional workplace, the shift to working alone in a home office often comes with a steep learning curve. At home, workers may not have the same luxuries they're used to, such as ready access to file cabinets, secure shred bins, printing stations, and secured facilities. Not only can this impact productivity, but also put company data at risk if employees are unable to dispose of documents properly. Today, the experienced professionals at PROSHRED® Dallas have outlined the importance of secure document destruction while working from home, and how to implement safer work practices for your team.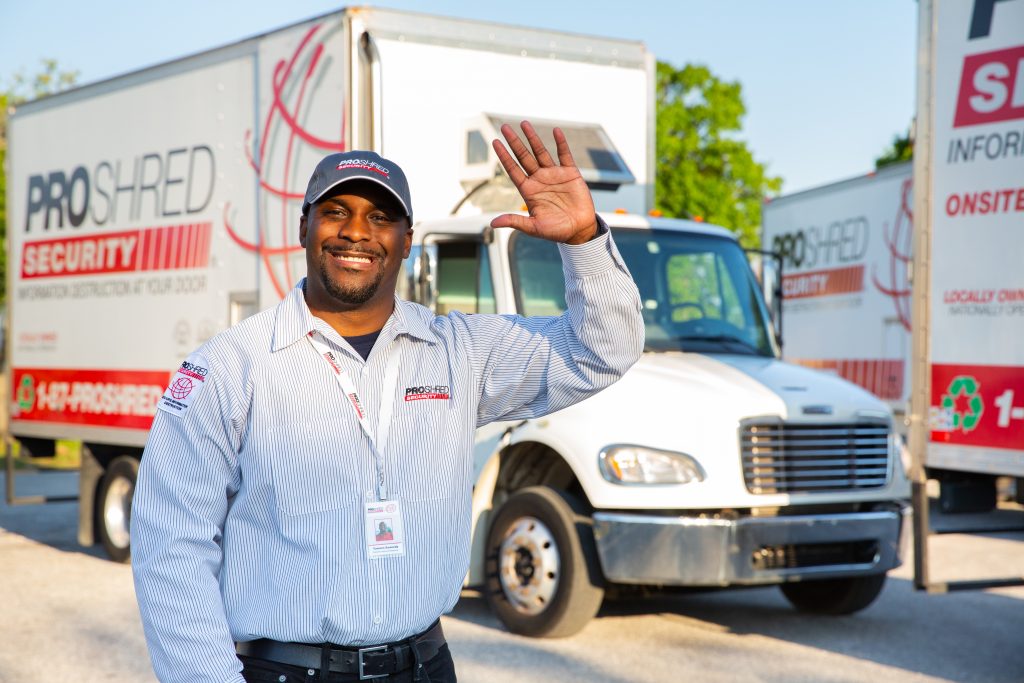 Make an Information Security Plan for Remote Employees
Any business information handled by remote employees outside of a secure workplace is at a higher risk of being compromised, as many home offices lack the necessary tools and equipment to properly secure confidential information. Employees who are handling secure business records at home will face some important responsibilities. PROSHRED® Dallas recommends additional training protocols to ensure employees are equipped to handle all documents and materials securely. Also, in the event of a data breach while working remotely, it's important to have a notification process in place so employees know what to do and who to contact.
Here are our top tips for employees on how to handle sensitive documents when working from home:
Set Up a Designated Workspace
Having your own workspace can help ensure you are able to securely store confidential documents while working remotely. From locking filing cabinets to dedicated shred bags, good storage is essential, and all materials should be secured whenever possible. Store files, folders, and papers in a drawer, cabinet, or other safe spot so they are not misplaced.
Get Organized
Set up and maintain a good organizational system to keep business records easy to find and separate from personal records. Loose papers should be filed and maintained in clearly labeled folders to prevent items from being misplaced or mixed up. A clean, clutter-free workplace can help prevent accidental spills and damage.
Keep Documents Out of The Trash
If you need to print documents, retain them in a secure place until you can safely shred them. Do not throw your organization's documents in the trash can or recycling bin! Once items are placed on the curb, in many areas they become part of the public domain, and easy targets for smart thieves.
Protect Proprietary Information Over the Web
It's important to protect all digital and paper documents, as well as workplace-issued devices and hard drives. Make sure company material is locked away securely and protect devices from unauthorized access by storing them securely when not in use. Never share devices or login information with people in your household, and remember that information stored to your private desktop is not secure or protected. Make sure you're connected to your designated network at all times, and avoid public Wi-Fi when transmitting confidential or important information.
Proper document handling from home may require a bit of extra training, but the benefits are more than worth it. Secure home office shredding can help keep company data protected and keep you compliant with regulatory agencies and departments.With our total shred policy, it's easy to protect confidential business documents, customer data, and proprietary information by securely shredding all materials.
Work From Home Safely with Home Office Shredding Services
Whether you're in a cubicle or in your home office, managing confidential records and data is an important aspect of the job. Employees working remotely need to be extra vigilant regarding the security of information and devices at home. With most employees lacking access to a secure shredder or secure shred box, there is increased potential for a security breach.
To reduce this risk and maintain confidentiality when working from home, we recommend using a trusted home shredding service. PROSHRED® Dallas offers secure Dallas-Fort Worth home office shredding with our mobile shredding services. Providing easy drop offs and convenient on-site service, we go above and beyond to ensure your data and your company's reputation is protected.
Call today to schedule secure mobile home office shredding service from PROSHRED® Dallas! 1-469-930-6044