November 22, 2021
How Scheduled Shredding Can Help Your Business
Regardless of size or industry, businesses are bound to accumulate a substantial amount of paperwork. Some of these documents do not contain sensitive information and can be tossed directly into a trash can or recycle bin. However, when you have files full of private data that must be protected, you will need to find a means of secure document disposal.
The easiest way to accomplish this is by hiring a paper shredding company to routinely shred your outdated or unnecessary documents. This is why PROSHRED® DFW offers regularly scheduled shredding services to businesses in the Dallas area.
Let's take a look at how scheduled shredding works and how it can benefit your business below.
What is scheduled shredding?
Employers and employees alike know that document disposal is no easy task. If your organization produces or handles sensitive documents regularly, working with a mobile shredding service to set up scheduled shredding is a must. Regularly scheduled shredding is the most secure way to dispose of your company's sensitive documents, whether it be once a week or once a month.
Companies that must adhere to local and federal regulations regarding data security can rest assured knowing that scheduled shredding from PROSHRED® DFW can help them maintain compliance with minimal hassle.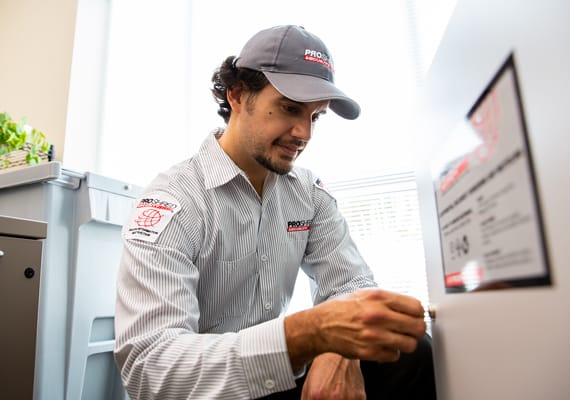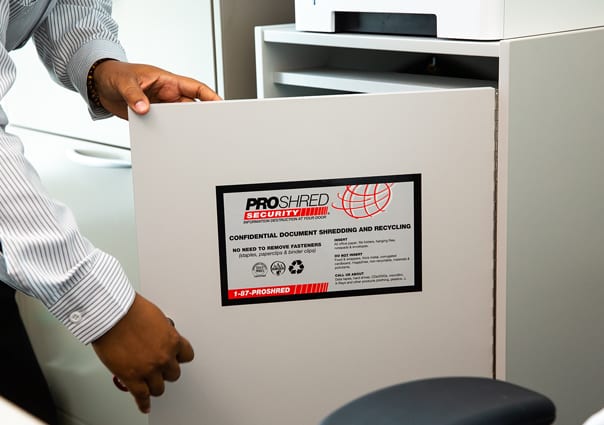 How Scheduled Shredding Works with PROSHRED®
With on-going shredding services from PROSHRED® DFW, you never have to worry about your paper files piling up again. To get started, a shredding professional will come to your location and work with you to determine the average amount of documents that need to be destroyed in a given amount of time. Then, we will provide your business with the appropriate amount of secure consoles. These locking consoles can be used to store all of your documents between PROSHRED® visits, leaving nothing to chance when it comes to the security of your data.
We will develop a shredding schedule that is appropriate for your business, whether it be daily, weekly, or monthly service. Once established, this program will be followed consistently with no hidden fees or mandatory contracts.
Benefits of Scheduled Shredding for Businesses
If your business manages a regular flow of paperwork that contains sensitive information, you can benefit from a secure shred schedule. As an industry leader, PROSHRED® DFW has developed a convenient shredding method that ensures your documents are efficiently disposed of while remaining protected from security breaches throughout the entire process.
Our clearly labeled, state-of-the-art mobile shredding trucks will arrive at your location driven by a uniformed data security expert who will destroy your files on-site. The advanced shredding technology housed inside the trucks is capable of rendering paper documents completely unreadable, leaving nothing but tiny fragments behind.
As an added benefit, PROSHRED® DFW's business shredding service is both cost-effective and environmentally conscious. Once the shredded material leaves your location, it is taken to a local recycling facility where it is then turned into new paper products. To top things off, the whole process can be witnessed using a dedicated screen mounted to the shredding truck, and you will receive a Certificate of Destruction, which provides evidence that your documents were securely destroyed.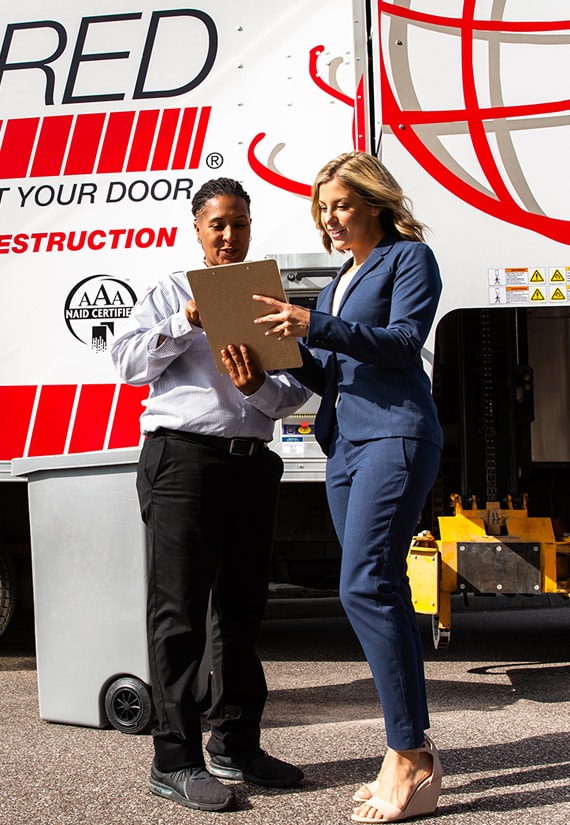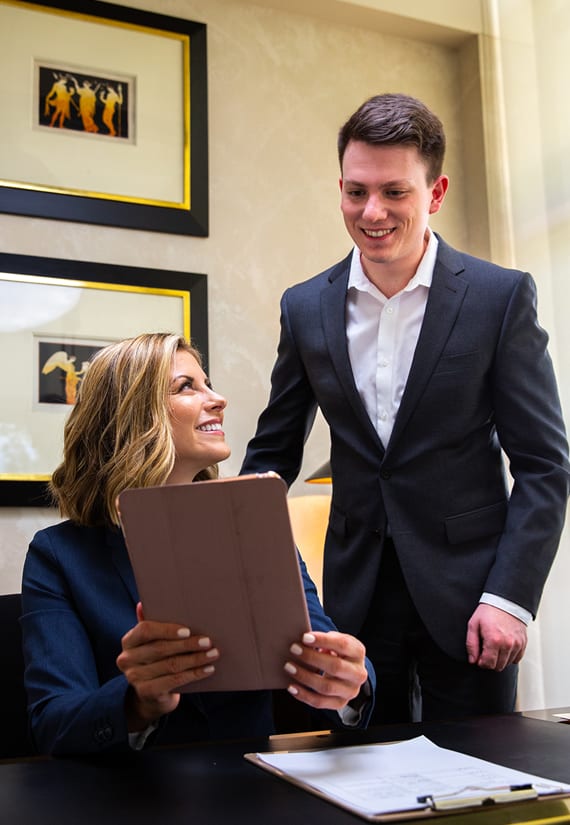 What industries need scheduled shredding?
No matter the size of the organization or the industry the organization is a part of, if your team handles items such as billing statements, receipts, or other documents containing names, phone numbers, or addresses, you need a scheduled on-site document destruction service.
With federal laws such as the Health Insurance Portability and Accountability Act (HIPAA) and the Fair and Accurate Credit Transaction Act (FACTA) requiring the protection of an individual's information, it is vital that you invest in a regularly scheduled shredding service. This service can save you time and money as well as protect you from potential fines and legal proceedings associated with data breaches.
PROSHRED® DFW has worked with numerous industries in the Dallas-Fort Worth area and can provide secure shredding services to anyone from medical professionals to law firms to financial institutions. Our team of professionals can design a customized security program for your business to ensure that the confidential information in your care is routinely disposed of.
Where can I find scheduled shredding near me?
When you need shredding services in Dallas, PROSHRED® DFW is here to help. Our certified shredding technicians are highly trained and will handle your materials with the utmost care. Instead of binding our clients to contracts or surprising them with hidden service fees, we deliver dependable, tailored services designed to meet the requirements of your business. Is a scheduled shredding service simply not feasible for your organization? No problem! We also offer drop off shredding services at our facility. Contact us to get started today!