April 17, 2019
Sustainable Shredding Services in Dallas & Fort Worth
Texas business owners and employees are realizing the importance of sustainable practices in every business aspect. From trying to use recyclable office supplies to finding sustainable shredding services nearby, every effort is worth it.
Protecting the environment is a responsibility that falls directly on those that inhabit it, also known as US! Luckily, Dallas – Fort Worth is home to eco-friendly shredding companies that are always ready to lend a hand.

How is Paper Shredding Sustainable?
According to the EPA, paper produces nearly 30% of all solid waste. Instead of going in the trash, documents can be shredded and recycled. This takes up less space in landfills while at the same time protects your confidential information.
Paper shredding is sustainable in other ways, too. When you recycle shredded paper, you reduce the number of trees used while at the same time are saving water and fossil fuels. Unfortunately, many are not aware of the resources required in the paper-making process.
So, when you use a DFW shredding company that recycles paper, you are saving critical parts of the environment such as trees, water, landfill space, and fossil fuels. These resources are then conserved and used to positively impact the local ecosystem.
What Happens After Documents are Shredded & Recycled?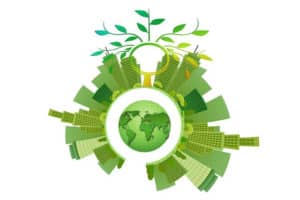 What happens after a shredding company destroys and recycles your documents? The shredded material is used to create post-paper products, such as copy paper, paper towels, packaging, tissue paper, and other related items.
Mentioned above, recycling paper saves resources such as:
Trees
Oil
Landfill Space
Energy
Water
Air Pollution
Other Ways to Promote Sustainability in the Workplace:
Shredding and recycling your company's papers is a great way to promote sustainability in the workplace, however there are other actions DFW companies can take as well. To reduce the amount of paper your company uses, you can have a scanning company digitally scan any documents you want to keep.
This allows you to save important files on your computer. The best part is that your scanned digital files can also be searchable, so you don't have to worry about misplacing an item once it has uploaded to your computer. Hard drive shredding is another way to positively impact the environment, as all electronic pieces are also recycled after being destroyed.
DFW Eco-Friendly Information Destruction
The best way to ensure your company is using sustainable practices in its information destruction is to work with a full-service document management company. With a company like PROSHRED® Dallas – Fort Worth, you can implement certain procedures that include a(n):

On-going Shredding Service to ensure all papers are consistently destroyed and recycled
Scanning Service so that any important files you need on hand can be accessed digitally
Hard Drive Destruction Service for when company computers or electronic devices are replaced
PROSHRED® Dallas – Fort Worth: A Sustainable Shredding Company
Thanks to local support, in 2018 PROSHRED® Dallas – Fort Worth recycled 930 tons of paper. In recycling 1 ton of paper you save 17 trees, 380 gallons of oil, 3 cubic yards of landfill space, 4,000 kilowatts of energy, 7,000 gallons of water, and 60 pounds of air pollution.

So, if you're looking for a sustainable paper shredding company in the area, call none other than PROSHRED® Dallas – Fort Worth. Our team is ready to assist you with not only your information destruction needs, but your responsibility in protecting the environment. Schedule a service online or call 469-930-6044 to get started!