October 23, 2023
Choosing the Right Paper Shredding Service for Maximum Security
When you're running or working in a business, law firm, or medical facility, securing your sensitive information is critical. While organizations tend to prioritize digital security, making sure physical documents are disposed of properly is still an important matter. This is where professional shredding services come into play. It's essential to pick the right service based on your business or organization's particular needs for maximum security. At PROSHRED®, we have an array of options to help you pick the best paper shredding services. We offer multiple different methods for you with our business shredding services, catered to your specific needs.
Factors to Consider
In order to find the right kind of secure shredding you need, there are multiple factors that you should consider about your company:
Document Volume
Depending on the type of business or company you're with, the volume of documents may vary. Hospitals and larger companies may have a significant amount of documents in need of disposal frequently, while smaller businesses may only have a bulk amount of documents after an extended period of time.
Security
Companies and facilities dealing with private information have to adhere to strict privacy laws in order to protect their clients, as well as their reputation. The strictness of your business' rules can determine whether your documents are disposed of on-site or off-site.
Cost Considerations
Having affordable and secure shredding is a preferable combination. When there are concerns about the cost of services, consider the budget you have set and which services cater best to your needs.
Flexibility
Time is valuable, and for a busy company, it's important to know how much flexibility you have. Whether or not you can take time away from your office can determine the type of shredding service you schedule.
Environmental Impact
Bulk document disposal leads to a considerable amount of paper waste, which is why companies should prioritize environmentally-friendly shredding companies. Many shredding services offer recycling options, and contribute to sustainable efforts.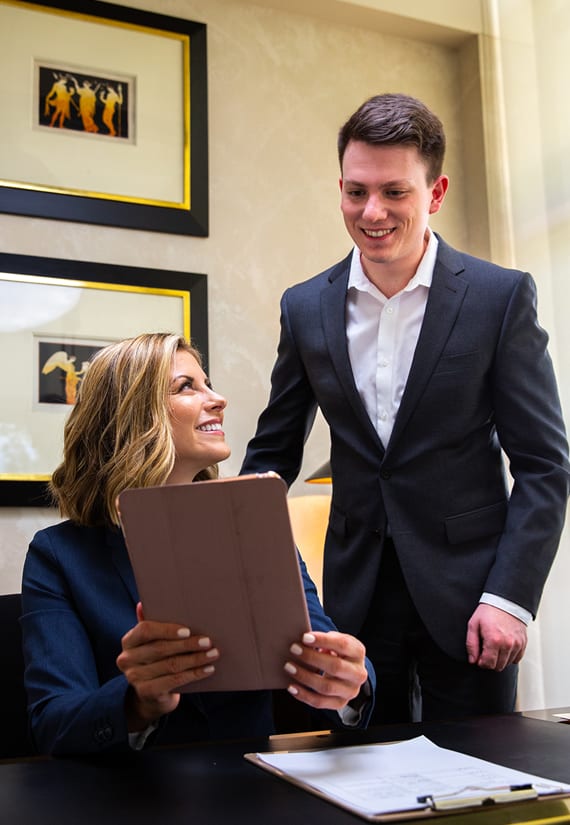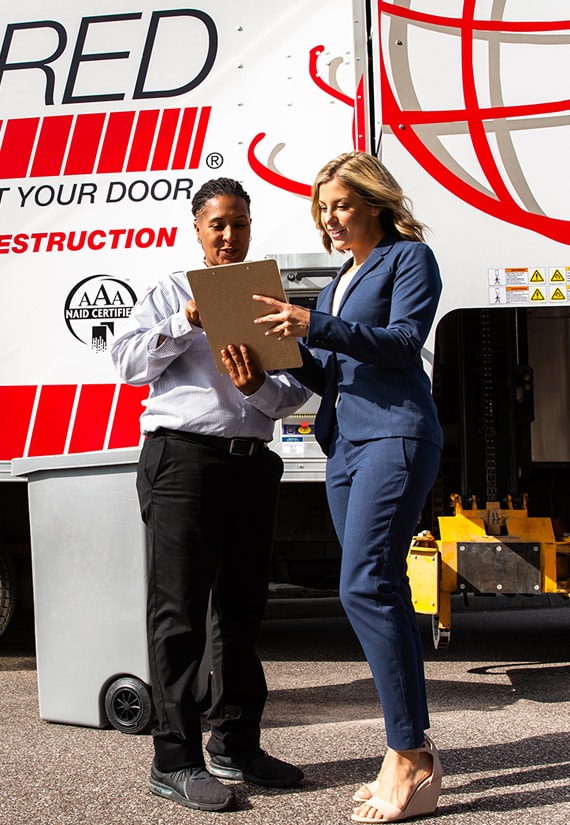 Service Types
At PROSHRED® DFW, we work to offer you and your business the best paper shredding services we can offer, including providing flexible services. Our main two types of services offer benefits that are guaranteed to cater to the considerations made for your company.
Mobile Shredding
Mobile shredding, or on-site shredding, is a shredding service that promises convenience and transparency. We send a shredding truck straight to your business' location, and it's equipped with an industrial-grade shredder. The entire shredding process happens on-site, right in front of you so you can witness your secure shredding service. This oversight provides an unparalleled level of assurance that your information was handled professionally.
The convenience of mobile shredding is ideal for companies with less time and flexibility. Our shredding trucks coming to you means you don't have to take your documents to an off-site location. This is especially helpful for organizations with large amounts of materials to dispose of and little time to do it themselves. Mobile shredding also offers immediate destruction, minimizing the time your documents spend in a vulnerable state, and takes the paper waste to local recycling centers for an eco-friendly solution.
Drop-Off Shredding
Drop-off shredding, or off-site shredding, is a disposal solution for sensitive documents that is cost-effective and eco-friendly. With this service, you gather your documents that need to be shredded and take them to one of our secure shredding facilities. While you may not witness the process in real time as you would with mobile shredding services, PROSHRED® follows strict security procedures, and guarantees that your papers are quickly and safely destroyed with secure shredding.
One major advantage of drop-off shredding is the cost-effectiveness of it. It's an ideal option for individuals and small businesses, as mobile shredding has a minimum for the volume of documents they shred. Like mobile shredding, off-site shredding is also environmentally friendly, as our facilities partner with local recycling centers to properly recycle paper waste after you use our services.
Service Frequencies
Every business is different when it comes to how many documents they accrue over time, and how frequently they need to dispose of them. PROSHRED® DFW offers services at varying levels of frequency, so you can pick the one that best fits your needs and your budget.
One-Time Shredding
Some businesses only require a one-time purge of their disposable documents, and that's where a one-time shredding service comes in. We'll send a mobile truck to your work location, and shred any of your unneeded documents.
On-Going Services
For businesses and organizations that have frequent buildup of sensitive information to dispose of, on-going shredding services are a great option. We work with you to make a schedule that best fits your business routine, without requiring a binding contract. Our team will provide your office with lockable shredding bins to store your documents in until our mobile service trucks arrive on schedule to shred them.
Shred Events
For individuals, small businesses, and even the community itself, shred events are held by PROSHRED® across Dallas and Fort Worth to help provide shredding solutions for everyone. Shredding comes at set prices per box and is helpful in ensuring security for our local communities. If you're searching "paper shredding events near me," check out our site for any upcoming shred events being posted.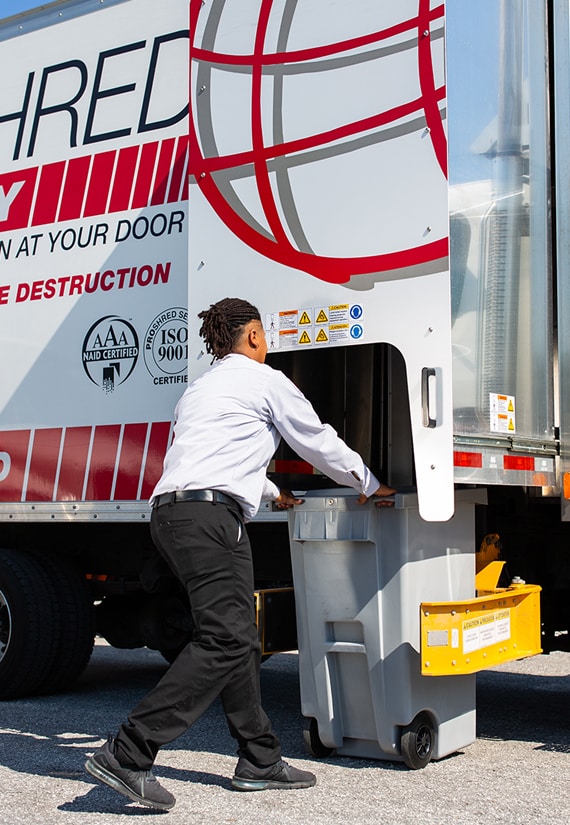 Contact PROSHRED® for Your Shredding Needs
Whether your business is big or small, the sensitive information you carry is important, and disposing of it properly is vital. Our top priority is bringing you and your company shredding solutions you can trust. Call us, or visit our site today to receive a quote, or to schedule a service with us.