June 5, 2017
Dumpster Diving is Directly Linked to Identity Theft
The end of the month is nearly here and while I am sure you are excited for summer to arrive, you may not be so excited about those month-end hefty bills. Sure, many residents now perform their banking online and as a result, don't have to worry about the whereabouts of their records, but if you still prefer to receive your utility bills through the old fashioned mail route, it's important they are handled with great care.
In what sense? Nobody likes dealing with piled up paperwork consuming kitchen drawers and cupboards, so we typically store these away or toss them in the recycling bin. After all, who wants extra clutter in their home right?  Once these are paid off, why hold on to them any longer? Unless needed for tax purposes, it's in your best interest to dispose of these records securely.
Tossing these documents into your recycling or garbage bin may supply you with renewed space, but it does not guarantee the information will remain secure or protected from outside threats. The security of your financial details and other personal information is imperative to keep secure at all times to avoid information theft.  Documents that make their way to the trash without first being shredded appropriately, means your records will be left vulnerable to outside threats. If your social security number or credit card number is obtained by a criminal, it will provide him or her with enough ammunition to carry out fraudulent activity on your behalf.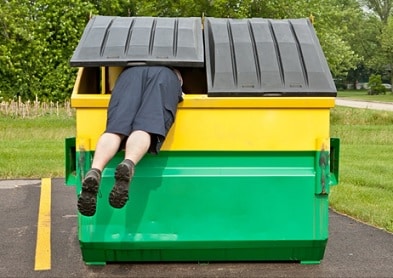 What You May Consider Trash, Could Be a Fortune for an Identity Thief
You may assume that there's no chance somebody will take the time and effort to rummage through your garbage in an effort to locate some juicy information, correct?  As a matter of fact, this occurs more often than you would think. If an individual is determined enough, an identity thief can use even the smallest tidbit of personal information such as your address, telephone number or birth date, to conduct damaging criminal activity. The next thing you know, the information you determined was irrelevant, may have been used to empty your bank account.
Another important factor to keep in mind is the credit card approval letters you receive occasionally in the mail. If these are disregarded and tossed in the garbage, they can later be located by dumpster divers. If this takes place, you've already made it relatively easy for a criminal to reply to the letter. All that is required is a different address under your name, and approval will typically be granted; especially if you currently hold great credit. You probably won't see any changes immediately, but it's safe to say you could be billed for many purchases you did not make sooner or later. At the end of the day, if you are willingly tossing financial records instead of taking the time shred them properly your trash may become a potential gold mine for criminal action!
Stay Protected from Identity Theft with the Following Tips:
Never throw away documents that contain a Social Security Number, driver's license number, or bank account number; these should be professionally shredded first
Cutting documents up yourself does not promise your information will remain secure. In several cases, pieces can be placed back together.
Hire a qualified and trusted shredding company for secure disposal of your confidential household information.
When you allow PROSHRED® Fort Lauderdale to securely destroy your sensitive documents, our team of skilled professionals will provide you with paper shredding services that are compliant with state laws, and that guarantee the protection of your company, customers, and employees. If you are a home or business in the Fort Lauderdale area and are looking for reliable document shredding services you can depend on, our specialists are happy to assist you.
Call 1-954-507-0211.