Business Shredding Services
Regardless how big or how small your business is, you are affected by privacy legislation and it's vital that you take reasonable steps to protect your business against unauthorized access to private information.
PROSHRED®' Fort Lauderdale's on-site document shredding business services provides businesses with the most reliable, quick and secure method of available for destroying sensitive documents. We take pride in safeguarding private information, and maintaining legislation compliance in order to avoid breach-of-security situations.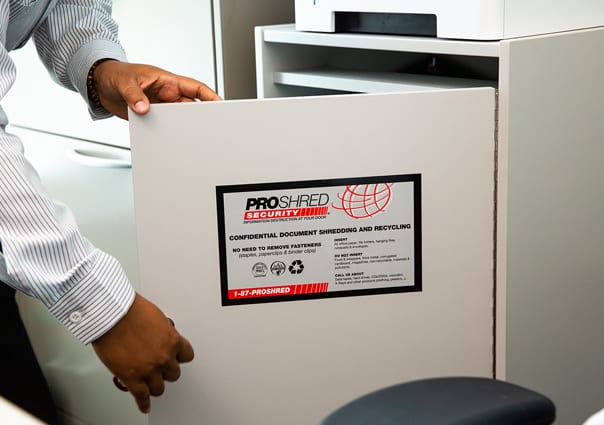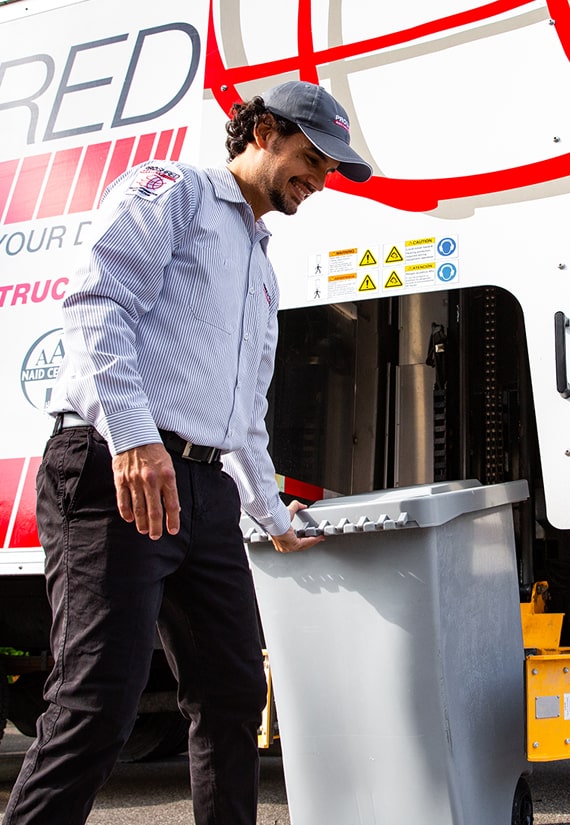 Secure
PROSHRED® Fort Lauderdale is a top document shredding provider. The most secure system for sensitive materials destruction is our on-site corporate document shredding. Our sole passion is our business of excellent document destruction and security.
With many years of trusted and successful experience, and as both an ISO Certified by NSF-ISR and NAID AAA certified company, our guarantee to you is keeping to the highest standards in quality and service. We offer the most secure and professional shredding services available in Fort Lauderdale.
By following the "chain-of-custody", our business document destruction system ensures of your documents is never broken. We shred your documents right on-site, significantly reducing a security risk, unlike off-site/take-away shredding or recycling services. At the end of each shred job, we will also provide you with a Certificate of Destruction which shows that all of your documents and materials were legally shredded. We do not leave your premises until every piece of your confidential paper is completely destroyed.
Our well-trained staff members are bonded, uniformed, and carry picture identification. They are committed to providing you with the best, most secure and professional customer service experience.
Convenient
With our free security consoles and bins available for your business location, your employees can discard confidential, sensitive information without the worry of having to use office shredders. There is no need to remove any staples or paperclips as our shredding equipment is able to completely destroy that material.
Depending on your budget and your needs, the PROSHRED® Fort Lauderdale team can service your consoles and bins on a weekly, bi-weekly or monthly basis. In some calls, we can come right on-call. We will gladly adjust our services to your organization accordingly if you need any changes.
If you have documents that have accumulated in storage, our purge shredding services can be handled either in conjunction with regularly scheduled services, or during special one-time shreds.
We offer a variety of locking security containers and consoles to meet all your needs and requirements. We take extra steps to make the system as easy to use as possible for all staff members. In addition, we also shred more than just paper, including hard drives, electronic media and other materials.
With our state-of-the-art mobile shredding trucks and our trained document destruction staff, we efficiently and conveniently shred all of your sensitive materials on-site, providing you peace of mind.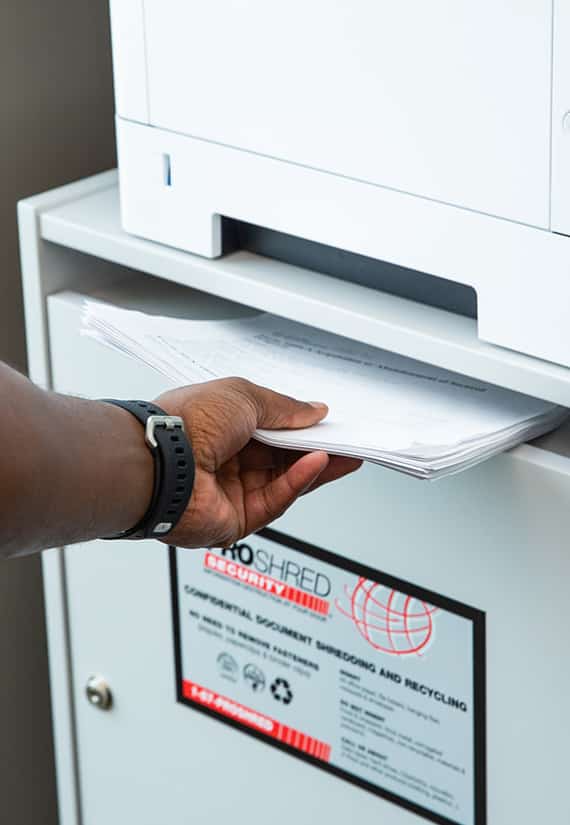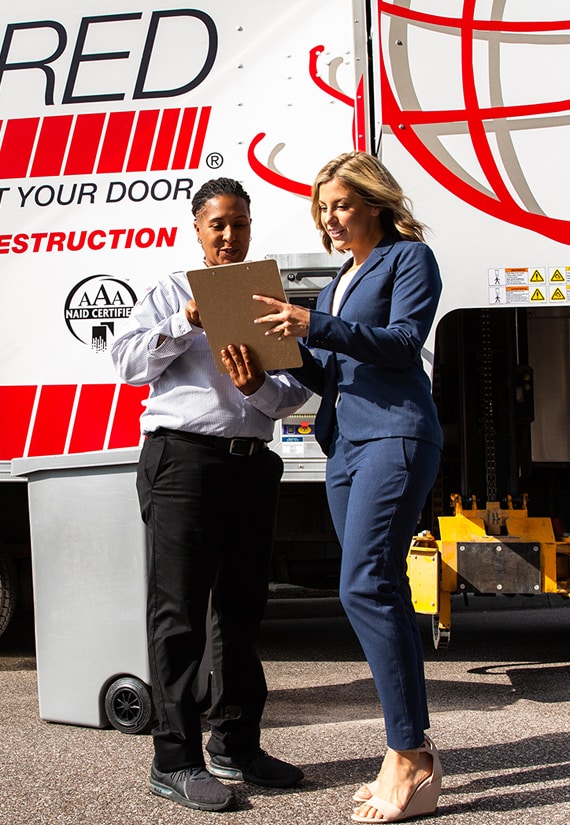 Cost-effective
By doing in-depth research, we show that on-site shredding services cost at least 25% less than in-house shredding systems, such as office shredders. If you team PROSHRED® Fort Lauderdale for your shredding needs, you allow your employees to stay focused on important work tasks.
If you are concerned about pricing, don't worry! PROSHRED® Fort Lauderdale's pricing is based on a negotiated service frequency. We don't base pricing on weight or time, allowing your organization to accurately budget in advance where as other shred providers will take more expensive ways.
With free consoles installed at your business location and our shredding service conducted at your premises, PROSHRED® Fort Lauderdale guarantees complete and secure document shredding security. Compared to recycling and off- site or in-house shredding programs, PROSHRED® Fort Lauderdale's professional shredding services for businesses provides great value, peace of mind and the most secure shredding service available in Fort Lauderdale.
In delivering the most reliable shredding services for Fort Lauderdale businesses and residents, we are happy to offer free consultative estimates. Furthermore, we do not require our clients to sign any contracts. If you request it, we will set up a contract with you to help meet all legislative or corporate requirements. Just remember that we don't expect our customers to sign any contract. We believe that if we are not truly serving your needs then you don't deserve to be bound to us.
Environmentally Conscious
The PROSHRED® Fort Lauderdale team feels we all have a role in preserving our environment. For that reason alone is why all of our shredded paper is completely recycled. Not only do we take document shredding security seriously, but as your partner in corporate responsibility, we are making a positive difference in keeping our environment healthy and green.
When you receive an invoice, you are given the cumulative tally of mature trees your business has saved have saved. At the end of each year, you are provided with a TreeSaver Environmental Certificate documenting the total amount of trees your organization saved during the year.
PROSHRED® Fort Lauderdale's business shredding service provides you with the most secure document destruction and recycling program.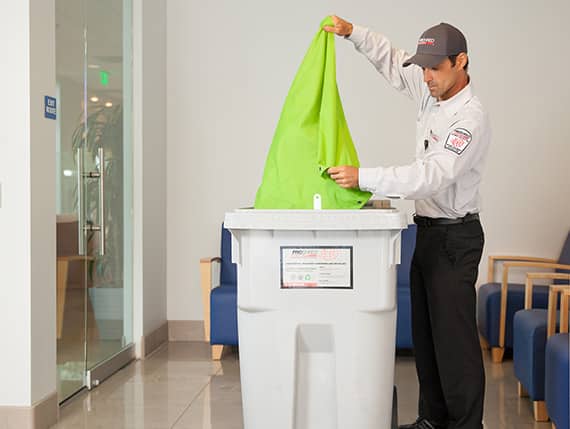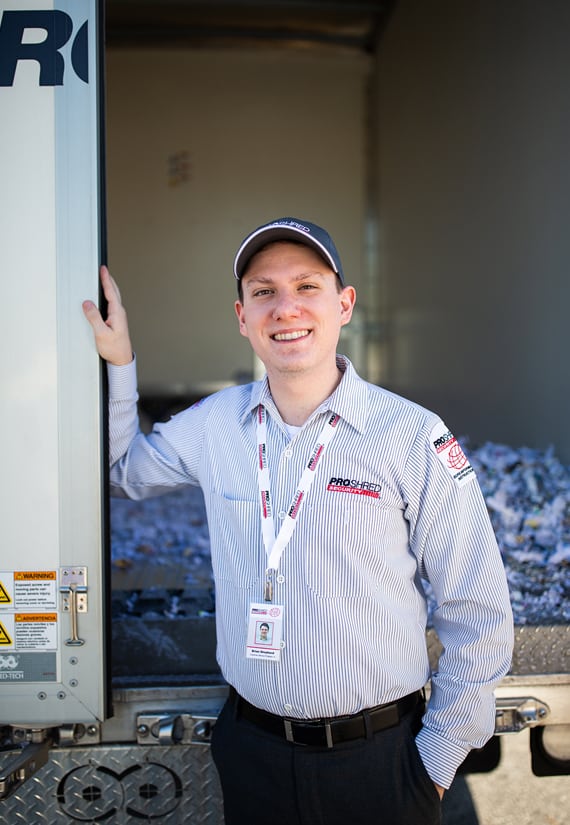 Information powers business. Power creates risk. PROSHRED®Fort Lauderdale Destroys Risk
At PROSHRED®Fort Lauderdale, we understand this reality better than any other document shredding company in South Florida. More than ever before, our wirelessly-connected business world changes everything we know about paper.
Information about your company, its people and its strategic direction changes hands as fast as one simple click on your smartphone. No longer bound to a laser printer or community copier, information spreads fast — and in triplicate.
PROSHRED®Fort Lauderdale offers the most complete set of document management services available today. We're passionate about keeping your information in control. No matter what form or format it is: Paper, hard drives, portable media storage devices and more are all easily and securely destroyed right at your office door.