Residential Shredding
Growing concerns throughout Fort Lauderdale and the state of Flordia are identity theft and corporate espionage - two of America's fastest growing crimes. PROSHRED® Fort Lauderdale has crafted a reliable, convenient residential document shredding service program that will reduce the risks of identity theft and corporate espionage.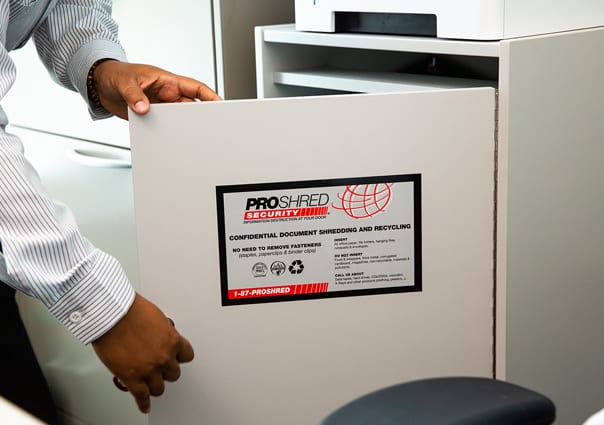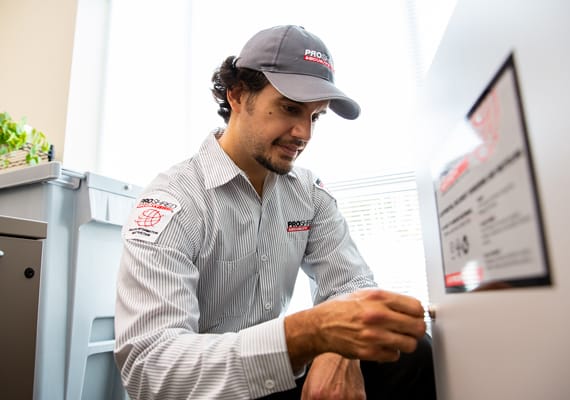 PROSHRED® Fort Lauderdale offers Residential Information Security Containers (RISCs) for your personal or home-office shredding program. Our RISC boxes will act as a vital repository labeled with important information about document shredding residential and home office materials. Having one designated location to collect and keep your sensitive documents for disposal, you will immediately begin to maintain a system for ensuring professional security. Our RISC boxes are available at our local office.
Once you have collected your old documents in RISC or other file boxes, our team will provide a variety of alternatives for having your documents securely destroyed. Clients can have their private materials shredded at their location, you can use our office drop-off service or participate in one of our ongoing community document shredding events.
While our on-site residential document shredding service is available for shred jobs of different sizes, a minimum charge per visit will apply. We suggest clients try to have a high amount of materials to ensure each shred job is as cost-effective as possible. If preferred,  clients can deliver private documents and records to our local office where they will be collected, shredded and recycled.
Furthermore, our local PROSHRED® Fort Lauderdale office conducts regular shredding events that offer secure destruction of sensitive documents for residents and stay home workers. By using our state-of-the-art mobile shred trucks, we proudly host events in central areas to which customers can personally deliver their documents and other private materials. All net proceeds collected from these shredding events are donated to local charity and community groups. We believe in offering consumers a reliable, secure and community-friendly system for disposing of private data.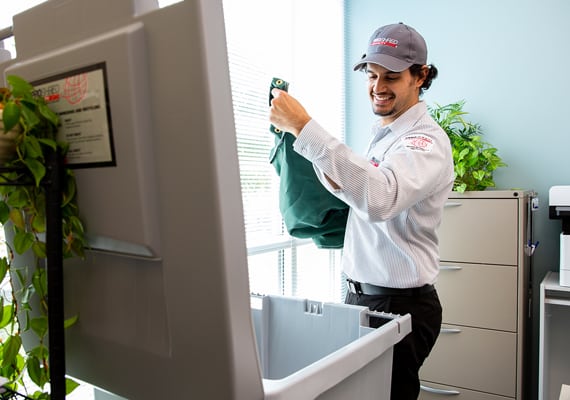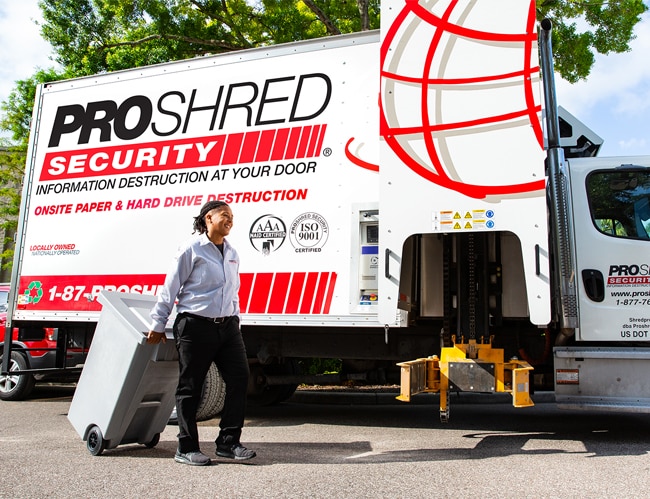 Your junk mail isn't trash to everyone. You could throw away your future. PROSHRED® Fort Lauderdale Residential Shredding Stops ID Thieves.
Pamphlets from your prescription drugs, check book reorder forms, bill payment coupons — even magazine labels become potential targets for identity thieves.
According to the Federal Trade Commission, one consumer falls victim to identity theft every 22 minutes. That rate is even higher in South Florida. ID thieves open new credit card accounts, car loans and even sign leases to rent housing based on the information they get from your garbage.
Protection is just a call or a click away. PROSHRED® Fort Lauderdale will dispatch a residential shredding mobile unit right to your office door at your convenience, ready to shred as soon as you are!
The cost to have a professionally certified paper shredder come to your home office or business location on a bi-weekly, quarterly or annual basis is more economical and more secure than the compact shredder you have by your desk. Plus, you have peace of mind knowing your information is completely destroyed in minutes — right there in your parking lot — as you watch.
Using a professional shredding service is the best way to dispose of documents with sensitive information on them. You can personally deliver your documents to our state-of-the-art mobile shred trucks at one of our many shredding events around Ft. Lauderdale
Operating a shredder at home costs an average of $200 a year and doesn't completely destroy the paper it shreds. It also can't dispose of hard drives and promotional material. A residential shredding service, like ours, can do all of those things at a cost-effective rate.