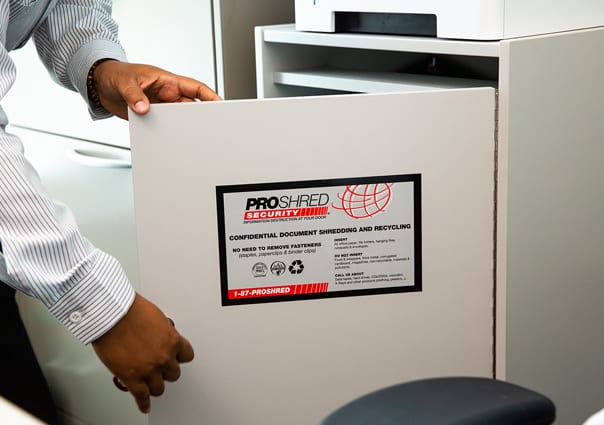 Everything you need to know about document shredding and the services we offer can be found here. These are the commonly asked faqs about shredding.
What are my shredding options?
You could purchase an office shredder and shred it yourself, but there are major drawbacks. Most office shredders are limited to less than 10 documents at a time and all fasteners, file folders and staples must be removed.
You can also take your documents to a local recycler, who can also destroy your documents, but since most of your paper is sorted by employees, bales and sold on the open market, your private information isn't secure.
Using a shredding service like PROSHRED® Fort Lauderdale, allows you to leave the tedious job of shredding to the experts. PROSHRED® Fort Lauderdale will come to your location and shred your documents right outside your home or office. When considering which service provider to hire, you should remember that it's not always wise to hire a shredding company based on price alone. Shredding is a vital security service and should be judged on many different factors. The company who handles your documents matters!
Why should I shred?
There are a great many reasons to shred. Protecting your confidential and proprietary company information is one. Another is to protect your client information, including their private financial information. Shredding is required for to protect patient privacy as well. Finally, your personal information should be safeguarded too, and shredding helps prevent identity theft.
What is the difference between on-site and off-site shredding?
An off-site shredding service will come to your location, collect your materials, take it to their facility and shred it — usually within 24 hours. On-site shredding means all destruction is done on your premises and a Certificate of Destruction is provided immediately.
What regulations require that I shred documents?
HIPAA regulations require protection of patient information. Shredding is the absolute best way to comply with HIPAA.
HITEC regulations expand HIPAA regulations and require that the custodians of medical information or PHI (personal health information) safeguard patient records.
Red Flag regulations require custodians of financial information and private personal information to safeguard them and destroy them securely when the information is no longer needed.
Graham-Leach-Bliley regulations require the safeguarding of private and personal consumer and health information.
Sarbanes-Oxley regulations also have financial document management security requirements.
How are documents kept secure before shredding?
When you choose routine shredding service with a bin or console cabinet in your office, the container is kept locked at all times until it is serviced on site. The container is locked until it is being shredded at the mobile shredding unit. This is done right at your site, so the private documents are never out of your control. When they leave your site, they have already been destroyed.
When you have PROSHRED perform a periodic purge of your boxed records, the records are shredded right at your site and are never out of your control.
Our Shredding Officers have undergone extensive background checks and serve you in a secure and confidential fashion. Any shredding done at our facility is done under 24-hour monitoring.
How are documents secured during and after shredding?
The shredded paper is all smaller than your thumbnail and is kept secure in our mobile shredding units until they arrive at the recycling facility for recycling.
What happens to the paper after it is shredded?
The shredded paper is recycled and is repurposed into many consumer-use products. Paper recycling is a fantastic bonus of shredding. Not only have you kept your information secure, you are helping the environment.
What other materials can be shredded?
In addition to paper, PROSHRED can destroy hard drives, x-ray films, microfiche, videotapes, CDs and DVDs, data platters, data backup tapes, and anything else that contains confidential data.
Additionally, PROSHRED provides destruction of product prototypes, off-spec products, and discontinued surplus products. We have destroyed dental and medical molds as well.
Can x-rays, MRIs, and other films be shredded?
Our medical shredding service can destroy X-ray films MRIs and other medical imaging films.
What happens to x-ray film after destruction?
X-ray films can be recycled just like paper, but are recycled separately from the paper.
Can other items be destroyed too?
PROSHRED® provides destruction of product prototypes, off-spec products, and discontinued surplus products. We have destroyed dental and medical molds as well.
Our equipment is capable of destroying almost anything as long as it fits in the shredding machine.
Can I get documents picked up periodically for shredding?
Absolutely. Customers who choose not to have a bin placed in their office can have periodic shredding scheduled at their facility when the need arises. Even customers who do have bins and consoles at their office or facility may have a large clean-out of records and need additional shredding service, which we are happy to provide.
Can I drop off documents for shredding?
Yes. Our customers are welcome to bring boxes to our facility. We charge $5 per box ($15 minimum) for drop-off shredding and $10 per standard box ($30 minimum) for witness shredding.
Why do you charge more for witness shredding than for drop-off shredding?
We collect drop-offs all day and shred them all at once at the end of the day. We are much more efficient doing it all at one time, so we pass the savings on to you! If you'd like to watch at the time of your drop-off, we are happy to accomodate you.
How long does it take to shred?
Our shredding equipment runs very quickly. A bin full of paper, which is equivalent to about 6 boxes, can be shredded in about 8 minutes. Your office shredder would take 4 hours to do one box of paper. Your time is valuable, so the choice is clear.
Can you shred at my location?
Yes. Our mobile shredding trucks can shred paper right at your facility. When we provide mobile shredding service, your documents never leave your control until they are in tiny bits smaller than your thumbnail.
I would prefer not to have a truck here. Can you shred at your own location?
Yes. We can shred at our facility as well. Our Document Security Officers can pick up boxes at your facility and take them to our secure facility for secure shredding.
Can you meet me at my warehouse storage location or do I have to bring stuff to my office to be shredded?
Yes. We can provide shredding service wherever you need it. We are happy to schedule a time to meet you at your storage location.
How loud are your shredding trucks?
The shredder on board the truck does make some noise. However, it is only noisy if you are in the immediate vicinity.
What is the regulatory liability for not shredding?
Your company or medical practice can be held liable for violations of regulations under HIPAA, HITEC, Red Flag, Graham-Leach-Bliley, or Sarbanes-Oxley. There are fines for violating the requirement. Check with an attorney for more details.
What non-regulatory liabilities are there related to keeping documents?
There is civil liability for violating the security of customers or patients private financial or PHI (private health information). Check with an attorney for more details.
What non-regulatory liabilities are there related to keeping products?
Customer lists, customer data, vendor data, product design information, product sales information, and any research and development information is company confidential and can be used by your competitors. Dumpster diving is legal. Your competitors can retrieve sensitive information about your company's operations if you don't destroy documents.
Why should I destroy my hard drive? Can't I just erase or re-format it?
A reformatted hard drive still has old data on it. A tech-savvy teenager can easily find the data on your reformatted or erased hard drive. The only way to secure the data from your hard drive is to destroy the hard drive. PROSHRED provides hard drive destruction services.
What about product destruction? Why does anyone do that?
Product destruction is done to secure information on prototypes, development and design work, or product manufacturing methods.
What else should I shred?
You should shred anything that is confidential or proprietary to your business or personal life. Identity theft is a major way that you can be harmed by failure to destroy documents, but it is only one of the ways that you can be harmed.
How often should I shred?
You should shred often enough to stay ahead of your document security needs. Routine shredding service is the best way to make sure that you are routinely destroying documents that should be destroyed. Ask about our routine shredding bin or shredding console service.
Do I need to pull staples, un-clip, or remove documents from file folders, notebooks, or binders?
Staples, clips, and folders can be shredded right along with the paper. There is no need to sort through your documents to remove them. The entire box can be shredded all at once with the staples and clips in place.