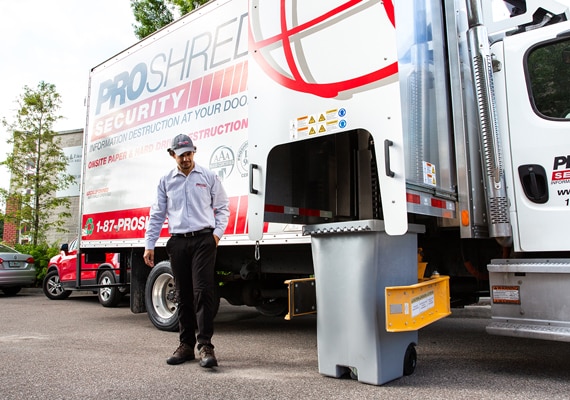 Your Industry, Our Expertise
PROSHRED® in Fort Lauderdale destroys documents for a variety of industries including Medical, Financial, Legal, and more.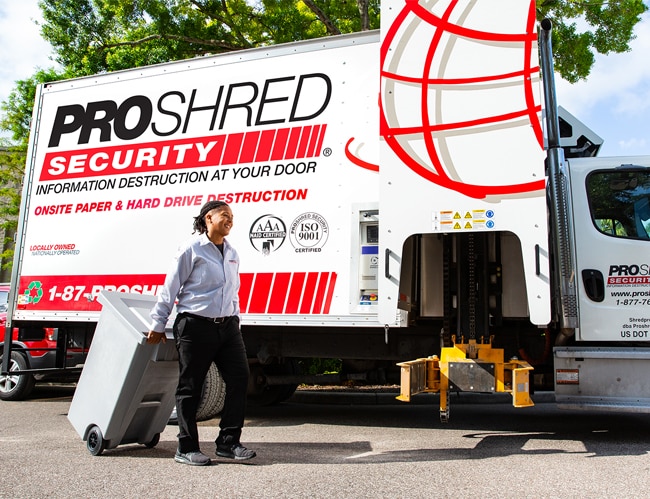 On-Going Paper Shredding Services
With PROSHRED® Fort Lauderdale's regularly scheduled mobile paper shredding service, we design a customized security program to ensure that your confidential documents are continually serviced. We deliver a dependable service tailored to meet the level of security and accountability that's required for each job. Whether you have one employee or thousands, we develop a plan for document shredding service on a daily, weekly or monthly schedule that best meets your needs. Once your program is established, our staff and internal software systems ensure timely and consistent service.
One-Time Purge Shredding Services
Outdated files take up valuable space, increase your risk of a breach of confidentiality, and potentially compromise your compliance with the law. With one of the fastest and most advanced shredding equipment available today onboard our shredding trucks, we are able to quickly, efficiently and securely destroy your documents right at your location. The quantity of your file boxes can go up usually near accounting and tax cycles every single year, it is important to know when you are legally bound to destroy confidential documents.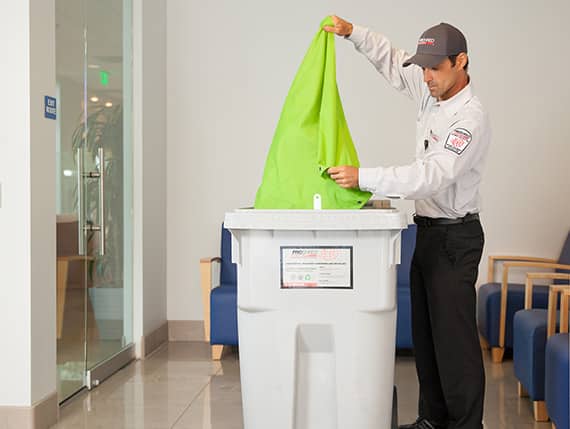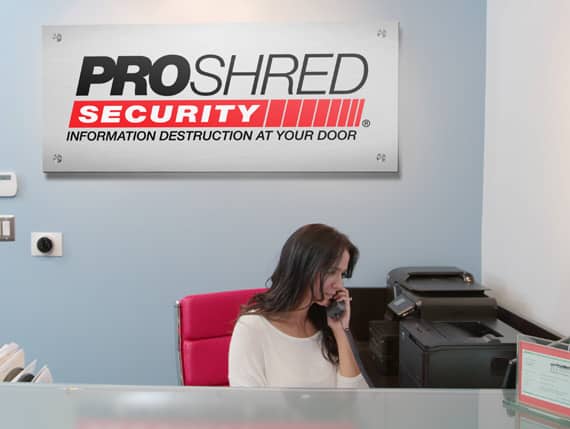 Drop-Off and Residential Shredding Services
PROSHRED® Fort Lauderdale provides secure paper and document shredding services for small businesses and home clients in our area. Our shredding trucks use cutting-edge shredding technology to shred documents into tiny confetti-like pieces, ensuring complete confidentiality and security for every customer's sensitive information. Businesses and individuals in Fort Lauderdale can trust PROSHRED® to completely destroy documents, paperwork, and files - whether at our facility or with our mobile shredding trucks that come directly to your home or office. We adhere to all industry standards for secure shredding and data protection. PROSHRED®'s shredding methods are one of the most secure available, guaranteeing total peace of mind that your confidential documents will be properly destroyed.
Hard Drive Destruction Services
In addition to shredding your confidential documents and electronic media, PROSHRED® Fort Lauderdale provides hard drive destruction services for end-of-life-cycle computers. Proshred has a complete line of hard drive shredders and crushers to meet the need of any type of shred size. As more consumers and businesses switch to cloud-hosting and cloud memory, the need for old physical hard drives becomes obsolete. It is very important for users, and at many times they are legally obligated, to fully shred hard-drives to absolute destruction.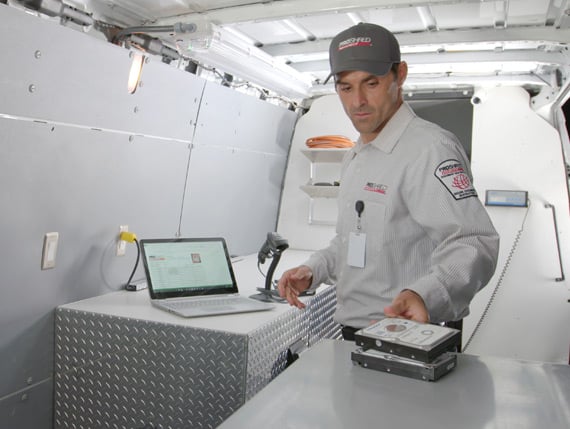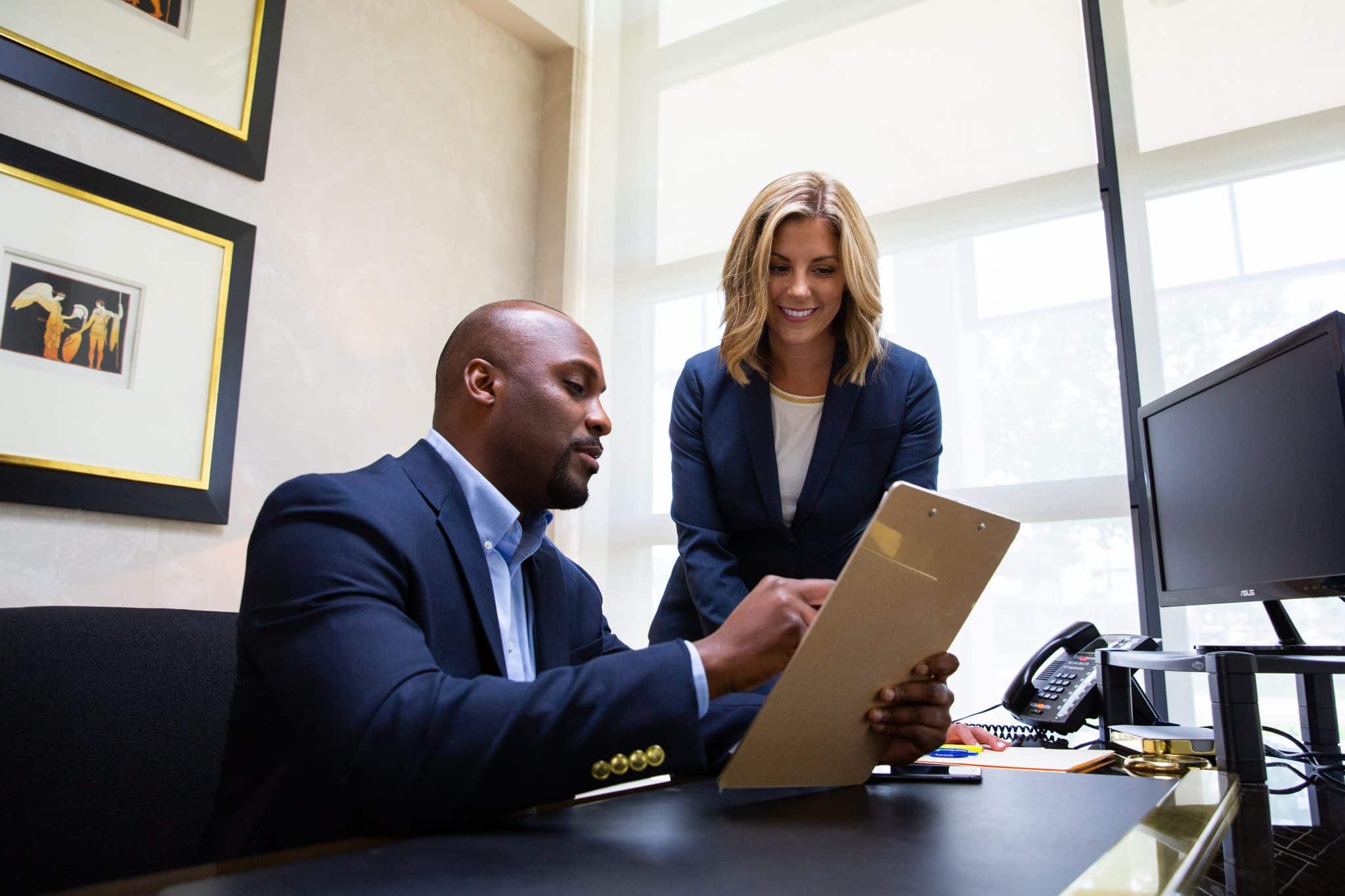 Breach Reporting Services
The current legislative environment regarding data security is convoluted, and compliance is no longer simple. PROSHRED® Fort-Lauderdale offers you a comprehensive tool to safeguard your company against data breaches. Be proactive and protect your business from financial and legal penalties with the CSR Readiness® Pro Edition. This tool will also let you handle breach reporting with ease in the off chance that an incident happens.
Product Destruction Services
Our product destruction services use professional incineration to dispose care of most items you'll want to destroy but can't shred, including branded or promotional products, certain medical records or prescription bottles, as well as bank and ID cards. We serve all major industries, including manufacturing, medical companies, and military and first responders. Contact us to find out if your unwanted products can be professionally destroyed by us.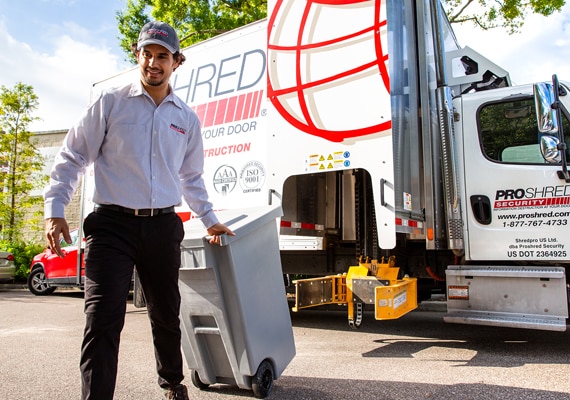 PROSHRED® began providing secure shredding services over 25 years ago. We're proud to be the only locally-owned and operated shredding company that specializes in shredding more materials than any other provider – all in one stop.
Shredding Service that keeps its Promises.
While other shredding services may claim to deliver a truly personalized customer service experience, PROSHRED® Fort Lauderdale delivers. Free disposal cabinets, secure document storage bins and your choice of scheduled arrival dates are just a few of the advantages PROSHRED® provides to businesses in South Florida.
South Florida businesses, governmental agencies, and entrepreneurs call PROSHRED® Fort Lauderdale because our reputation for shredding is the best in South Florida.
Information is power.
In the wrong hands, it's profit.
PROSHRED® Protects Profit.
More than ever before, our wirelessly-connected business world changes everything we know about paper.
Information about your company, its people, and its strategic direction change hands as fast as one simple click" on your smartphone. No longer bound to a laser printer or community copier, information spreads fast — and in triplicate.
PROSHRED® Fort Lauderdale offers a complete set of document and electronic shredding services available today. We're passionate about keeping your information under control. No matter what form or format it's in; Paper, hard drives, portable media storage devices and more, are all easily and securely destroyed right at your home or office door.
Once a year, once a month, or on demand.
Scheduled Service
One-Time Service
Drop-Off Service
Your choice of containers for home or office.
Secure Storage Bins
Lockable Storage Cabinets
No matter what level of service you require, PROSHRED® Fort Lauderdale technicians are available. At your door or ours, your documents are always handled with exceptional care and you'll always receive courteous and professional service.