One-Time Document Shredding Service
If you have unwanted documents that contain sensitive personal or business information, call PROSHRED® Fort Lauderdale for one-time shredding services. Whether you have a large box or small warehouse full of documents, our one-time, on-site shredding service is a fast and affordable way to recycle your materials in Florida. We do this while safeguarding your information from identity thieves and other bad actors. On the day of your appointment, our team members arrive at your home or business, pick up the documents, and securely destroy them on-site in mobile shredding trucks. There's no mess and no hassle.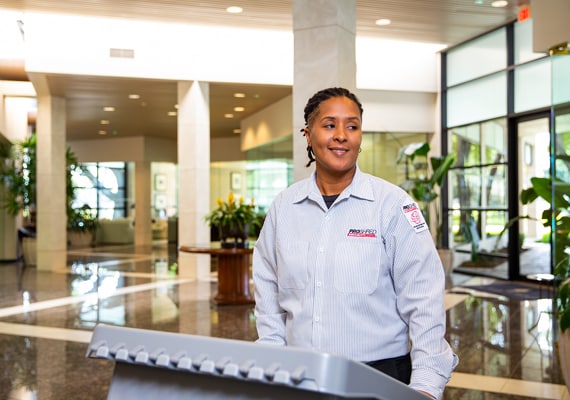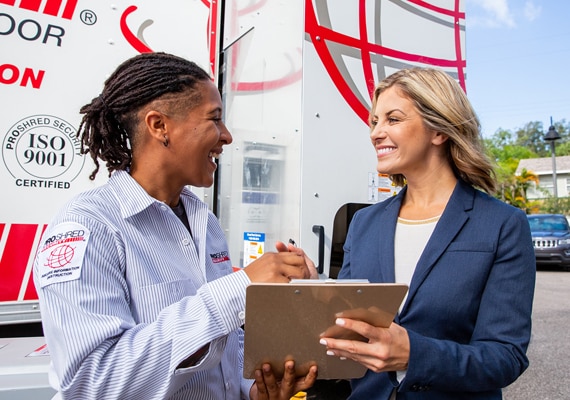 How Much Does One-Time Shredding Cost?
One-time shredding services are fair and affordable. We charge based on an hourly rate, so the price is determined by the amount of materials that need to be destroyed. While some shredding companies ask you to sign a contract or pay a fuel surcharge, with PROSHRED® Fort Lauderdale, there are no hidden fees and no contracts for one-time service. And if it turns out you need regular help, we can upgrade you to a scheduled shredding service for even more savings.
State-of-the-Art Mobile Shredding Trucks
Our mobile shredding trucks are equipped with the latest document destruction equipment. Each truck is small enough to fit in residential areas, yet capable of shredding up to two tons of paper per hour—most of our one-time shredding appointments take no more than a few hours. Our staff transports your documents from the home or business to the trucks using secure shredding containers. And once the documents are shredded, we issue you a legally binding certificate of destruction for your records.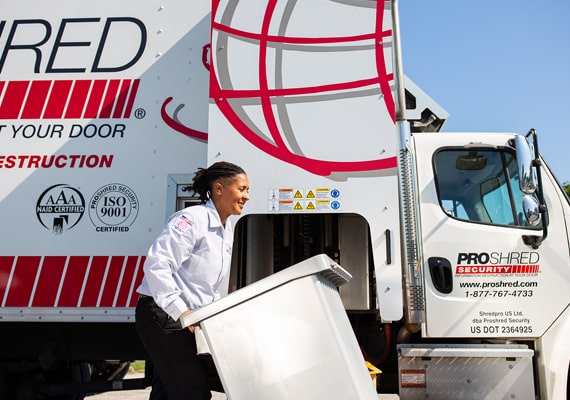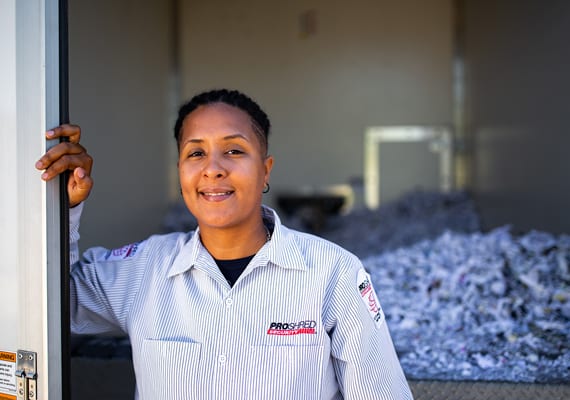 We Recycle 100% of Your Shredded Documents
Besides the peace of mind that comes from knowing your sensitive information is securely erased, you can also feel good knowing that we recycle 100% of the documents we destroy (including papers, hard drives, and other materials). Once all of your sensitive documents are fully shredded by your well trained, fully background checked Customer Service Professionals (CSPs) will provide you with a certificate of destruction. We partner with local recycling companies in the Fort Lauderdale area who process the leftovers from our one-time shredding service appointments. Our regard for security and sustainability makes PROSHRED® Fort Lauderdale one of the most trusted document destruction services in Florida.
The cost of a one-time shredding is determined by the amount of material you have that needs to be destroyed. Contact us today for an accurate estimate.
To avoid identity theft and the wrong people getting ahold of your personal information. If you want to get your data safely and securely shredded in minutes, professional shredding services are recommended.