September 12, 2023
Ultimate Guide To Proshred Orlando's Process of Keeping Your Information Safe
As the technology that makes up the digital landscape continues to advance and evolve, the value of sensitive information has grown, along with the vulnerability of it. From business owners to individuals, protecting personal and private information is vital, and having the proper defense for data breaches and identity theft can help. By teaming up with a professional, reputable shredding company, you can properly safeguard your information. If you're searching for "shredding services near me," PROSHRED® Orlando has secure shredding solutions that best fit your needs. In this guide, we'll go into detail about all the types of services we have to offer, and our process in making sure your data is thoroughly protected.
The Best Way to Shred Paper
Having the proper solutions for your shredding needs is important, and using a simple office shredder isn't ideal for disposing of sensitive documents. The best way to shred paper documents that hold confidential data is by using industrial-grade shredders, which is what PROSHRED® Orlando uses for all of our shredding services. There are various dimensions to shredding services that we provide, from simple paper shredding to document storage and hard drive disposal.
Types of Shredding
When it comes to who we serve, paper shredding covers a wide range of industries, since every establishment needs data security on some level. They have a number of rules and regulations they need to comply with in regard to maintaining confidentiality. Here are some of the types of industries we provide shredding services to:
Business- Small and large businesses alike need secure disposal, for both documents and products that shouldn't reach prying eyes. Whether they need to drop off papers with us or call in a mobile shredding truck, we offer convenient solutions.
Financial- Financial companies carry crucial information for their clients, such as income statements and banking information. When these documents need to be disposed of, it's incredibly important that they are shredded thoroughly.
Home Office– Remote work and home businesses can still have the risk of data leaks, even if no one else is around their work. This is especially true if there is no proper organization to where files are kept and how they are transported, or if they are thrown out without proper destruction.
Legal Record- Law firms carry confidential data for their clients, from legal records to private information. Our team specializes in legal recording shredding and follows the proper privacy laws when it comes to helping legal professionals destroy their unnecessary files.
Medical Record- It is critical for medical practices to properly shred their unneeded medical records, since they are trusted to protect their patients' private information. Our company complies with HIPPA and similar laws put in place to protect patient privacy with disposal services that will efficiently shred medical records.
Residential– The risk of identity theft can be concerning, especially when it comes to personal information. We reach out to residential areas the same way we do with businesses, offering shredding services for any documents that need to be securely shredded.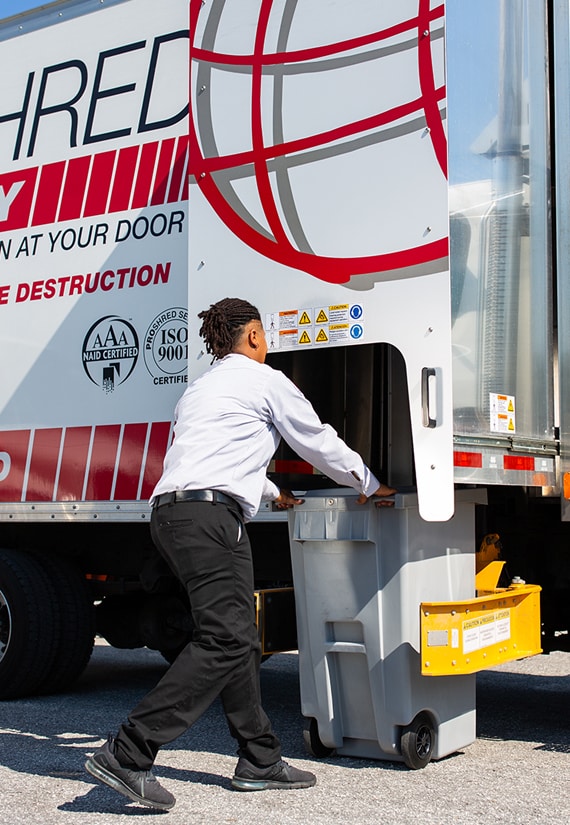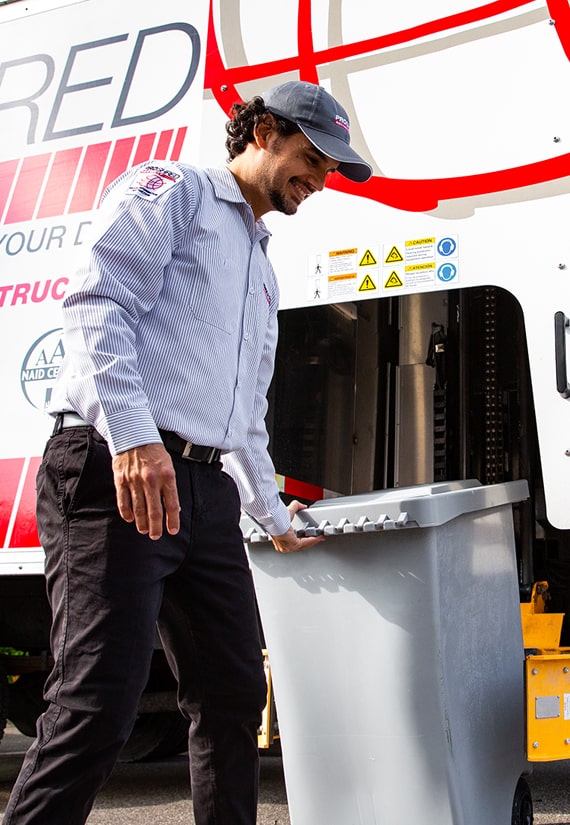 Mobile Shredding Services
For most businesses and practices, taking documents off-site is more of a hassle than it is a benefit. Work schedules can be hectic, and the number of files and documents that build up over time can be too much to carry to a different site for shredding. That's where our mobile shredding services come in, to provide you with the best way to shred paper documents without leaving your workplace. It's an ideal choice for businesses that have large amounts of documents to shred and helps them to maintain the best security for private information.
If you're in need of a stress-free and convenient way to shred documents, our mobile shredding process is an excellent choice for you.
Mobile Shredding Trucks– Part of what makes our mobile services convenient are our mobile shredding trucks. These trucks are equipped with industrial shredders to destroy documents thoroughly and efficiently, more than your regular office shredder can. When you call for a mobile service, one of our shredding experts will bring a mobile shredding truck straight to your place of business. Your documents will be brought out in shredding bins and dropped through the shredders. These trucks can shred as much as two tons of paper within an hour, and the process remains touch-free for the best security possible.
For additional security, our trucks have viewing windows for our clients to see through and watch the entire shredding process in person. To help with any future bookkeeping, every shredding service ends with you being given a Certificate of Destruction, which documents what was shredded and when.
One-Time Shredding– Some businesses only need to shred their unneeded documents once. Our one-time purges are made just for that. Whether it's a box of documents or a room full of them, our mobile shredding services offer a one-time cleanout, and our shredding trucks come straight to the office to do it.
Scheduled Shredding
For some businesses, the amount of documents in need of disposal grows too quickly for a one-time purge. When this happens, PROSHRED® Orlando has regularly scheduled services available. With this service, our team does a security audit of your office, and provides secure shred bins and consoles for you and your coworkers to store unneeded papers in. Daily, weekly, or monthly, our team will come to your workplace and collect these bins to shred the paper.
Other Types of PROSHRED® Orlando Services
Along with our paper shredding services, PROSHRED® Orlando also offers other types of shredding services, mobile or drop-off.
Hard Drive Shredding- With technology advancing, paper documents are no longer the only place information is stored. For businesses and other large establishments, a majority of data can be stored in hard drives. Like paper documents, it isn't as simple as throwing them out. Even more so, hard drives can be tampered with and salvaged if they aren't destroyed properly. Our services extend to hard drive destruction, and when you schedule a mobile shredding truck to come to your workplace, we can also destroy your hard drives that are no longer needed. It's an efficient way to protect information like sensitive emails, invoices, and internal documents.
Product Destruction Services- Confidential information goes beyond paper documents and computer files. Your company's brand is also important to keep secure, and that means protecting the products you make. Whether it's uniforms, ID cards, or other products with your logo, we offer product destruction services for them. If it's recalled, outdated, or duplicated items, we can safely and securely dispose of them through our mobile and drop-off services, hassle-free. Just like paper documents and hard drives, these items will be thoroughly shredded and destroyed to ensure security.
Certified and Compliant- Your security is important to us, and that's why our team is committed to making our shredding process adhere to the state and federal laws and privacy acts set in place to protect your information. Our company is ISO 9001 Certified by NSF-ISR and has NAID AAA certifications. We're dedicated to upholding these certifications, along with ensuring you the best customer satisfaction and affordable services.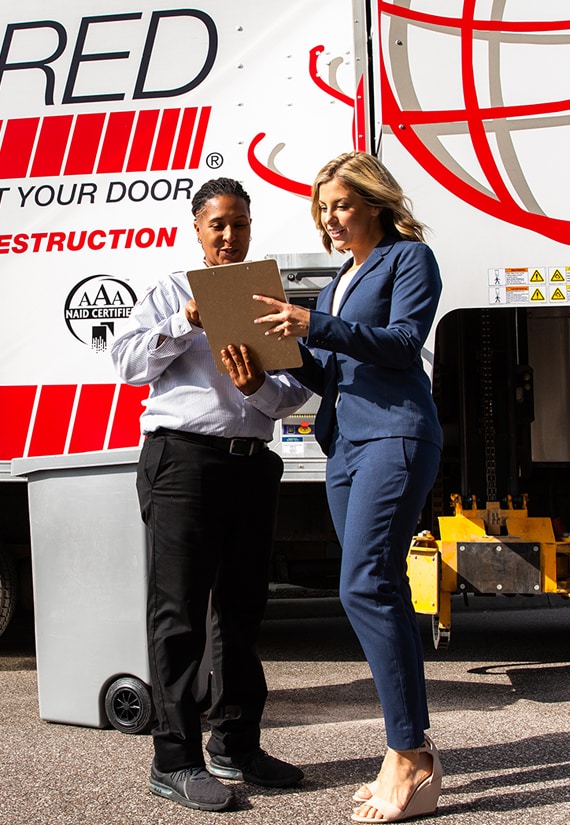 Contact PROSHRED® for Secure Shredding Services
If you are in need of disposal services for your paper documents, hard drives, or products, PROSHRED® Orlando is here to help you. With our mobile and drop-off services, we guarantee you only the most secure shredding available. There are no hidden fees or contracts to sign. It is our top priority to keep your sensitive information safe, and to offer secure and honest services to our community. Call us today for a quote, or to schedule a service.