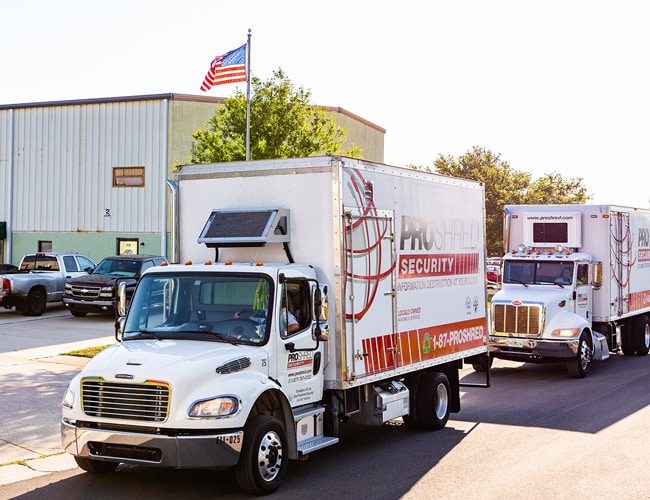 Maitland Document Destruction
Disposing of important information in a secure manner is vital in any industry or business that values its privacy, as well as the privacy of its employees and clients. At PROSHRED® Orlando, we proudly offer Maitland document shredding services to residents and businesses looking to get rid of outdated papers. This helps organizations and corporations stay in compliance with federal and state privacy and document destruction laws.
We know how hectic it can be running a business and overseeing management of daily office tasks, and that's why we offer convenient, secure solutions for various document shredding needs. From scheduled mobile shredding to our one-time cleanout service, PROSHRED® Orlando offers paper shredding services you can trust.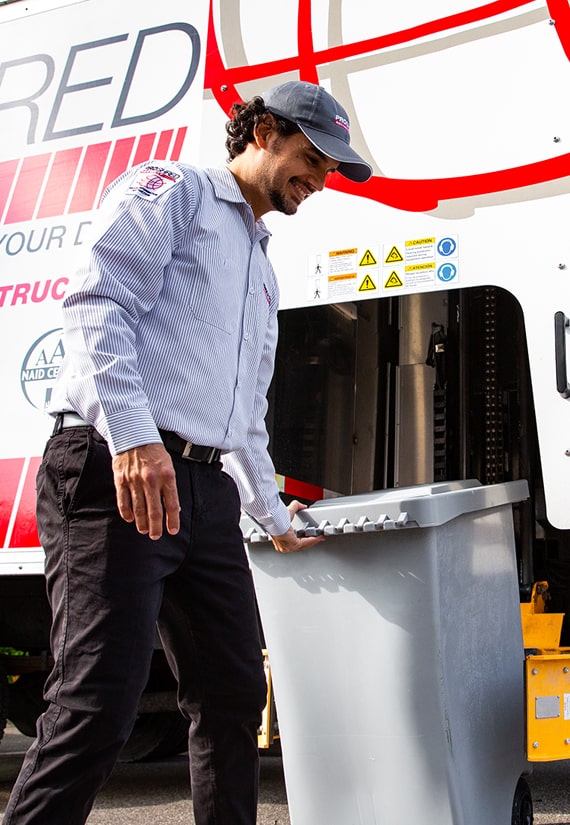 Mobile Shredding in Maitland
Our most popular service in Maitland is mobile shredding. To get started with mobile shredding, we'll visit your business and perform a security audit that will help us determine how many shredding bins or consoles you need, and how often they should be picked up. After that, we schedule a day and time to pick up the discarded documents—either on a daily, weekly or monthly basis. On your scheduled day, one of our mobile shredding trucks will stop by and a trained technician will collect your bins. Then, the paper will be shredded on-site: you can even watch if you'd like! Our shredding trucks can handle tons of paperwork with ease and are equipped with industrial shredders that use a pierce-and-tear method to tear the paper into irregular sized pieces, so your documents can never be reassembled.
Throughout this process, our staff follow strict protocol that means human hands never touch your documents after they are placed in one of our secure shred bins. This hands-free process in combination with our state-of-the-art shredding technology means you never have to worry about your private information ending up in the wrong hands. Each time we visit, you'll be handed a certificate of destruction, which is proof that your data was securely shredded. Our Maitland mobile shredding service is designed to be as convenient and hassle-free as possible!
One-Time Cleanout Services
For businesses and residents that need to dispose of a lot of sensitive documents fast, our one-time cleanout or purge shredding service is the way to go. Our mobile shredding trucks can visit your home, office, warehouse or other space and quickly shred large volumes of documents, whether that's a few filing cabinets or an entire warehouse worth. Many of our shredding trucks can shred up to 2 tons of paper per hour, meaning we can be in and out quickly and let you get on with your day.
Contact Your Local Document Shredding Provider Today!
At PROSHRED® Orlando, we provide secure document shredding services to industries of all kinds, from general commercial businesses to medical offices, law practices and financial institutions. Our commercial shredding is the best method of maintaining your business's confidentiality while disposing of old, outdated paper documents. Our quick, effective and reliable process ensures that your data will never be left unattended and that the integrity of your business will remain intact. We're also committed to sustainability, and recycle 100 percent of the paper that we shred, so you can feel good about your choice to have PROSHRED® Orlando take care of your document shredding needs. Trust the experts, and give us a call today to learn more! 1-407-449-2700
Maitland, FL Shredding Services
On-Site Shredding Maitland, FL
Scheduled Shredding Service Maitland, FL
Hard Drive Shredding Maitland, FL
Mobile Shredding Maitland, FL
Legislative Compliance
HIPAA Compliant
HITECH Compliant
GLBA Compliant
FACTA Compliant