February 28, 2023
Scheduled Shredding vs. Purge Shredding: Which Is Best For You?
No matter what kind of business you run, paperwork can pile up and before you know it, it's taken over all of the available space in your office. While you may have filing cabinets and storage bins to corral most of your paperwork, someone still has to organize and file it in its proper place. Plus, many companies have staffing issues because of the economy and the recent pandemic, so finding reliable and trustworthy office personnel is always a challenge.
The easiest way to stay ahead of the mountains of paperwork is to have a system in place to tackle the chore. But what kind of shredding works best for your company? Here, we'll look at the benefits of scheduled shredding versus purge shredding, so you can decide which plan works best for your company.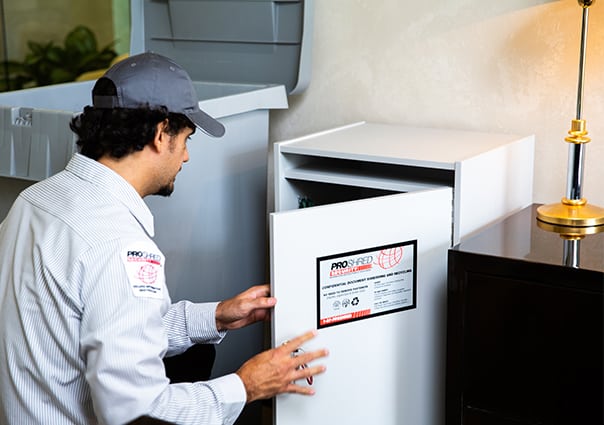 Purge Shredding: what is it?
Many businesses strive to reduce the amount of paperwork in their companies, and some have gone completely paperless. If this sounds like you, your company may benefit from a yearly purge schedule. However, even companies that have scheduled purging can benefit from an annual purge. Here's a look at some of the documents you should review every year:
Archived files – These documents and files should be reviewed for destruction if they have passed the due dates. Archived files can be past-year client files, old work orders, and other paperwork.
Active files – Current clients and customer files should be monitored for activity status, and if no activity has been noticed during the last year, it should be moved to the archive section of your filing system.
Permanent files – These documents are likely tax documents, and other files, like permanent medical records, may require permanent storage, depending on your industry. Once you've identified which files need to be permanently stored, it's a good idea to remove them from your current office space into permanent storage to reduce clutter and save office space.
Purge or one-time shredding is useful to help your company manage paperwork. However, while completing your annual purge, you should reference industry standards and retention laws to ensure that you comply with privacy laws.
Is scheduled shredding better?
While paperless options are becoming more frequent, many businesses still require hard copies of documents for their businesses to run smoothly. Over time, if proper protocols aren't in place, paperwork filing can get behind and become overwhelming to the office personnel assigned to keep up with the filing. That's why scheduled shredding is an attractive option for many companies. Let's look at the industries we serve and how they benefit from a regularly scheduled shredding plan.
Medical record shredding and destruction – Maintaining clients' personal health information is one of the most important requirements for medical staff and healthcare providers. Having weekly or monthly scheduled shredding procedures in place can help your medical business maintain the privacy of its patients and protect their information from being exposed to outside sources.
Financial record shredding – Another industry where scheduled shredding is extremely important is the financial industry. Banks, credit card companies, and mortgage lenders use personal data to maintain accounts. If confidential data is exposed, it can lead to unauthorized charges and even identity theft in some cases.
Legal record shredding – Attorneys and law firms must maintain confidentiality with their clients and safeguard their information. Attorney-client privilege is a key legal process, and documenting meetings between clients and their lawyers can help win or lose a case.
Home office shredding – Many small businesses operate out of their home, so it's essential to maintain regular shredding. When your office is a room in your home, the last thing you want to do is have it overflow into other parts of the house. With scheduled shredding, keeping excess paperwork in check is an easy task.
You might own a business different from the ones listed above, but that doesn't mean that scheduled shredding won't work for you. Regular shredding eliminates clutter and keeps you focused on more important tasks.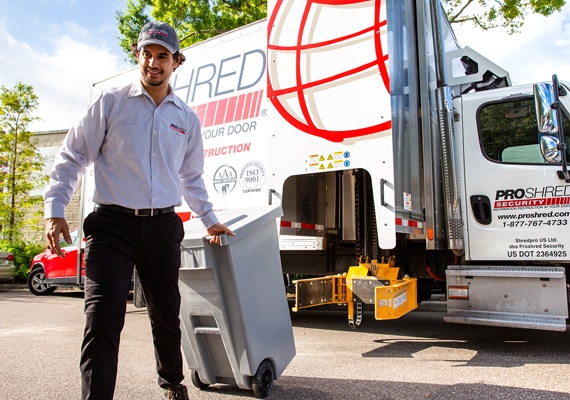 Ready to Shred? Contact PROSHRED® Orlando Today!
PROSHRED® Orlando is locally owned and services the greater Orlando area. We come to your location with our mobile shredding trucks and safely shred documents, hard drives, and products, so residents and businesses can safeguard their information, protect their public image, and maintain legislative compliance.
Our team of trained professionals can offer solutions like one-time purge shredding to eliminate all of your unwanted materials to a regularly maintained shredding schedule to keep your office running smoothly. Contact us today in Orlando and surrounding areas to set up an appointment, and let us help you clear the clutter!