Harrisburg Shredding Service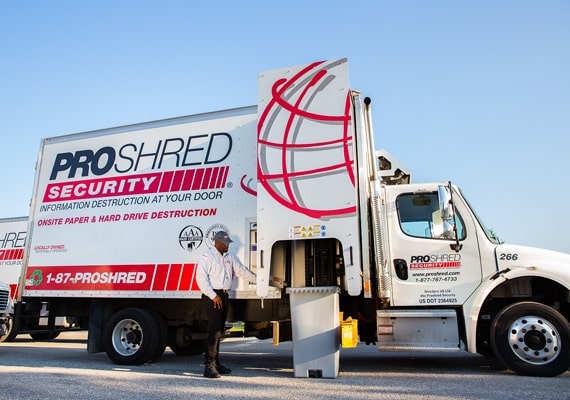 Harrisburg Information Destruction Services
Harrisburg is the capital of Pennsylvania, and is a bastion of independence and pride. One of the key areas involved in the Whiskey Rebellion of 1794, a primary target of Robert E. Lee during the Civil War, and the home of the iconic Rockville Bridge, a hallmark of railroad engineering. Residents here have great pride in the tasks they undertake and in protecting their own. That's why they turn to PROSHRED® for secure offsite and onsite Harrisburg shredding services required by business and residential clients, based on the client's needs.
Confidential Information and Document Destruction
At PROSHRED®, our number one focus is on protecting the security of our clients. Whether you have a single file cabinet worth of information to remove, or you have many years' worth of files that need to be disposed of, we will handle the task with complete discretion and confidentiality, provide amazing service, and keep you in compliance with all local, state and federal laws.
On-site and Off-site Harrisburg Shredding Services
We listen to your preferences and needs with respect to destroying your documents. We can securely destroy your sensitive documents at our secure facility, or we can come to you with one of our high-tech, state-of-the-art shredding trucks and handle the job right onsite.  You're able to watch the shredding process via closed-circuit cameras the entire time.  Either way, you have absolute peace of mind knowing that your information never leaves our possession until it's destroyed; a single chain of custody.
When it's all done, we'll give you a certificate of destruction that you can keep on file as a compliance record, and evidence that your business, your employees and your customers' information has been kept safe and secure.
Electronic Information Destruction
One of the biggest issues businesses and individuals face today is how to protect information on electronic devices like flash drives and hard drives. Simply deleting the information, even wiping and reformatting, is not enough to remove it completely and you could still find yourself the victim of identity theft or industrial espionage.
PROSHRED® Harrisburg solves this problem by completely destroying the electronics we service for you.  We can shred hard drives at your site, or ours, and just as easily as we shred paper.  Our process ensures that all of you sensitive information is 100% destroyed and recycled.
Eco-Friendly Information Services
Everyone likes to go green these days. We live in an increasingly eco-friendly world and it's important for us all to do our part for the environment. PROSHRED® believes in giving back to our community and the world at large, and that's why we're responsible with the waste from our document destruction services. Everything we destroy is delivered to local recycling plants to be turned into new products—reduce, reuse and recycle!
If you're looking for the very best in Harrisburg shredding services, look no further than the professionals at PROSHRED®. No matter the job, large or small, basic or complex, we'll tackle it according to your exact needs. If you'd like to know more about what we can do for you at home or the office, call our customer service reps at 1-484-323-2100 today!
Harrisburg, PA Shredding Services
On-Site Shredding in Harrisburg, PA
Scheduled Shredding Service in Harrisburg, PA
One-Time Shredding in Harrisburg, PA
Drop-Off Shredding Location in Paoli, PA
Legislative Compliance
HIPAA Compliant
HITECH Compliant
GLBA Compliant
FACTA Compliant