October 7, 2022
Factors That Influence the Cost of Shredding
As a business owner, you know that dealing with sensitive and confidential information is a big responsibility. You also know that securely destroying this information is critical to protecting your company's reputation and privacy. However, you may not know that the cost of shredding can vary significantly depending on various factors. In this blog post, we will explore aspects that influence the cost of shredding so that you can make an informed decision about how best to protect your confidential data.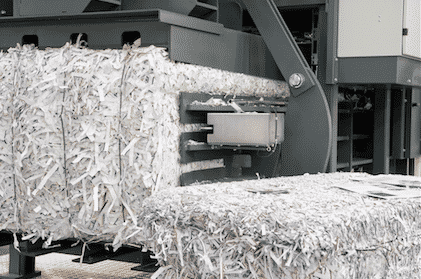 The Different Shredding Options Available
DIY Shredding
A small office shredder is an option for those who want to do their own office document disposal. While this approach has some benefits, there are also some potential drawbacks that you should be aware of. These shredders can be purchased for a relatively low cost, and they are typically easy to use. However, it's important to remember that shredders are complex machines requiring regular maintenance. You may find it difficult to keep your machine in good working order if you're not mechanically inclined.
DIY shredding may not offer the same level of security or speed as an industrial-grade machine, as small office shredders are slower and may not destroy documents enough to be legislatively compliant. If security is a concern, you'll want to make sure you choose a service that meets your needs.
On-Site Shredding
On-site shredding refers to the process of having a mobile shredding truck come to your location and destroy your documents on-site. This is often the most secure option as it allows you to witness the destruction of your documents and ensure that they are properly disposed of. On-site shredding is also more convenient than off-site, as you can schedule a convenient time for your business.
Drop-Off Shredding
Drop-off shredding refers to boxing up your documents and taking them to a shredding location for destruction. Drop-off shredding is a convenient and secure way for individuals to destroy confidential documents if they do not have the space or need for mobile shredding. Keep in mind, however, that the process of transporting your sensitive materials before they are securely shredded comes with its own set of risks.
How to Choose a Shredding Method
Now that you know the different shredding methods, how do you choose the right one for your needs? The answer to this question will depend on a variety of factors, including:
Location
One cost factor is how close or far away you are from the shredding company. If they have to travel a great distance, it requires more time and resources like gas, which will increase the total price for their services. However, with drop-off shredding, this does not need to be factored into the price as you will handle bringing the materials to the business's brick-and-mortar store.
PROSHRED® Houston is unique as they are one of the few companies that do not charge additional surcharge fees for fuel or mileage within its service area.
Volume of Material
The more material there is, the longer it will take to shred-the higher the overall cost. In some cases, businesses may be able to negotiate a lower rate for larger volumes of material.
However, it is important to note that the size of the material also plays a role in determining the cost. For example, it is typically cheaper to shred paper than plastic. As a result, businesses should consider the volume and type of materials they need to be destroyed when budgeting for this service.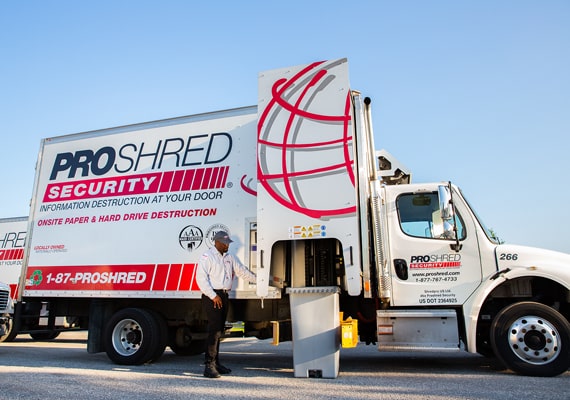 Properly Shred Your Materials With Help From PROSHRED®
Properly shredding your materials is important to protect your confidential and sensitive information. By understanding the different factors that influence the cost of shredding, you can choose the option that best fits your needs.
PROSHRED® is the nation's leading document destruction company, providing secure and environmentally responsible solutions for businesses of all sizes. Our team of experts will work with you to develop a customized plan that meets your specific needs and budget. We offer a regularly scheduled mobile paper shredding service, we design a customized security program to ensure that your confidential documents are continually serviced and maintain compliance with state and federal privacy regulations. Contact us today so we can assist you in finding the right solution for your business!